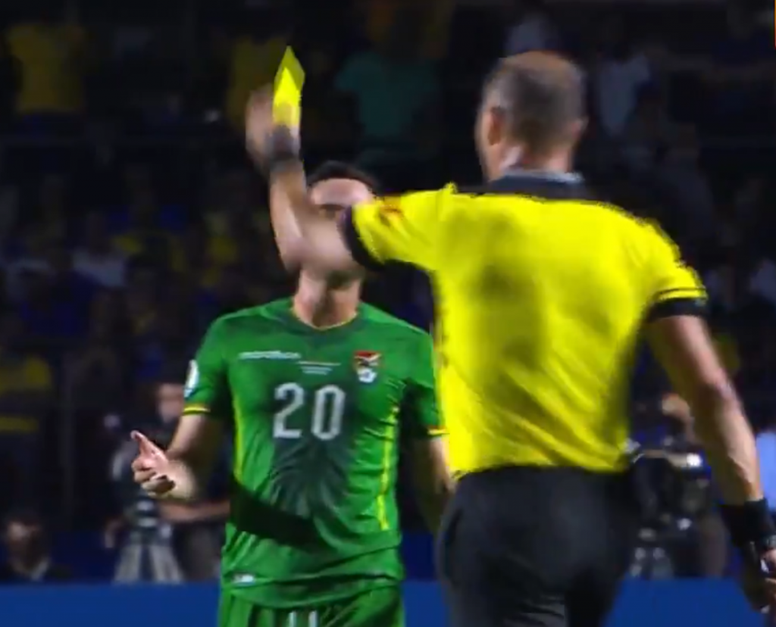 VAR for a yellow card: is it allowed?
VAR was called into action in the Copa America 2019 opener between Brazil and Bolivia and not only to give the penalty which led to the first goal.
Beforehand, in the first half, Nestor Pitana was informed via his earpiece of a possible red card offence. The Argentine went over to the pitchside monitor to see what had happened.
Saucedo of Bolivia had stepped on Casemiro near the Brazil area. Pitana did not see it initially, but the TV images were clear. He had been stepped on.
However, the referee opted for a yellow card and not a red. This left many perplexed as they were under the impression that VAR could only be used in four situations: goals, penalties, straight red cards and mistaken identity.
Many fans thought that Pitana had to show either a red or nothing after the on-field review (OFR). However, they are mistaken.
The referee was called over for a potential straight red card offence. After reviewing the images, the official can then take the action he deems necessary whether that be nothing, a yellow card or a red. He deemed that the foul was worthy of a booking, but not a red and that is why he cautioned Saucedo. Although the VAR cannot call over the referee if he has missed a yellow card, the card can be shown if the referee goes over to review for another reason, in this case for a possible sending off.
Whether the punishment was right is open to interpretation, but Nestor Pitana did not break VAR protocol by issuing a yellow card.