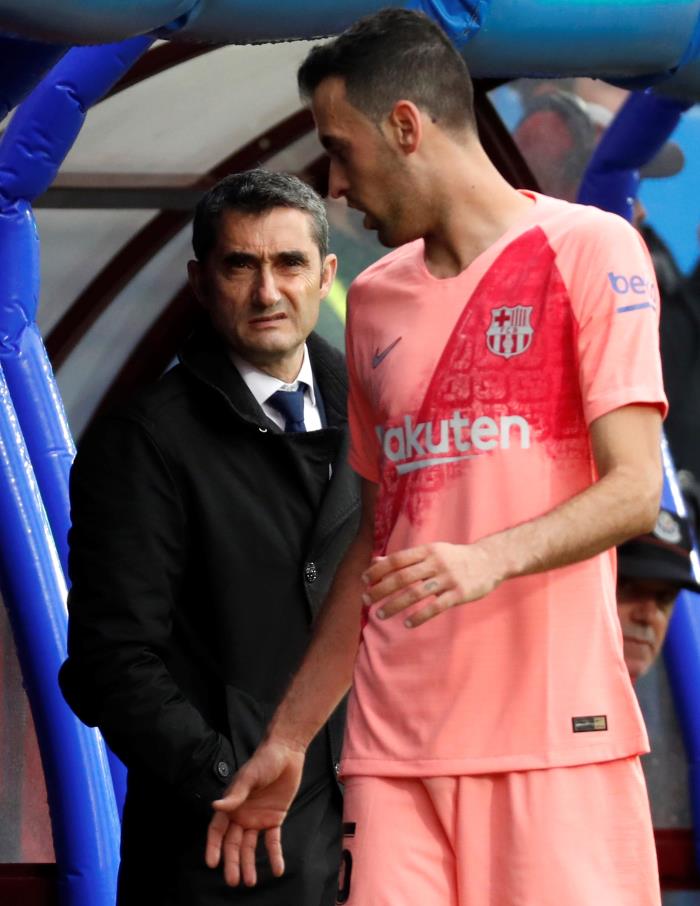 Valverde hopes his injured players return
There was not a lot to say after Barcelona's 2-2 draw with Eibar. The most interesting thing that the Barcelona coach had to say was to confirm that Sunday's result would have no effect on their Copa del Rey final preparations.
"The situation against Eibar is very different, where we had nothing to play for, unlike Saturday with a title to play for. We have a few problems, but we will see whether any players can recover", he commented.
Valverde was commenting on the possibilities one by one. The only promising one, the keeper: "We think that Ter Stegen will be fine". He wasn't so positive with regards to Philippe Coutinho: "I don't know".
The picture didn't look as bright for the rest of the squad: "Dembele's situation is difficult and we will see with Arthur, this problem has been troubling him for two or three months. He has had to adapt despite being fine a month ago so I don't know if he will play", he commented.
Regarding Semedo, whose head injury has booked him in for a night in hospital, Valverde didn't seem too worried. "I have not spoken with the doctor but we hope that he's just in shock and can return home with us".
The Barcelona coach also gave Messi credit where it was due, who signed his 'Pichichi' record with a double: "I believe he is the most consistent of the squad, but his numbers are as they are and they show that there is continuity, which comes after days of hard work", he stated.
After another meaningless match for the champions, with second place eleven points away, Valverde was unhappy that Barcelona's league win has not received the credit it deserves.
"The balance is very good, but since we won the league a few weeks ago, it has all been forgotten about. At first, during the first half of the season we had some difficulty, but our regularity has earned us the title", he concluded.