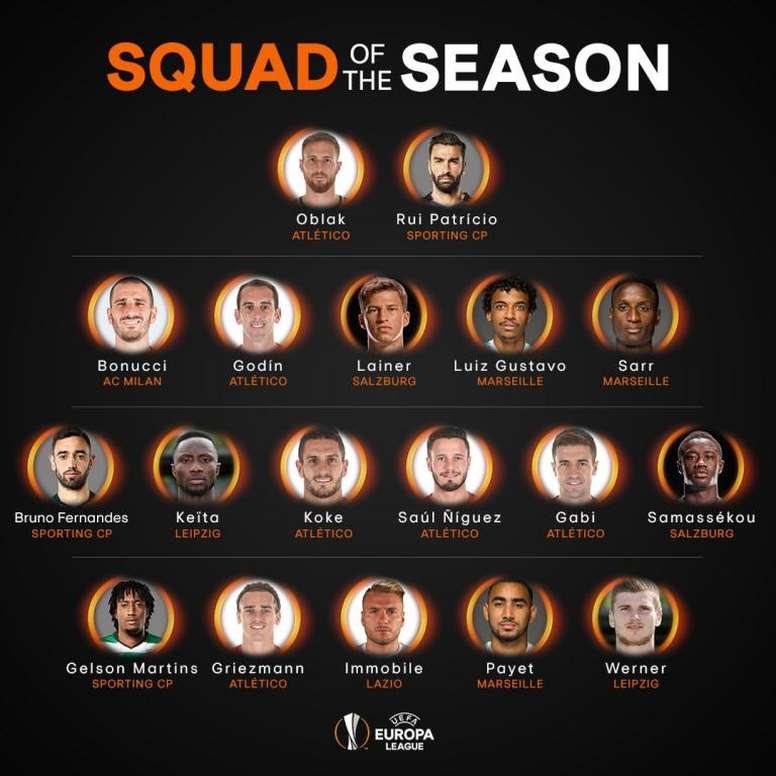 UEFA releases Europa League squad of the season
With Atletico emerging victorious in Lyon, recording a 3-0 win over Marseille in the final of the Europa League, it is no surprise that Diego Simeone's side dominate the dream squad, taking six of the eighteen births in the selection.
There is recognition for players from AC Milan, Lazio, Marseille, Sporting Lisbon and RB Leipzig and Salzburg, but there are surprisingly no Arsenal players included, despite the fact that the 'Gunners' made it to the semi-finals of the competition.
- Goalkeepers -
As expected, Jan Oblak makes the cut, having led his side to victory with just four goals conceded, and four clean sheets. He is accompanied by Sporting Lisbon keeper Rui Patricio.
May 15, 2018
- Defenders -
Veterans Diego Godin and Leonardo Bonucci take two of the five spots in defence, joined by Marseille duo Luis Gustavo and Bouna Sarr. 25-year-old RB Salzburg right-back Stefan Lainer is the final member of the defence.
May 16, 2018
- Midfielders -
Atletico Madrid dominate the midfield section of the squad, with Spanish trio Koke, Saul and Gabi all making the cut. Naby Keita, who is on his way to Liverpool from RB Leipzig, is joined by Sporting's Bruno Fernandes and Salzburg's Diadie Samassekou in the final three spots.
May 16, 2018
- Forwards -
If this squad were a real side, it would be able to count on some serious firepower up-front. The most obvious choice is Antoine Griezmann, who scored twice in the final, but the top scorer in the competition is actually Lazio's Ciro Immobile, who bagged eight goals in the tournament. Griezmann's compatriot Dimitri Payet is also selected, as well as Gelson Martins of Lisbon and Timo Werner of Salzburg.
May 17, 2018