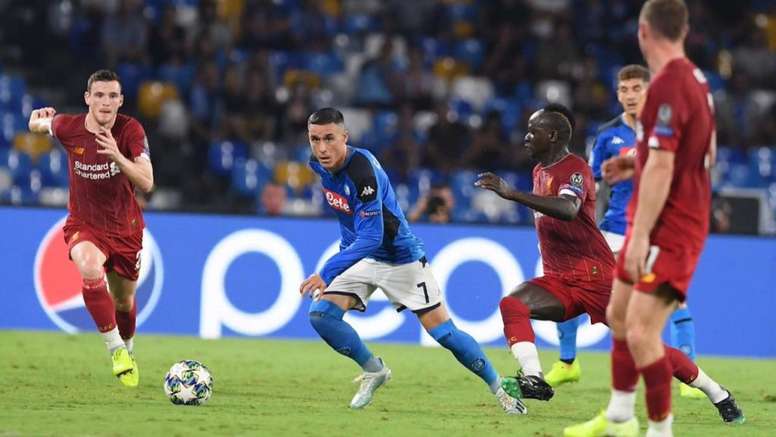 Two late goals down Liverpool in Naples
Liverpool's Champions League campaign got off to a losing start in Naples thanks to two late goals by Carlo Ancelotti's side. The first of them was highly controversial as replays showed Callejon dived. That incident helped to decide what was an even game.
There was little to choose between the two teams early on and Napoli ended up getting the ball in the back of the net in the seventh minute through Hirving Lozano after Adrian denied Fabian Ruiz on two occasions. The goal was disallowed though as the Mexican was offside. Liverpool then began to pick up and Koulibaly was solid in defence to prevent Mane and Salah threatening the goal. It took 20 minutes for the first real chance though.
Insigne made a terrible mistake in defence, Fabinho got the ball and then Meret made a save at his near post to prevent Mane from opening the scoring. Seconds later, Salah beat Koulibaly and Milner fired over after Manolas had blocked the initial shot. Liverpool had the upper hand before Mertens' cross was deflected by Matip when Napoli's Lozano was ready to score. Normal service quickly resumed though.
Firmino was denied by a great Koulibaly block before Salah could not hit the target eight minutes before the interval. Despite Liverpool's chances, Napoli were looking solid in defence as Rui then intercepted Milner's attempted square ball for Salah inside the box.
The half ended with Firmino heading wide a short corner and Jurgen Klopp`would definitely have been the happier of the two managers at half-time. In the second period, it was a different story though.
Napoli incredibly did not go in front four minutes after the resumption. Callejon sent a cross field pass to Insigne and Mario Rui's superb cross saw Mertens raise his boot at the far stick, but Adrian managed to dive and tip it over the crossbar. Napoli contuinued to press and Insigne wanted a handball off Alexander-Arnold during the home side's 10 minute storm. Then, out of nowhere, they nearly fell behind.
Koulibaly headed in his own half and then Manolas completely miscued his ball straight to Salah and Meret made a brilliant save to stop what looked a certain goal. Meret then made a very good save from Mane 16 minutes from time. It looked to be heading to a deserved 0-0 draw as Napoli had been better in the second period, but then there was controversy.
Mertens passed to Callejon inside the box and then Robertson went in and in the opinion of Felix Brych, brought him down. Replays showed Callejon dived before there was any contact, but VAR Bastian Dankert inexplicably gave it the all clear. Mertens then made no mistake from the spot despite the keeper diving to his right and getting a hand to it.
After the goal, Napoli were in control despite Liverpool winning the odd corner and then in stoppage time, Fernando Llorente got revenge on Liverpool for last season's Champions League final defeat with Spurs when he took advantage of a terrible error by Van Dijk in defence to beat the goalkeeper.
The home side then ran out the clock taking the ball to the corner and Napoli ended up getting the three points from a game which looked like it was going to end goalless. Napoli put in an improved second half display while Klopp's side lost their fourth consecutive group game away from home in the Champions League.