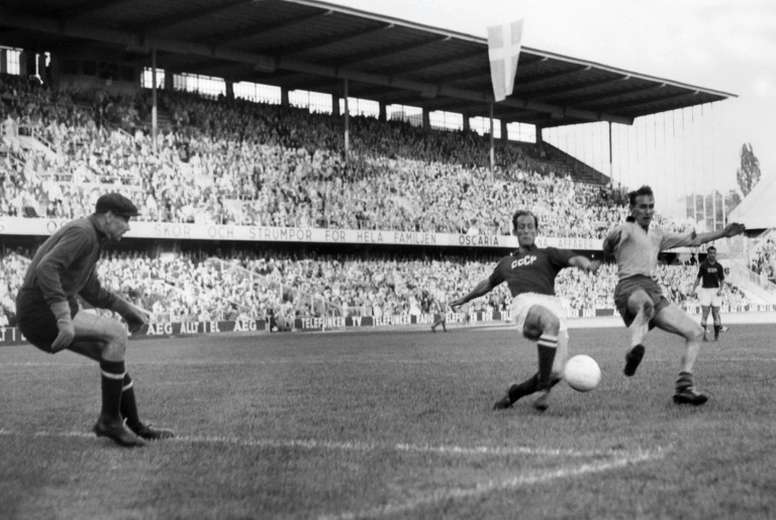 Tributes payed to Yashin on what would be his 90th birthday
"I don't feel like talking about Lev Ivanovich (patronymic of Yashin) in the past, as such a legendary person and goalkeeper cannot be forgotten. Yashin lived, lives and will live!", the legendary Soviet striker and vice president of the Russian Football Union (UFR), Nikita Simonian, said before the start of the match.
Yashin, who died in 1990, would have turned 90 on 22nd October, hence the reason the Russian Football Union decided to pay tribute to him, There will be a film about his life released at the end of November.
Ex Russian and Soviet Union greats took to the field at CSKA Moscow's stadium, such as Rinat Dasaev, considered the natural heir to Yashin, Yegor Titov, Serguei Kiriakov and Andrei Tíkhonov.
Dinamo players such as Andrei Smetanin, Alexandr Borodiuk, Rolan Gusev and Iger Kolyvanov all played. Ex Dinamo player Vasili Frolov, Yashin's grandchild, also played.
Entrance to the match was free, according to the UFR, who illustrated a huge sign with an image of Yashin clearing the ball for the 2018 World Cup in Russia.all.
Yashin, who won 5 leagues with Dinamo and who was European Champion with the USSR in 1960, is considered the best goalkeeper of the 20th century since he is the only one to have won the Ballon d'or (1963).