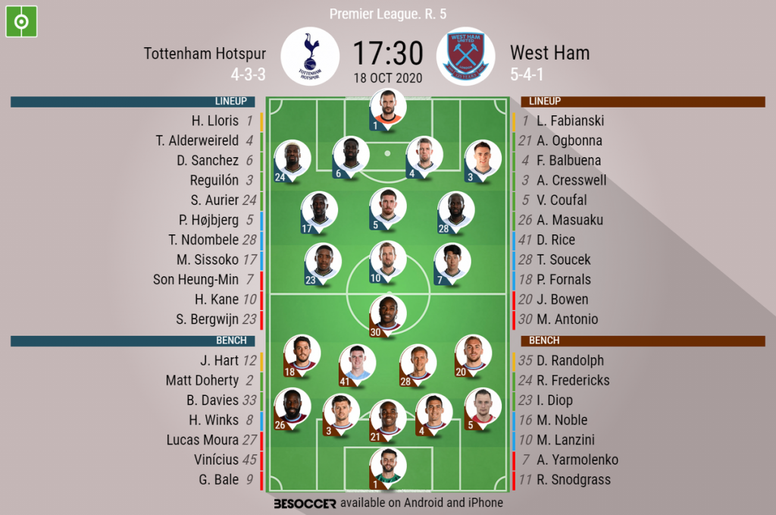 Tottenham Hotspur v West Ham - as it happened
Tottenham Hotspur

West Ham

Post.
That's all from us. Thanks for your company and see you again soon!
95'
FT: Tottenham 3-3 West Ham!!!! What a crazy end to this one!!! Son and a Kane brace looked to have sealed the win for the home side. They were comfortable in the second half and 3-0 up after 81 minutes, but then Balbuena netted. D Sanchez then turned a Coufal cross into his own net and in the dying seconds, Lanzini hit an absolute screamer from outside the box to give West Ham a point when it seemed impossible.
95'
Absolutely unbelievable!!!!!!! It was 3-0 after 81 minutes and Spurs have not won the game. Incredible...
94'
Lanzini!!!!!!!! You absolute beauty!!! That's an absolute stunner!!!!!! Cresswell's free-kick is only half-cleared, Winks gets a touch to it and Lanzini hits one from outside the box, Lloris gets a hand to it and the ball goes in off the bar!!! Extraordinary!!!
93'
Cresswell wants to take the free-kick, but the ref wants a chat with the men in the box first.
93'
Aurier brings down Snodgrass on this near side and they have a dangerous free-kick here.
92'
Bale!!!!! The Welshman gets the ball, he goes one way and then the other and his shot from inside the box goes wide of the goal!! Should have hit the target.
90'
West Ham sub: Masuaku is taken off, Snodgrass comes on.
89'
Masuaku is furious after getting booked for a foul on Moura.
89'
The Hammers attack, Soucek is on his own in the box and the Czech's shot is blocked!!! Unbelievable end to this game.
87'
Spurs win a corner, Bale takes it and it's caught by Fabianski.
87'
Spurs will be gutted if they drop points here.
85'
It's 3-2!!!! Own goal by Sanchez!!! Yarmolenko passes to Coufal and the cross is headed in by Sanchez! It's game on!
84'
The Hammers believe they have half a chance here.
83'
It probably won't make a difference, but they deserve that goal.
82'
Balbuena gets a consolation for the Hammers!!! Cresswell's free-kick is headed in by Balbuena at the far post.
80'
Tottenham sub: Lucas Moura off, Son on.
79'
Kane strikes the post after being passed the ball by Son.
77'
Soucek sees yellow for a foul on Kane.
77'
West Ham sub: Fornals and Antonio off, Lanzini and Yarmolenko on.
73'
Bale goes for it, the ball bounces and goes straight into Fabianski's bread basket.
72'
Winks is also on for Spurs for Ndombele.
72'
Tottenham sub: Bale comes on for Bergwijn. And he getting ready to take the free-kick!
72'
Ogbonna makes a very bad challenge on Bergwijn and is deservedly booked. It's in a dangerous position this free kick.
71'
Ogbonna so nearly gets on the end on the delivery!!
70'
The Hammers win two corners.
69'
Bale is getting ready to come on.
67'
Son finds Kane, he goes for goal and the shot is blocked.
65'
West Ham threaten down Spurs' right, but the cross by Cresswell is poor and easily claimed by Lloris.
63'
Corner for the home side after Balbuena heads out. Nothing comes from it.
61'
Harry Kane!!! Hojbjerg finds the Englishman and his strike from just outside the area is tipped wide by the keeper.
59'
Aurier sends a ball in and Fabianski catches easily.
57'
Masuaku is penalised for a foul throw. 62% possession for the away side since the break.
56'
Bowen goes down wanting a foul by Reguilon, but nothing's given.
55'
Soucek!!! He heads a ball against a defender and there are appeals for a handball.
54'
Another corner for the away team. Much better from West Ham since the interval.
53'
Masuaku gives the ball to Cresswell and the cross in is headed out for a corner by Alderweireld.
52'
Kane hits over the bar for Spurs now!
50'
Fornals!!! How did you miss that? Antonio makes a fine run down this near side, his ball is deflected to Fornals at the far stick and he heads over from three yards out!! He was all on his own. That was a sitter.
48'
West Ham attack, the cross isn't cut out by the defence, Soucek nearly gets there and then Masuaku fires over the goal!
46'
Spurs get us going again!
45'
HT: Tottenham 3-0 West Ham! Half-time in North London as it's been easy for the hosts. A Son goal and then a brace from Kane in the opening 16 minutes have put Mourinho's men in command. Spurs have had the odd chance to make it four since then while the Hammers, who started very positively, have dropped off since conceding three. That said, Balbuena and Coufal nearly scored just before the break. Back for more in a bit!
45'
Harry Kane makes a vital block!!! The Hammers attack, Soucek holds the ball up in the box and Coufal's powerful goalbound effort is blocked by a sliding Kane! He's holding his leg after that, but let's hope it's nothing serious.
45'
What did Balbuena do? A lovely free-kick is sent into the box and Balbuena does not go for it! He didn't expect the ball to reach him. Had he committed, he could have headed in...
44'
The away side attack and win a throw in on the far side. Moyes' men need to test Lloris more though.
42'
Fornals is in trouble after his ankle turned badly in the turf. He was caught by Sissoko.
42'
Sissoko passes to Bergwijn who hits wide.
40'
Spurs have taken their foot off the gas after an extraordinary opening 20 minutes which saw them score thrice.
37'
Harry Kane is played in and his tame effort is easily stopped. He knew he was offside.
36'
Fornals wins a corner off Sanchez.
35'
Son!!!! Spurs nearly make it four as Aurier's cross in is touched by Son in the middle, but he's unable to turn it past Fabianski.
31'
A West Ham ball into the box is flicked on, but a foul is then committed and Spurs get a free-kick.
30'
Coufal is penalised for barging Reguilon off the ball.
29'
Spurs attack again involving Bergwijn and Aurier, but the away side deal with it.
26'
Fornals!!! Antonio flicks on for the Spaniard and his shot is well held by Lloris in the Spurs goal.
25'
West Ham attack though their Bowen on the far side, but it comes to nothing.
23'
Sissoko is down with a head injury after getting caught by Antonio's arm.
23'
Free-kick for the hosts on the far side.
20'
Antonio is booked for a poor challenge on Son.
19'
You really can't see the Hammers getting back into this and they need to protect their GD.
16'
Harry Kane makes it three!!! Son passes for Reguilon on his left and the cross from the near side and Kane heads in from inside the six yard box.
14'
Good play by the Hammers involving Cresswell and Bowen and Antonio shoots wide, but he's offside.
12'
Moyes' men have not changed once bit since falling 2-0 behind. There's still plenty of time to get back into this one and they've won a corner.
9'
Spurs have got off to a flyer here, but West Ham have gone gung-ho and been caught out twice at the back.
8'
Harry Kane makes it two!!! The Hammers think it's a 10 minute game and they've been punished again! Hojbjerg, Son and Kane pass the ball to each other outside the area, Kane nutmegs Rice and then fires into Fabianski's bottom right corner.
7'
That was dangerous!!! Antonio hits wide from the set piece! Looks more goals in this.
6'
An electric start to this one!! The Hammers attack again and Sanchez concedes the corner.
5'
Cresswell!!!! He tries to beat Lloris at his near post with a curling free-kick and the ball strikes the side-netting. That was close!
4'
Sanchez fouls Antonio 25 yards from goal. The Colombian isn't happy with the call.
3'
Let's see how the visitors react to this early blow.
2'
Spurs needed just 45 seconds to score!
1'
Son puts Spurs ahead after just 45 seconds!!! The Hammers come out attacking from the off, Spurs counter as Kane sends a long ball forward for Son, he cuts inside with Balbuena in front of him and then finds the far corner!
1'
Lloris has an early touch of the ball as the Hammers attack from the kick-off.
1'
West Ham get us going here from left to right! Both teams in their usual kits!
Prev.
The players come out here!
Prev.
The Hammers got a surprising 0-3 victory at Leicester just before the international break and they are unchanged from that match.
Prev.
It's 12 degrees in North London this afternoon and overcast.
Prev.
Spurs hit Man Utd for six in their last Premier League game and Mourinho makes two changes from the 1-6 win. Alderweireld is in for Dier while Bergwijn starts ahead of Lamela. The big news on the bench is that Gareth Bale is on the bench and could appear later on for the first time since signing on loan from Real Madrid.
Prev.
Paul Tierney is the referee for this one while Peter Bankes is the VAR.
Prev.
7th v 13th. 7pts v 6pts. Spurs will go second ahead of Liverpool and just three points behind Everton with victory here. The hosts play LASK Linz in the Europa League on Thursday.
Prev.
West Ham XI: Fabianski (GK); Masuaku, Cresswell, Ogbonna, Balbuena, Coufal; Fornals, Rice, Soucek, Bowen; Antonio.
Prev.
Tottenham XI: Lloris (GK); Reguilon, Alderweireld, Sanchez, Aurier; Ndombele, Hojbjerg, Sissoko; Son, Kane and Bergwijn.
Prev.
Hello and welcome to our live coverage of the Premier League clash between Tottenham and West Ham!