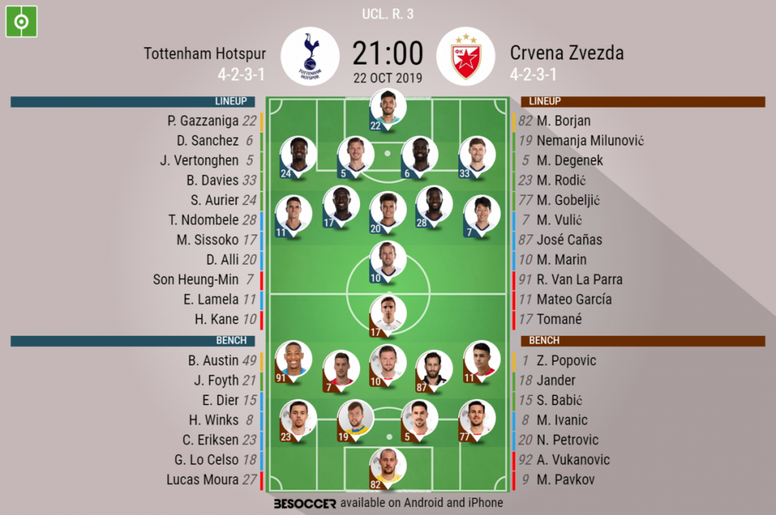 Tottenham Hotspur v Red Star Belgrade - as it happened
Tottenham Hotspur

Crvena Zvezda

Post.
Thank you for joining us tonight. Join us again tomorrow night for more Champions League coverage!
92'
FULL TIME! In what is only Tottenham's fourth win of the season! What a comeback for the London club after a rough start to the season. A 5-0 thrashing of a Red Star Belgrade who looked tired, un-motivated and lacked quality. Could this be the start of Spurs' good form this season? A record home win for Tottenham in the Champions League!
88'
Corner for Spurs after Kane tries to have a shot from a cute angle, but it hits the netting after the keeper gets a touch on it. Corner for Spurs
83'
Milanovic goes in the book for hitting Lo Celso in the face whilst going for the ball. It wasn't an accidental challenge and was right in front of the ref!
81'
Red Star make another change late on, as Van La Parra comes off and Vukanovic on.
81'
Golbeljic catches Lo Celso and it's a free kick for Spurs!
77'
Substitution for Tottenham as Dele Alli comes off to a standing ovation and Giovani Lo Celso, who comes back from injury, is his replacement
74'
The first time Spurs have scored 5 in their new stadium and before tonight, they had only won 3 out of their last 10 matches in their new stadium!
73'
Change for Spurs, Vertonghen comes off and is replaced by Foyth
71'
HARRY KANE!!! Dombele passes the goal to Kane in the box, who caught the keeper by surprise and calmly slotted the ball in the bottom corner. That is the goal of a natural. Lots of space and time on the ball and Red Stars defence all over the place!
67'
Son is being replaced, probably so that he is saved for the weekend, but what a performance for him! Eric Dier is his replacement!!
66'
Marins finds Garcia and he has a shot, Vertonghen almost embarrassed as he switches off and then has to rely on Gazzaniga to make the save, which he does.
63'
In the other game in this Group, Bayern Munich go 2-1 up against Olympiacos
63'
Son just goes past the defenders like they're not there, but takes the shot himself instead of cutting it back to Kane, he went for the hat trick but his shot went just wide. Kane not very pleased!
61'
Cañas comes off and Petrovic comes on for Red Star, as well as Tomane having a straight switch with Pavkov!
56'
200 Spurs appearances and he marks it with a goal. A beautifully waited pass from Kane, who passes to Dombele, who picks out Lamela in the box and he swiftly puts it in the top corner!
55'
Van La Parra and Gobeljic have some nice play and the latter has a shot, but the keeper manages to save it. The only surprise in the second half is that Tottenham haven't yet added to their lead.
54'
Red Star had some more defending to do, but it is disappointing by Tottenham, Kane nods the ball down to Son, who passes to Lamela in the box, but it goes well wide of the post.
49'
Kane drops deep, receives the ball and makes a wonderful cross to Lamela, who is in the box, but he skies it over the bar! Spurs need to show their quality again in this half!
45'
The game is back in play for the second half!! No changes for either side!
45'
Half Time! Tottenham have come out looking a completely different side to previous game, with fight and determination and go into the break three goals up. Red Star haven't really shown any quality and will struggle to get back into this game in the second half!!
43'
Marin gives the ball away in the middle of the pitch, Kane drags the defenders over to one side, as Dombele makes a run with the ball, passes to Son on the other side, who just has to slot the ball past the keeper. Bad mistake for the skipper that was duly punished!
43'
TOTTENHAM MAKE IT THREE JUST BEFORE HALF TIME!!!
40'
Free kick for Tottenham after Kane is fouled by Rodric in Tottenham's defensive half!
33'
News comes in that Bayern Munich have equalised against Olympiacos, with a Lewandowski goal!
30'
Gpbeljic has a hot from the right hand side, but the keeper manages to get a hand to it over the bar for a corner. Red Star getting going a bit now!
29'
Free kick for Red Star in a dangerous position after Marin thought he was fouled there. But Aurier, who fouled him, manages to head the cross away.
28'
Red Star getting into the game a little more now, as they are having a bit more action in their attacking end in the last 4/5 minutes!
26'
Van La Parra has a shot as this was Red Star's first press, but Gazzaniga manages to save it.
24'
This could be a busy night for Red Star keeper Borjan!
24'
Son was given a lot of room, passes it to Davies, who plays it in for Lamela, who has a shot and Borjan makes a good save. Another corner.
22'
In the other game in the group there is a shock as Olympiacos have taken the lead against Bayern Munich!
22'
Dombele invited to shoot and does and Borjan does his stuff and saves the ball. Dombele was on the edge of the box and tried to bend the ball round the keeper into the bottom corner, didn't come off, but Spurs have a corner! As they look a threat with every attack
18'
Free kick for Red Star after Son fights for possession and gets back and fights for the team, but he fouls Marin and gives away a free kick, which Son blocks from the wall! It is crossed back in by Marin and Milunovic heads it well over the bar. Red Star really not creating much in the first twenty minutes.
15'
Poor defending from Red Star! A great finish from Son, Another assist for Lamela, as he runs down the left hand side with the ball, crosses the ball into the box, Son makes a run on the right, which there is no defenders to be seen and just powerfully slots the ball in the back of the net! The stadium is going mad now!
12'
Kane is off on another run, but his shot goes right to the keeper. From watching these first ten minutes you would never believe that you are watching an out of form team! Red Star have made it easy for them as they have not pressed and have been quite passive so far.
8'
A wonderful corner from Lamela sees Kane head it in past the near post. An excellent corner with pace and precision that sees a beautifully headed goal. Tottenham in front early on!!
8'
Spurs have a corner after the free kick came to nothing and Spurs made a run, which was cleared!
7'
Free kick for Red Star after Lamela fouls Tomane!
5'
Big sigh from the supporters, after Son makes a darting run after a ball in from Kane, he has a nice pace, but cannot get the right contact on the ball and he messes up the shot. Tottenham looking threatening from early on!
3'
The visitors have no official supporters here tonight after being sanctioned for racist chanting in a previous game. However, the stadium is packed and the Tottenham fans are singing loud and clear!
2'
Harry Kane receives the ball and is left 1 on 1 in the box with the Red Star defender Degenek, however he slips at the pivotal moment and the ball is cleared away!
Prev.
It has to be remembered that Tottenham did make a similar start to this in last year's Champions League and got to final. Can they do the same this year?
Prev.
4 changes tonight! As Son is back (after being nominated for the Ballon d´'Or), as well as Erik Lamela coming back. Sanchez and Davies return to the defence! Eriksen is back, on the bench for tonight's game. Pochettino says that this game is a must win game and it's very important for the team and their confidence
Prev.
A victory for Spurs tonight could move them into second place in Group B! Harry Kane also speaks out and says that they are more behind Pochettino than ever!
Prev.
This will be Erik Lamela's 200th appearance for Spurs!
Prev.
Red Star: Borjan (GK); Nemanja, Degenek, Rodric, Gobeljic; Vulic, Cañas, Marin, Van La Parra, Mateo Garcia; Tomane
Prev.
Tottenham Hotspur: Gazzaniga (GK); Sanchez, Vertonghen, Davies, Aurier; Ndombele, Sissoko, Alli, Son Heung-Min, Lamela; Kane
Prev.
Join us for live commentary as the Champions League returns for the third week. Tottenham host Red Star Belgrade at the Tottenham Hotspur stadium. Can the Londeners end their bad run in the Champions League?