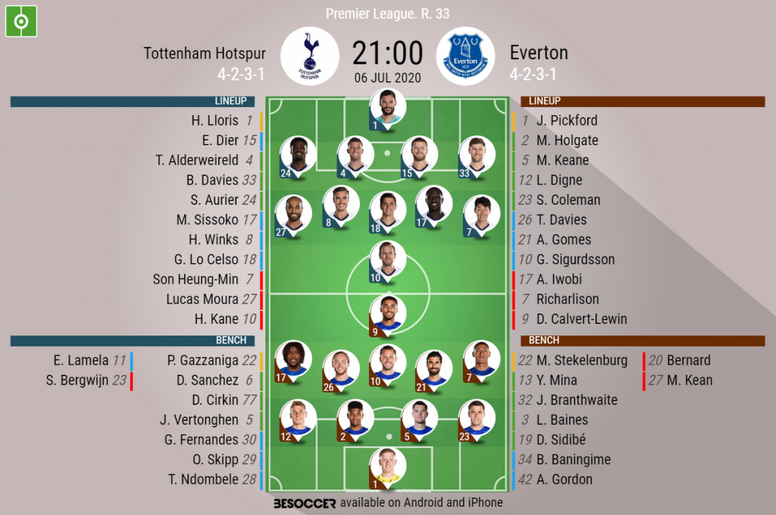 Tottenham Hotspur v Everton - as it happened
Tottenham Hotspur FC

Everton FC

95'
That's all from us, thanks for your company and see you again soon!
95'
FT: Tottenham 1-0 Everton! All over in Tottenham! Spurs edged the first half, Everton the second, but the hosts won thanks to a deflected Lo Celso effort which went down as a Keane own goal. Everton tried in the second half, but lacked the quality to finish off their good moves. Son and Lloris had a spat at HT, but they seemed to sort that out at the break. Not impressive, but it's a case of job done for Spurs.
95'
Sidibe hits one from outside the box which goes along the ground and well wide. And that's full time!
94'
Everton deserve a draw, but they have lacked the cutting edge in the final third.
94'
Spurs just running out the clock.
93'
Kean commits a foul on the far side and that eats up another 30 seconds. Pure frustration.
93'
Time running out for Everton as Spurs are keeping the ball.
92'
Spurs sub: Vertonghen on for Lo Celso.
91'
Kean hits it from inside the D and Lloris saves easily.
89'
The corner is headed out to Gordon who fires well over! Everton deserve a draw.
87'
Gomes is booked for a challenge on Lamela.
86'
Spurs send a cross which just finds Aurier on the near touchline.
83'
Alderweireld is cautioned.
81'
Tottenham sub: Moura off, Lamela on.
81'
Chance for Calvert-Lewin! He shoots from Gordon's free-kick with his heel and Lloris makes a simple catch.
79'
The free-kick is only half-cleared and Ben Davies blazes over from distance.
79'
Digne concedes a free-kick on this near side. Lo Celso is over it.
78'
Spurs sub: Son is replaced by Bergwijn as music is played on the stadium's speakers.
77'
Everton double sub: Tom Davies and Coleman are replaced by Kean and Sidibe. Attacking changes obviously.
76'
Davies brings down Richarlison from behind.
74'
Bernard's free-kick hits the wall and then Davies' effort is deflected behind for a corner.
72'
Everton got a free-kick and now win an even better one just outside the D after T Davies is brought down by Moura.
70'
Calvert-Lewin ia caught offside.
67'
Everton sub: Bernard on for Sigurdsson.
66'
Lloris and Son made up at HT given the images we saw in the tunnel before the second half.
65'
Son is denied by Pickford! Tremendous save by the goalie to prevent it from being 2-0.
64'
Son hits a strike from outside the box and it flies just wide of the goal.
63'
Richarlison is fouled again. I think that's four or five times now.
60'
Still 1-0 here and Spurs seem to be taking this too easily, Digne cleared the ball out for a throw in and Pickford shouts "What are you doing?" at him. Lo Celso and Digne then slap each others hand as they want for the throw to be taken.
58'
Winks hits one which goes well wide of the goal.
57'
A cross into the box by Sigurdsson is aimed for Richarlison and Lloris catches.
55'
Everton threaten again through Richarlison and Coleman!
54'
Son!!! A long ball forward is allowed to bounce by Mina, Son gets on the end of it and his strike is well saved by Pickford. 75% possession for Everton since HT, by the way.
53'
Lo Celso's cross from the far side is headed away by the Everton man.
52'
Everton attack again through Calvert-Lewin, but it's finally cleared. Everton on top.
50'
Gordon sees his shot from distance easily saved by Lloris.
50'
Richarlison passes to Digne and then his shot is blocked by a defender.
48'
Son and Lloris are back out on the field, by the way.
47'
Richarlison is fouled yet again and this time Sissoko is carded.
45'
Everton HT sub: Gordon on for Iwobi.
45'
Very strange the fight as didn't seem to be anything which triggered it.
45'
Spurs have edged the first half, but it's been fairly even. The hosts lead after Lo Celso's shot was deflected off Keane which left Pickford with no chance. Moura could have scored at 0-0 while Richarlison almost levelled right on half-time. Back for more in a bit!
45'
HT: Tottenham 1-0 Everton! Half-time in Tottenham as Son and Lloris are fighting with each other! The other Spurs have to pull them away! Incredible scenes at the break!
45'
What a chance for Richarlison!! The Brazilian is given space and is strike across Lloris from just outside the box goes narrowly wide of Lloris' right hand post. Everton's best chance of the half.
45'
Everton attack, but Coleman's cross in is easily dealt with.
45'
Digne is penalised for a foul on Aurier. He hauled him down.
44'
Pickford lucky! Lo Celso's corner is dropped by Pickford and Sissoko could have scored at the back stick, but he didn't expect the mistake!
43'
Spurs attack through Kane and Moura and the Brazilian's shot is deflected behind by the sliding Digne.
40'
The corner finds Calvert-Lewin at the back stick and his header is stopped by Lloris!
39'
Everton attack and Alderweireld has to head behind for a corner.
37'
Kane's shot deflects off the wall for a corner.
36'
Everton sub: Mina on for Holgate who can't carry on here.
35'
Foul on Son by Andre Gomes 25 yards from goal.
33'
They get a second which is easily caught by Lloris.
30'
Holgate has injured himself in the challenge on Lo Celso.
30'
Dier hits the top of the net with his free-kick!
28'
Holgate is carded for a bad challenge on Lo Celso. It was a lovely break involving Kane and Son and Holgate is hacked down just outside the box.
28'
Coleman attacks down this near side and his cross for Iwobi in the middle is cleared.
25'
Actually been given as a Keane own goal.
24'
Lo Celso scores for Tottenham after a deflection!! Son passes to Kane in the box, the ball then breaks to Lo Celso whose shot deflects off Keane's arm and that sends the ball into the other corner. Drinks!
22'
A long ball is sent for Iwobi by Gomes and Lloris has to come out and head way to clear the danger.
21'
Chance for Lucas Moura!!! The Brazilian shot from distance goes just wide of Pickford's right hand post. Pickford dives, but doesn't get a touch to it.
20'
Lucas Moura looks to find a teammate in the box with a chipped pass and T Davies reads it.
19'
Both teams having a bit of ball here, but it's well away from the goals.
16'
Winks fouls Richarlison from behind and is warned by the ref.
14'
Calvert-Lewin is miles offside from Sigurdsson's pass.
13'
B Davies steps on Richarlison's ankle and is penalised.
12'
Spurs attack, but Dier's pass is poor and the ball goes for a goal kick.
10'
Aurier has to boot the ball away to prevent Iwobi running onto a dangerous looking ball.
8'
Digne gets the ball inside the box on the far side, but his cross come shot goes well wide.
7'
A long pass is sent for Son, but he can't control the ball with his head and it runs through to Pickford.
6'
Digne's cross into the box is headed away by a defender.
4'
Kane shoots at Pickford from close range, but the flag is up. Good start by the hosts.
4'
Son attacks down this near side and his cross is cut out.
3'
The free-kick into the box is headed by Dier and Pickford knocks the looping header away for a corner.
2'
Free-kick for Spurs on the far side.
1'
Kane controls the ball in Everton's half and is then fouled by Keane.
1'
Everton get us underway from left to right! Both teams in their usual strips.
Prev.
The players are out here!
Prev.
It was 1-1 when they met at Goodison Park earlier in the season.
Prev.
Graham Scott is the referee for this one while Kevin Friend is the VAR.
Prev.
19 degrees and sunny in North London this evening.
Prev.
Everton beat Leicester 2-1 last Wednesday and they make just one modification. Tom Davies replaces 19 year-old Anthony Gordon. Richarlison, who scored v Leicester, is their main man upfront.
Prev.
Spurs make two changes from the controversial 3-1 loss at Sheff Utd on Thursday. Alderweireld and Winks come in for D Sanchez and Bergwijn,
Prev.
10th v 11th. 45pts v 44pts. The teams are four and five points off the EL respectively so both will want to win.
Prev.
There's plenty to look forward to here this evening. Both sides are fighting for a Europa League place, two great friends in Mourinho and Ancelotti face each other on touchline and Andre Gomes and Son will see each other again for the first time since the Korean's red card for a foul on Gomes in the game at Goodison earlier in the season. Gomes suffered a horrific injury in the incident.
Prev.
Everton XI: Pickford (GK); Digne, Holgate, Keane, Coleman; Iwobi, Davies, Sigurdsson, Gomes, Richarlison; Calvert-Lewin.
Prev.
Tottenham XI: Lloris (GK); Davies, Dier, Alderweireld, Aurier; Son, Sissoko, Lo Celso, Winks, Moura; Kane.
Prev.
Hello and welcome to our live coverage of the Premier League game between Tottenham and Everton!