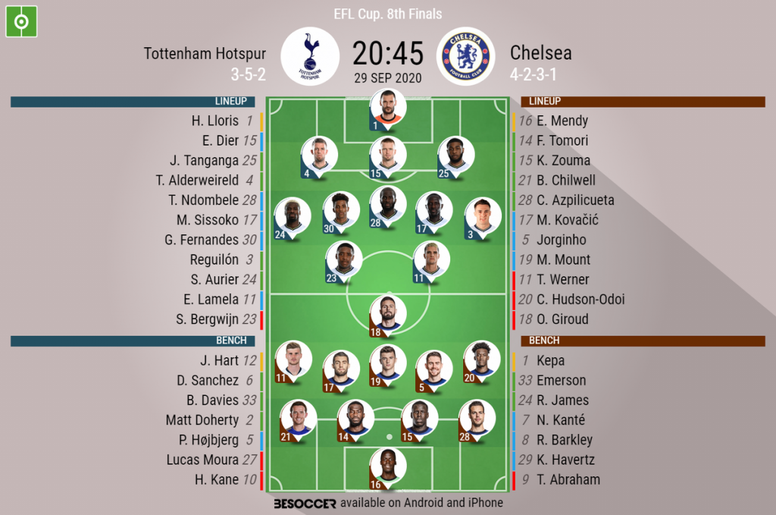 Tottenham Hotspur v Chelsea - as it happened
Tottenham Hotspur

Chelsea

94'
That's all from us, thanks for your company and hope to see you again soon!
94'
FT: Tottenham 1-1 Chelsea (Tottenham win 5-4 on pens)!!! That was an interesting shootout with most of the pens going the same way. The first nine were all scored, but Mount saw his pen go wide off the post and Tottenham go through to the quarter-finals!
94'
Mount with Chelsea's fifth and his pen goes wide!!! He hits to the same place as nearly all of the pens, Lloris goes the right way and it's over! Spurs win 5-4!!!
94'
Mendy changes side, but so does Kane and it's 5-4!!!
94'
Emerson scores with the same pen!!
94'
Lucas Moura! Normal service resumed with the penalties! Like the first 5!
94'
Jorginho!!! He changes and goes to Lloris' right after a little jump, Lloris goes the right way, but can't save it as it's in the corner.
94'
Hojbjerg scores in exactly the same place! 3-2 and all 5 pens in the same place.
94'
Azpilicueta scores with the same again! The GK goes the same way as well!
94'
Lamela steps up and exactly the same!!! The ball goes to Mendy's right and the GK went to his left.
94'
Abraham is Chelsea's first penalty taker and it's the same again. Ball to the GK's right. 1-1.
94'
Dier takes the first pen and he sends Mendy the wrong way!
93'
Werner sends a ball into the box, it's cleared and Kante commits a foul to end regulation. Penalties!!
90'
Three added minutes. Kante and Werner have shots for Chelsea, but nothing comes of them.
88'
Spurs dominating and Moura can't control the ball.
85'
Five minutes away from penalties!
83'
Lamela levels for Spurs! Chelsea want offside, but it's given!! A cross field ball finds Reguilon, his short pass finds Lamela who taps in. Kane doesn't touch it so it's legal. There's no VAR anyway.
83'
Jorginho is cautioned for a foul near midfield.
81'
Harry Kane hits over the bar after running into the box! Should have hit the target.
78'
Now Dier has run back out and Mourinho is back!!! Dier must have gone for a comfort break. Spurs were with 10 and Mourinho ran down the tunnel to call him back. The coach was furious his team were down to 10.
77'
Scenes here as Mourinho is furious and storms down the dressing room!!
77'
Hudson-Odoi hits it over the goal!!! He could have passed to Abraham in the middle, but he went for it himself and put too much behind it.
76'
Chelsea sub: Tammy Abraham is on for Giroud.
76'
Tottenham sub: Bergwijn is replaced by Lucas Moura.
74'
The pass to Werner is poor, the German keeps the ball in play and Giroud gets the corner.
73'
Werner!!!! Spurs loses the ball, it's given to Werner and the shot is saved by Lloris!
71'
Reguilon!!! Aurier sends a ball to the far stick and Reguilon's low header flies wide.
70'
Chelsea sub: Kante on for Kovacic.
70'
Tottenham sub: Kane on for Tanganga.
69'
Lamela's corner is fumbled by Mendy and a second ball into the danger zone is caught by the goalie.
66'
Chelsea sub: Emerson is on for Chilwell.
63'
Tottenham sub: Hojbjerg on for G Fernandes.
63'
Mount is down after getting brushed in the face by G Fernandes.
61'
Tanganga is booked for grabbing hold of Mount and not letting him get past.
59'
Aurier sees yellow after sliding in late on Jorginho.
58'
Azpilicueta takes a couple of touches and then fires well wide of the goal.
55'
Tottenham attack again involving Bergwijn and Tomori slides in to concede the corner.
54'
Bergwijn goes down wanting a penalty and nothing is given. Not for me.
53'
Aurier fires wide of the goal after being given the ball by Bergwijn.
50'
What a brilliant save!!!! Aurier goes down this near side and passes for Reguilon in the middle whose shot is tipped over by Mendy.
49'
Bergwijn fires over the goal from just inside the box!
48'
Tottenham with some early possession in the second half.
46'
Chelsea get us going again!
45'
HT: Tottenham 0-1 Chelsea!! Half-time in Tottenham and Lampard's men lead thanks to a Timo Werner goal after 19 minutes following a Reguilon error. Chelsea were the much better side for the first 35 minutes, but Spurs improved in the final 10. Join us shortly for the second period!
45'
Lamela is brought down and Kovacic knocks him over from behind to break down the promising attack. Spurs picking up in the last 10 minutes.
43'
Lamela makes a run which comes to nothing and on the counter, Reguilon makes a vital tackle to stop Hudson-Odoi being clean on goal.
40'
Hudson-Odoi is caught offside.
38'
Chelsea having some possession in Spurs' half waiting for the opening.
35'
Great save by Mendy to deny Lamela with his foot after good build up play! That's Spurs first real chance.
30'
Hudson-Odoi gets the ball in the Spurs box, he slips by then recovers and passes to Werner, but nothing comes of it.
28'
Ndombele is caught in the face and Ndombele is penalised.
27'
Seems to be an argument on the touchline between Lampard and Mourinho, but seems more good natured now.
26'
Dier had a leg problem and Sanchez is now putting his tracksuit back on.
25'
Dier has picked up an injury and D Sanchez is getting ready to come on. Not good for Spurs.
23'
Gedson Fernandes goes down wanting a penalty and it's not given!! He was one on one with the GK and Zouma got back to make a great challenge. Looks a good call by the ref.
20'
Chelsea have been the much better team, but Reguilon has had a nightmare there.
19'
Timo Werner makes it 0-1 to Chelsea!!! Reguilon makes a shocking error, Chelsea win the ball through Hudson-Odoi, it's passed to Azpilcueta whose cross to Werner in the D is hit home!
17'
Hudson-Odoi!!! Mount gets to the by-line who cuts back for Hudson-Odoi and his shot is saved by Lloris.
15'
Chilwell's cross in is headed out to Mount who fires wide!
13'
Plenty of possession for Chelsea, but little progress going forward.
10'
No major chances here so far in the opening 10 minutes, Chelsea have had more possession and territory.
7'
Kovacic is brought down by Lamela now.
5'
Werner sends a dangerous ball to the far post, but Hudson-Odoi can't get there in time.
5'
Lamela is penalsed for a foul 30 yards out from goal.
2'
Fast start to this game with both teams attacking.
1'
Tottenham get us going from right to left! Both teams in their usual colours.
Prev.
The players are out here!
Prev.
Lee Mason is the referee for this one. There's no VAR.
Prev.
14 degrees and dry in North London this evening.
Prev.
Caballero, Thiago Silva, Christensen, James, Alonso, Kante, Havertz and Abraham out. They are thinking ahead to Palace on Saturday.
Prev.
Changes for Chelsea as well. Mendy replaces Caballero in goal, only Kovacic, Werner and Mount remain in the XI from the 3-3 draw at WBA.
Prev.
Doherty, Sanchez, Davies, Hojbjerg, Winks, Lucas Moura, Lo Celso, Kane and Son drop out.
Prev.
Only Lloris and Dier remain in the starting XI from the 1-1 draw with Newcastle.
Prev.
Spurs are playing a weakened team as they have an important EL game with Maccabi Haifa on Thursday and a huge PL game v Man Utd on the Sunday.
Prev.
Sergio Reguilon will make his Spurs debut since signing from Real Madrid.
Prev.
Chelsea XI: Mendy (GK); Chilwell, Tomori, Zouma, Azpilicueta; Werner, Kovacic, Mount, Jorginho, Hudson-Odoi; Giroud.
Prev.
Tottenham XI: Lloris (GK); Tanganga, Dier, Alderweireld; Reguilon, Sissoko, Ndombele, G Fernandes, Aurier; Lamela and Bergwijn.
Prev.
Good evening and welcome to our live coverage of the Carabao Cup clash between Tottenham and Chelsea at the Tottenham Hotspur Stadium.