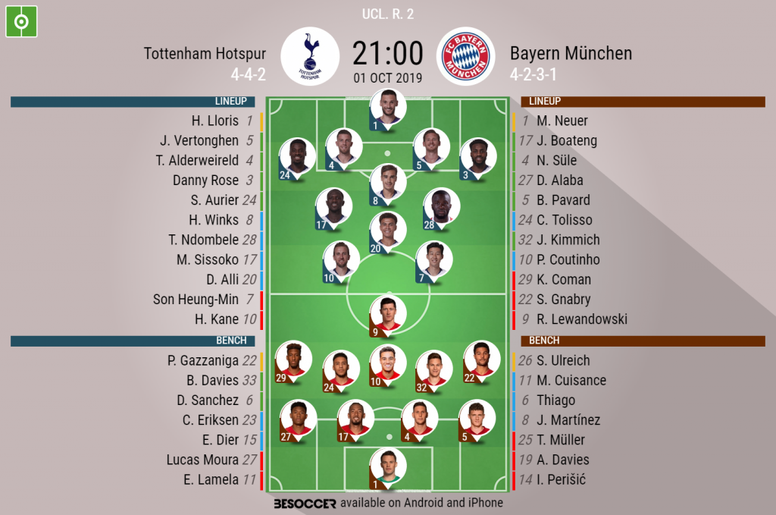 Tottenham Hotspur V Bayern München - As it happened.
Tottenham Hotspur

Bayern München

Post.
As always, we thank you for joining us tonight! More Champions League coverage coming your way tomorrow!
90'
FT: Spurs 2-7 Bayern Munich. Devastating result for Spurs as Bayern hand them their biggest European defeat ever at home. Pochettino's moodiness is only going to get worse now despite a decent first half by the North London team. Meanwhile, Kovac's team had a wonderful performance and Serge Gnarby takes the ball home after a four goal stunner.
90'
Bayern have been brilliant for the final hour but this isn't normal, is it? There's something wrong here and this will be a wake-up call for Spurs.
87'
AND ANOTHER ONE!!!!! HEAVIEST EUROPEAN DEFEAT FOR SPURS, EVER! Five goals conceded for Spurs in this second half and four of them have been scored by Serge Gnarby. This is a shocking result and it feels a bit unfair now, but this shows the state of affairs in North London. Very messy.
86'
AND BAYERN GET THEIR SIXTH GOAL!!!!! This is very messy now. Bayern work this beautifully after Alderweireld gives the ball away, Coutinho nudging a delightful first-time pass to Lewandowski with the outside of his foot and the striker finishing devastatingly.
84'
What a brilliant game this has been! Thiago clips a delightful pass over Aurier and Gnabry races in behind once again before rolling a composed finish beyond Lloris.
82'
Sergy Gnarby gets his hat-trick!!!!! What an unexpected result!!
80'
Spurs trying their best in the attack but no quality finishes as of yet... Draw looking unlikely now as Eric Lamela comes on for Harry Winks.
77'
Slower few minutes here as Spurs stil need two goals to equalise... A few more minutes left to this clash!
74'
Coutinho tries his luck at a shot from 25 yards out but it drifts wide.
71'
A few substitutions here! Coman and Boateng are replaced by Perisic and Martinez, with Boateng seemingly having sustained an injury at some point as he is helped out by Bayern staff. Meanwhile, Dele Alli is replaced by Lucas Moura for the hosts.
69'
Now a possible penalty for Bayern but it's not given! Rose slides into Coman but it doesn't look intentional as the Frenchman was on his way down anyways.
67'
That was a really good save from Neuer and an even better strike from Eriksen a few minutes after coming on.
66'
Lewandowski does brilliantly to surge down the left and hand the ball to Gnabry, whose eyes light up at the possibility of scoring a hat-trick, but a combination of Vertonghen and Alderweireld defending stop him. Seconds later, Eriksen takes aim from 20 yards and forces a brilliant tip from Neuer! That's a fine save and stops Spurs giving themselves real hope!
64'
Ndombele comes off for Eriksen! Good contributions from the recent Spurs signing tonight.
63'
Oh, that could have been 4-3! In fairness it's a difficult, dropping ball 16 yards out for Sissoko, who's not exactly a natural finisher, can't keep it down.
61'
Clinical finish from Harry Kane, even with one of the best goalkeepers in the world managing to anticipate his shot! Huge for Spurs, who could be back in this now.
58'
Possible penalty for Spurs here as Coman is caught giving a slight touch to Danny Rose in the box... And it's given!
55'
Props to Tolisso, who did well to remain calm after receiving the ball in such an inviting position and selflessly play Gnabry in.
55'
Big trouble for Spurs now! Clinical finish! Winks is caught on the ball and Bayern are on him like a flash. It's spirited left to Gnabry, who slots in off the post, and that is the game right there.
54'
GNARBY!!!!! And he scores again in just under two minutes!
53'
Gnabry zooms past Aurier down the right flank and advances all the way into the box before beating Alderweireld and smashing a low shot across a helpless Lloris and into the net after an assist from Pavard! Spurs have a lot of work on to save this game now.
52'
GOAAAAAAAAALLLLL FROM BAYERN!!!! AND WHAT A GOAL THAT IS!!!!
50'
Coutinho sends Lewandoski on a run but Spurs's defence clears, with Alderweireld managing to give it back to Dele Alli, but his shot is comfortably caught by Neuer.
48'
Verthonghen blocks a shot from Lewandowski as Tolisso shoots wide. Spurs can't let Bayern score again...
46'
Kane gets an early yellow for leaving his arm out in an aerial challenge.
45'
One change for Bayern as Thiago Alcantara comes on for Alaba.
45'
HT: Spurs 1-2 Bayern. What a thrilling first half this has been! Spurs had a very strong start with multiple chances by Son and Kane, and frequent but key plays by Ndombele. Bayern have also provided brilliance here and there, with Lewandowski's stunning goal right before the break which gives them the lead!
44'
Lewandowski with the goal for Bayern!!!!! Gnabry did brilliantly to keep the move flowing amidst the penalty appeal and lay the ball off to the razor-sharp Lewandowski!
43'
And it goes through but the shot is just wide! Corner for Bayern.
41'
Yellow card to Ndombele for a foul on Coutinho! It looked like a fair challenge to me, but it leads to a free kick for Bayern! Lethal Lewandowski takes it...
39'
Aurier finds plenty of space down the right once more, but angles his cross well over the bar. Spurs are getting a lot of joy down both wings so far and continue to exploit this issue.
34'
Kimmich almost plays Lewandowski through on goal with a deft chip, but Vertonghen rises to nod the danger away.
32'
Alaba loops in an inviting cross towards Lewandowski at the back post, but Vertonghen does just enough to put him off and force his header well wide.
30'
Son's afforded too much space on the left once again and this time he cuts inside and attempts to shock Neuer with a drive at the near post, but it flashes narrowly wide. Chance after chance here!
28'
Spurs win a free kick in a promising area, but Kane's shot is way over the bar.
27'
What a chance for Ndombele! Kane frees Aurier to gallop down the right-wing and he cuts it backs elegantly for Ndombele who drives a shot unhindered from eight yards, but he hits it straight at Neuer and it flicks behind for a corner.
25'
Gnabry is booked for shamelessly tugging Winks back in midfield after losing possession to him.
21'
Corner kick for Bayern, now, which leads to another. Surely there are more goals in this one. Coutinho shoots straight at Lloris in the aftermath of the second.
19'
Spurs win a corner after more fine work from Ndombele. This has been non-stop so far. They try a low one but Pavard clears towards Son, who tests Neuer with a 25-yard curler that the keeper clutches. It was probably going wide, but what an intense start to this game!
17'
Big chance for Kane! This game's breathless right now and Kane's the latest beneficiary! He races onto a smart pass from Alli and rounds Neuer before Boateng spectacularly blocks his cushioned finish away for a corner
15'
What a start and what a hit! An attempt from Bayern is only half-cleared and Kimmich can take possession 25 yards out. He has too much time to work the ball onto his right foot and lashes a tremendous equaliser into the bottom corner. No sooner were Bayern behind than they're level!
15'
And Bayern equalise in the blink of an eye!!!!! Kimmich equalises!
11'
Tolisso gives the ball away when trying to play from the back and Sissoko, seizing possession, calmly plays in Son – this time on the right of the box. This time he makes no mistake, slamming it across Neuer, and he scores from his third chance of this still-young game!
11'
GOAAAAAALLLL FOR SPURS!!!!! SON SCORES!!!!
10'
Spurs almost open the score as Ndombele finds Son beautifully again! But with Kane waiting he allows Neuer to gather a cross-shot from a great position.
10'
Alaba is stricken after Aurier jumps in late on him. Let's say he was trying to hurdle a tackle; otherwise that looked very bad indeed, like a kind of double stamp. Immense clumsiness after anything else, I think, and luckily Alaba is OK.
8'
t's been a lively start from both sides here, and it bodes well for the Bayern's chances at equalling a surprising record! They're looking to become just the second side after PSG in October 2017 to score two or more goals in six successive Champions League away group stage matches!
6'
Huge save from Neuer! A wonderful slide-rule pass from Winks sets Son free on goal, but Neuer rushes out to close the one-on-one down and blocks his fizzing shot away for a corner!
3'
Strong save from Lloris early on! Coman unleashes Gnabry in behind the Spurs defence with an incisive pass, before the former Arsenal winger beats Alderweireld and fires a fierce shot from the edge of the box that Lloris just about manages to palm to safety!
Prev.
Tolisso gives the ball away when trying to play from the back and Sissoko, seizing possession, calmly plays in Son – this time on the right of the box. This time he makes no mistake, slamming it across Neuer, and he scores from his third chance of this still-young game!
Prev.
Spurs make just the one change from their confidence-building victory over Southampton at the weekend – Eriksen makes way for Alli. Bayern, meanwhile, make two changes from their exciting 3-2 victory over Paderborn on Saturday: Alcantara is replaced by Tolisso, while Alaba returns in place of Hernandez.
Prev.
A competitive fixture between these two sides has been a long time in the making: Tottenham Hotspur last met Bayern during the 1983-84 UEFA Cup campaign, knocking them out 2-1 on aggregate on the way to winning the competition – the last trophy they've won in Europe.
Prev.
Bayern XI: Neuer; Pavard, Sule, Boateng, Alaba; Kimmich, Tolisso, Coutinho; Gnabry, Lewandowki, Coman.
Prev.
Spurs starting XI: Lloris; Aurier, Alderweireld, Vertonghen, Rose; Winks, Ndombele, Sissoko; Dele, Son, Kane.
Prev.
Let's take a quick look at the line-ups as we wait for the game to get started!
Prev.
Hello and welcome to our live coverage of this evening's Champions League clash between Mauricio Pochettino's men and Coutinho's Bayern Munich!