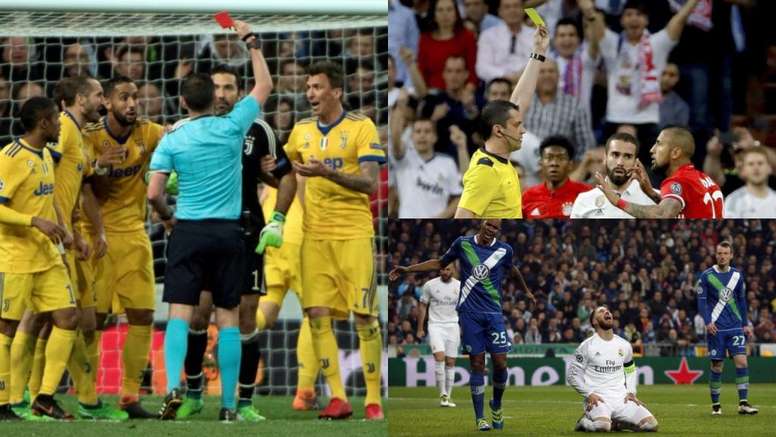 Three close calls that ended in Champions League glory for Real
Real Madrid had headed into the return leg of the quarter-finals with a 3-0 lead over Juventus. However, the Italian giants fought a valiant battle to overcome the deficit and claw their way to a 3-0 lead in the return leg, leading to a palpable atmosphere in the Santiago Bernabeu.
Despite Ronaldo swooping in with a last-minute goal to rescue Real from certain defeat, the Spanish club were forced to face up to their weakness: assuming that the job is done. Since Zidane took the reins, Madrid have only failed when they believed themselves to be superior, and made the fatal error of acting so by taking a backseat.
With La Liga and Copa del Rey titles out of reach, 'Los Blancos' are counting on a third consecutive Champions League win to end their campaign this season. However their performance against Juventus at the Bernabeu was a sharp reminder of previous close calls.
Wolfsburg instil humility in Madrid [2016]
Madrid had taken to the Volkswagen Arena filled with confidence but a penalty goal from Ricardo Rodriguez, followed by a strike from Max Arnold before half-time sent Madrid into the return leg 2-0 down.
Six days later, Bernabeu supporters watched in panic as a German goal would've denied Real a spot in the next round. 'Los Blancos', however, came back fighting with a Ronaldo hat-trick that turned their close shave into a place in the semi-finals.
Overtime heartache for Bayern [2017]
Madrid defeated the Bavarian giants 2-1 with a double strike from Ronaldo that surpassed the inital goal scored by Arturo Vidal in the first leg. However, the second leg played out a slightly different narrative...
An own goal from Sergio Ramos in the 77th minute put Bayern ahead, and the match went into overtime with Vidal having been red-carded. Ronaldo and Marco Asensio then took advantage of their numerical superiority to claim three goals and progress to the semi-finals, by the skin of their teeth.
Madrid get lucky with Vasquez penalty [2018]
Juventus were leading against Real Madrid for 93 minutes, and the Italian giants came within touching distance of the semi-finals, that is until Lucas Vazquez went down inside the area.
Although Real have had some very narrow escapes previously, the club can find solace that after the 2016 quarter-final against Wolfsburg, and the 2017 match against Bayern, Real Madrid went on to clinch the Champions League title in both cases.
They will be hoping that their near miss against Juventus on Wednesday will spur them onto Champions League glory in 2018.