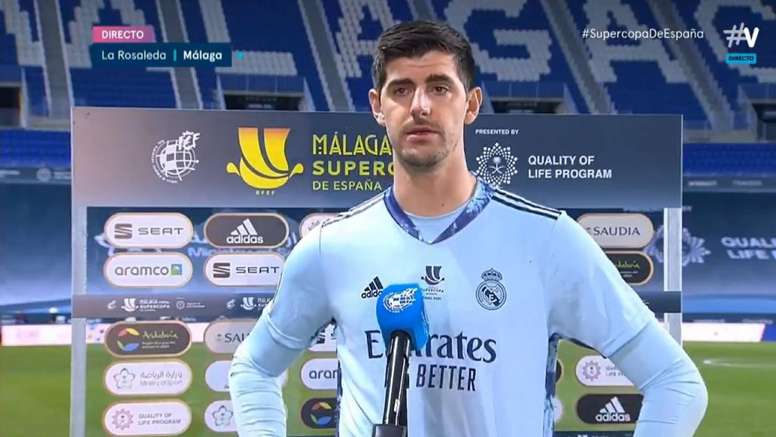 "This year they are giving a lot of penalties against us"
Thibaut Courtois, Real Madrid's Belgian keeper, complained about an offside passage of play that proceeded the penalty and Athletic Bilbao's second goal in the Spanish Super Cup semi-final.
"We have a philosophy of playing from behind and at some point you have to look deeper. It is not an excuse, it is our style of playing. The first goal is an unfortunate pass that can happen and the second goal comes from an offside before the corner, then there is a second ball that is a penalty", he said.
"It is a move that marks the match because it was offside. The second half we played better but we didn't manage to draw", he added when speaking to 'Vamos'.
Courtois was sad at getting knocked out but tried to send a message of encouragement to the Madrid fans, convinced that the reaction will come soon. "We are disappointed, we wanted to win and play the final and obviously fight to defend the title we won last year but it couldn't be".
"The first half was marked by two unfortunate moves that cost us two goals and we didn't score. In the second half we had bad luck, two shots off the post and the ball didn't want to go in but we played well. The first one could have been better", he analysed.
The Real Madrid goalkeeper lamented the lack of fortune with the shooting that saw Marco Asensio hit the woodwork. "I don't think that we haven't been solid at the back today. One is a bad pass because of our style of play and the second is a penalty that this year a lot are being given against us. You have to score goals, Marco shoots perfectly into the corner and it's bad luck. We have to keep working and fighting even though it's a shame we can't play the first final of the year".
January 14, 2021