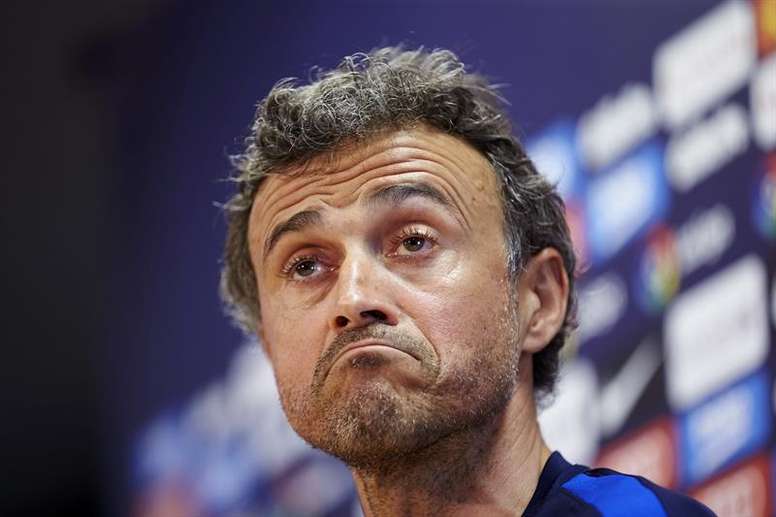 'They will score, so our objective is to get five'
'If I have to recall from the PSG match, it was difficult because we had to be patient, with a good rhythm on the ball, and frenetic without the ball. Also, we needed four goals. This time only three. And taking into account that the opponent will have chances, our objective will be to score five'.
Luis Enrique referred to the comeback against the French giants, which was in no way a perfect match from his players, but the main goal was achieved, to overturn the result: 'If we came back against PSG with a match that was not perfect, it does not have to be against Juventus either'.
The Italians believe a minimum of two goals should guarantee a place in the semifinals. If this happens, the Barcelona manager knows exactly what to do: 'If Juventus score two goals we have to get six...', he assured.
He also underlined the importance of the home support. He implored Barca fans not to leave the Camp Nou in the 80th minute, after his side proved nobody should take them for dead: 'I hope nobody leaves in the 80th minute. Those of us who were at the Camp Nou against PSG have an opportunity to witness another historical comeback. We have already seen what this team can do'.
Luis Enrique is sure that, however big a club Juventus is, if they go behind this will cast doubts on their system: 'It is easier. If we score first, the Camp Nou will make the second, and the third goal will arrive on its own'.
The great news for the Catalans will be Busquets' return, who missed the match in Turin through suspension: 'To have Busquets back is very good news. He is one of the most tactically intelligent players we have, and a key figure'. He also lauded Leo Messi, backing him to be the player who makes the difference: 'I hope tomorrow everybody's at their best. Messi, playing at 25%, would still contribute a lot to the team', the Barcelona boss concluded.