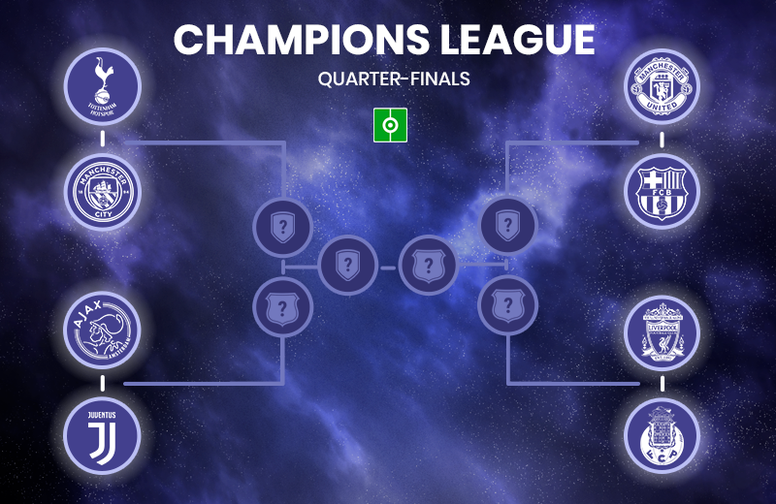 These are the matches for the quarter-finals of the Champions League 18-19
Eight sides remain in the Champions League and the teams found out on Friday morning who they would face in the quarters as well as their potential opponent in the semis.
The first leg of the quarter-final ties will take place on 9th and 10th April while the return legs will be played on 16th and 17th April. Just like in the previous round, the VAR will be employed in all matches.
The objective for all is the same: reach the Champions League final in Madrid on 1st June at Estadio Wanda Metropolitano. We already know that Atletico will be unable to play on their own pitch as they were knocked out by Juventus in the previous round and that we will have a new name on the trophy after three years since Real Madrid were eliminated by Ajax.
These are the ties for the quarter-finals:
Ajax v Juventus
March 15, 2019
Ajax will once again have the first leg at home and will look to try and upset Juve like they did against Real Madrid in the previous round. If Real Madrid had progressed as was expected, Cristiano Ronaldo would have made a return to his old club. Juve will certainly fancy their chances against the Dutch side and will be hoping Cristiano Ronaldo can fire once again the team who are second in the Eredivisie.
Liverpool v Porto
March 15, 2019
On paper, Liverpool have been handed the most favourable draw out of all the Premier League sides. However, Porto have the second leg at home and if they can avoid a heavy defeat at Anfield in the first game, they will fancy their chances of turning it around. Furthermore, Liverpool have a crunch Premier League clash with Chelsea just days before the second leg.
Tottenham v Man City
March 15, 2019
As expected, we have an all-English tie in the quarters of the Champions League. Tottenham will host the first leg and make their Champions League debut at the new stadium in what should be a very exciting tie. Manchester City will once again face an English team in the quarter-finals of the Champions League after being controversially knocked out by Liverpool at this stage last season.
Man U v Barcelona
March 15, 2019
The tie of the round is between Manchester United and Barcelona. Man Utd were drawn to play the second leg at home, but have to reverse their tie as Man City were also drawn to play the return leg at home. The 'Red Devils' have only lost one home game since Ole Gunnar Solskjaer took over the reins in December (against PSG in the last 16) so the Catalans will have their work cut out.