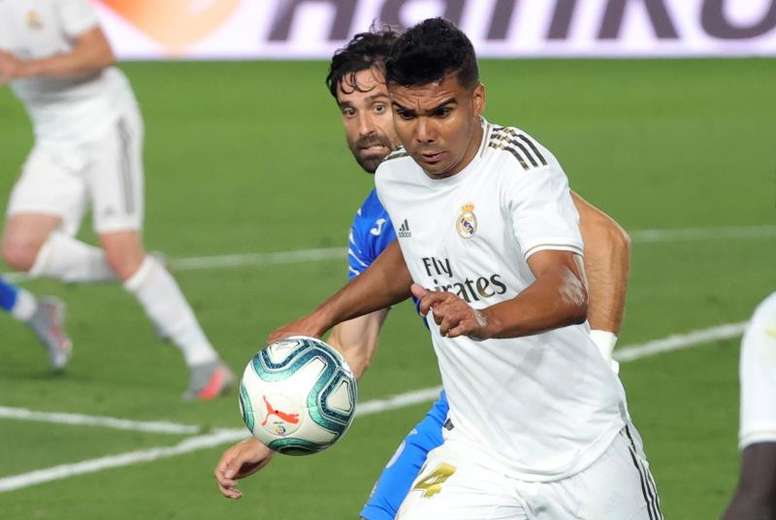 "There's still a chance of winning the group"
Zinedine Zidane's men have an important match at the San Siro. Inter await them at their stadium.
Despite the complexity of the opposition, Madrid are confident of getting the three points. Casemiro spoke with UEFA and analysed how he sees things in the group, made up of Madrid, Inter, Shakhtar Donetsk and Mönchengladbach.
"We know it is a difficult group. Shakhtar have high quality Brazilian players. Borussia have been doing very well in Germany, with a coach who has very clear ideas. And Inter are a great team, with a strong tradition and a coach who has very clear how he sees the game", he said.
Lastly, he made clear what the target is. "We want to be first. There is still a chance. It is up to us to achieve it".
Madrid already beat Inter 3-2 in the reverse fixture. "We knew it was not going to be an easy match, but mentally we were very strong. Rodrygo confirmed this with the goal. Mental work and concentration were key", he noted.
"We are aware that there is still a long way to go. We can only grow in this competition, although the group is hard", he continued.
Lastly, he left praise for Zidane. "It is very easy to talk about him. As a player, he was always my idol. And as a coach... we are not yet aware of what he has really done. Very few have managed to do what he has achieved so far, especially in the Champions League", he ended.
Casemiro made it just in time for the clash against Inter. The Brazilian forms part of the squad for the match in Milan.