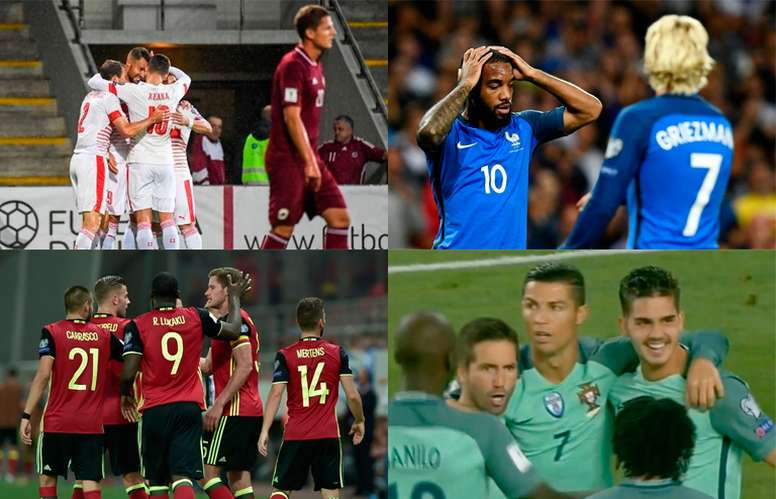 The story of Sunday night's World Cup qualifying matches
France 0-0 Luxembourg
A drab affair or a historic draw? Chose whichever you feel is most appplicable. France's attacking players showed their devastating potential when beating Holland last time out, but were unable to make little Luxembourg suffer the same fate.
The French had 31 shots but were just a post's width from losing the game as Luxembour almost sealed the unlikliest of victories.
The draw complicated France's bid to qualify for the World Cup qutomatically, with Sweden now just a point behind 'les bleus'.
Latvia 0-3 Switzerland
The central Eurpeans swept aside the Baltic side with ease. Goals from Seferovic, Dzemaili and Rodriguez gave Switzerland the victory.
The Swiss remain in pole position in Group H, leading Portugal by three points with six left to play for. Latvia remain bottom of the group with just three points to their name.
Hungary 0-1 Portugal
The Portuguese needed a win to keep the pressure on Switzerland and they managed is despite a far from perfect performance.
Hungary needed a win in order to keep their World Cup hopes alive but when Tamas Priskin was sent off after clashing with Pepe they had their workd cut out.
Andre Silva scored the only goal of the game just after half-time following a cross from Cristiano Ronaldo.
The hosts rallied late on but depite having the last chance of the game, never really looked like getting back into the game.
The Magyars will have to watch next summer's World Cup on TV.
Greece 1-2 Belgium
A crazy five-minute spell saw Vertonghen give Belgium the lead after 70 minutes, Zeca equalise after 73 and Lukaku hand the visitors the victory after 75 minutes.
The win was worth more than just three points to Belgium, with victory making the the first European side to qualify for next summer's World Cup in Russia after taking an eight-point lead over Bosnia with just six left to play for.
Greece saw the Balkan side leapfrog them into second place as their qualification attempts grow more difficult by the day.
Gibraltar 0-4 Bosnia
No shocks here. Edin Dzeko scored Bosnia's first and fourth goals with efforts from Kodro and Lulic wedged in between.
The three points mean that Bosnia leapfrog Greece into second place in the group. Gibraltar meanwhile remain bottom, having conceded 37 goals and scored just three.