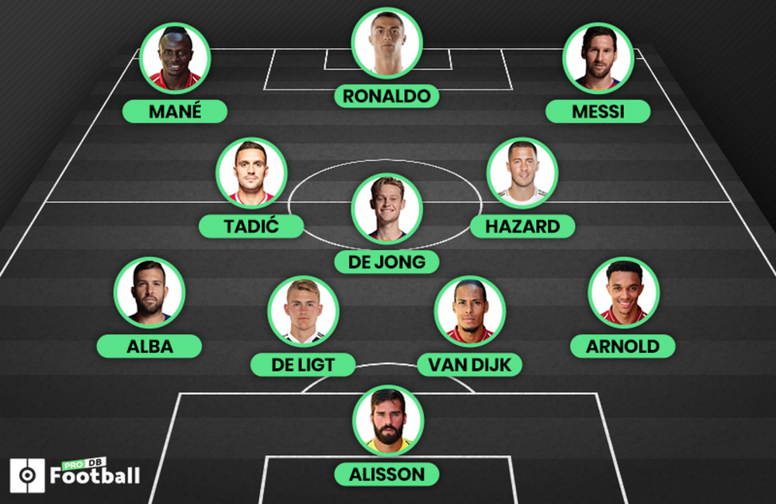 The real best XI of the year (and not the FIFPro one)
The stats from ProFootballDB, BeSoccer's resident statisticians, have highlighted some key differences between the XI announced by FIFA and the one that truly desveres to be the team of the year.
The best XI is decided by FIFA and FIFpro. The team is the following: Alisson; Sergio Ramos, Matthijs de Ligt, Virgil Van Dijk, Marcelo; Luka Modric, Frenkie de Jong, Eden Hazard; Leo Messi, Cristiano Ronaldo and Kylian Mbappé. When the team was announced, there was some criticism due to the inclusion of some players.
23 September 2019
If performances and not indivudal votes are taken in to account, such as the data and stastical data from ProFootballDB, the team should look like the following: Alisson; Alexander-Arnold, Van Dijk, De Ligt, Jordi Alba; Hazard, De Jong, Dusan Tadic; Messi, Cristiano and Sadio Mané.
7 players would remain in the team, and there would be 4 new players: two from the current European champions (Arnold and Mané), Jordi Alba (Barca player who won the league, came runner up in the cup semifinalist of the Champions League, and Messi's partner), and Tadic (scorer of 38 goals with 22 assists in a dream season for Ajax, where they won everything in Holland and reached the semis of the Champions League).
These 4 players would replace Ramos, Marcelo, Modric, and Mbappé. Real Madrid's season penalises the first three and the Frenchman never made it past the last 16 of the Champions League with PSG despite his great individual season. Liverpool would have more players while Real Madrid would lose some: only Hazard remains, although this is due to his form at Chelsea.
The players that remain in both teams undoubtedly deserve to be there. Alisson hardly conceded for the whole season and was chosen as the best goalkeeper in 'The Best' awards. De Ligt and Van Dijk formed a great partnership in defence for the Dutch national team and captained Ajax and Liverpool. Hazard won the Europa League, shone for Chelsea and was one of the best players in the Premier League, and De Jong had an amazing season for Ajax, earning him a move to Barca. And, what is there to say about Messi and Ronaldo.
You have to remember that the team was chosen by players from 211 football federations.