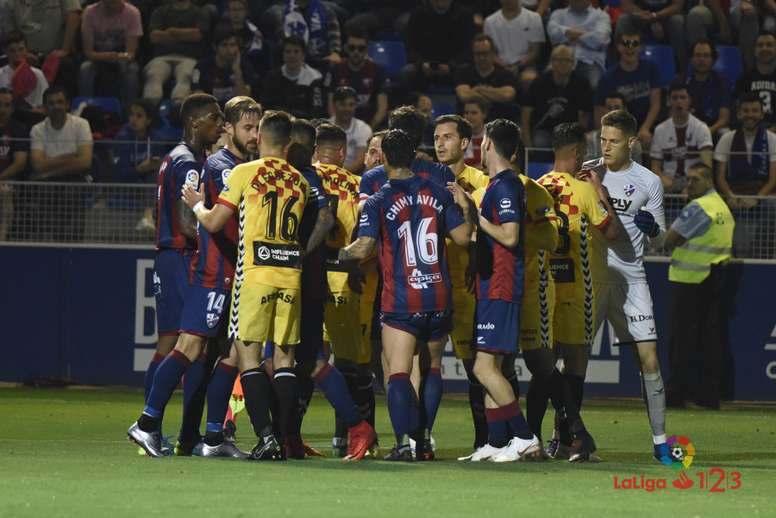 The punishments which Huesca and Nastic could receive from La Liga
Inigo Lopez, now at Deportivo La Coruna, openly spoke of a "pact" between Huesca and Nastic in that match on the penultimate matchday of the 2017/18 season.
The then Huesca player insinuated that his team played half-heartedly to not relegate their opponent, something which he said is commonplace when one team needs the points and other one does not.
Now, La Liga have been forced to intervene and he has been suspended as a temporary for this Wednesday's play-off semi final first leg versus Malaga. Disciplinary proceedings have also been opened over the possible fixing of that match.
Those proceedings could lead to very severe consequences both for Huesca and Gimnastic Tarragona. La Liga, in 69.2.i of its Social Statutes, classes fixing a match as a "very serious infraction".
The punishments are in article 78 of the same statutes. There are three levels of punishment depending on the seriousness of the offence.
The lowest level one would be a warning if it were not a specifically serious offence. The next level would be to relegate each team one division. In other words, Huesca, who were relegated from La Liga to Segunda this season, would play in Segunda B. Gimnastic were relegated from Segunda and Segunda B so they could end up playing in Tercera.
The most serious would lead to the temporary exclusion of the club for three to five years from the top two division or even permanent exclusion if there were to be a repeat. In addition, the clubs would be fined between 30,051 and 330,506 euros.