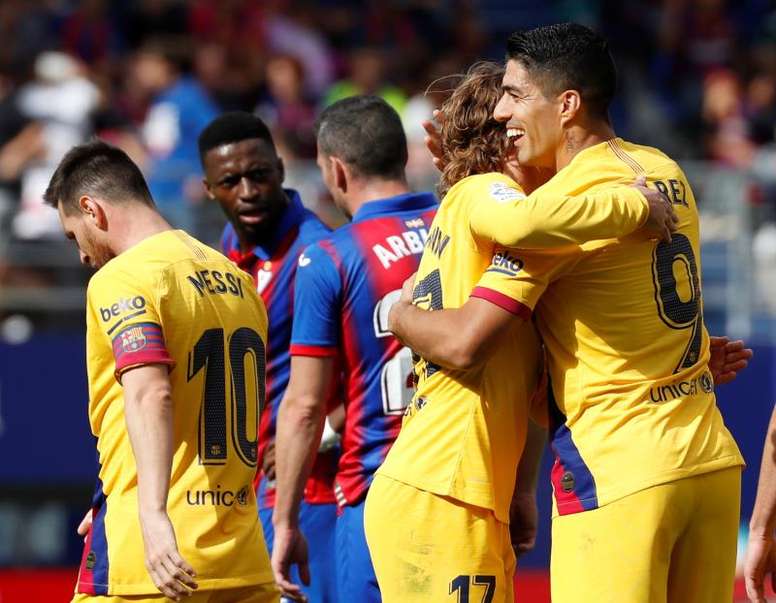 The key factors in Barca's win, which took them top of the table!
These are they key players in Barca's rise to the top:
1. The protagonism of the trio
Antoine Griezmann was one of Barca's biggest bets in the 2019/20 season, but until the match against Eibar, he had not played with Leo Messi and Luis Suarez fully. They played the full 90 minutes together for the first time and responded with a goal each to make it 3-0.
2. Frenkie de Jong's big moment
The Dutchman had his best goal since signing for Barca. He directed, arrived on the wing, assisted and pressed, a bet on a 22-year-old player that begins to bear fruit after an operation of 75 million plus eleven million in bonuses.
3) Barca, leader in spite of their irregular start
Lost in Bilbao and Granada, tied in Pamplona. But after chaining four consecutive victories, they have soared in the standings and already add more points than a year earlier.
4. Didn't concede a goal for the third game in a row
For the third game in a row, Barcelona did not concede a goal. They won against Getafe (0-2), at home against Sevilla (4-0) and against Eibar (0-3). They have now balanced their goals (ten in nine games) and are the top scorers with 23 goals. Numbers that have taken them to the top.
5) .... and Ronald Koeman again on the horizon
But in Barcelona there is always some background noise. It has transpired that Ronald Koeman, Dutch coach, has a release clause in his contract whereby he can leave office before March 2020 only if he has an offer from Barça.