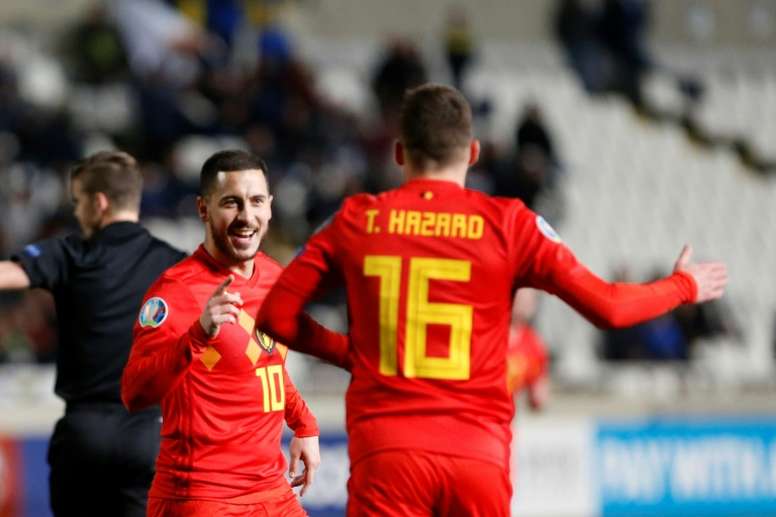 The Hazards, the most footballing family on the planet
The Real Madrid signing was destined to become a footballer. His luck is that, as well as genetic, he is also very well known. His brothers less so. But it is not just them who are into football.
Their parents were also footballers. Thierry Hazard was a defensive midfielder who ended up becoming semi-professional. He tried to become professional, but he saw that his future was not in football.
Hazard's Mum, Carine, also played football. She used to be a footballer and in fact, only stopped because she was pregnant with the first of four children.
She was a striker who loved scoring goals and ended up playing in the Women's first division in Belgium. When she was three months pregnant, she had to call it a day. Although her love and skills at football were passed down to her children.
The main one was the now Real Madrid player, Eden. He used to run away from home to play football and at 14, he went to France to play for Lille. He made his debut there as a teenager.
Every child which Carine gave birth to ended up becoming a footballer. After Eden, Thorgan, whose career has taken an upturn in recent years. He even managed to make his debut with Eden in the Belgium national team.
After them, is Kylian. Like Eden, he tried to forge a career at Chelsea, but recently, after having been sent out on loan, he has ended up at Cercle Brugge.
And the thing is London is a city which the three have in common given that Thorgan went to Stamford Bridge to try and look for an opportunity to shine.
August 30, 2017
But there is still more, and who knows how long it will last. It is Ethan Hazard, who at 15 years old, plays in the same position as Eden and continues to develop in Belgium while he waits for the opportunity to follow in his brothers' footsteps and maybe end up at Chelsea.
With so much in common, it is not surprising that Thierry decided to get the license to become a FIFA agent so that he could look after his children's future.