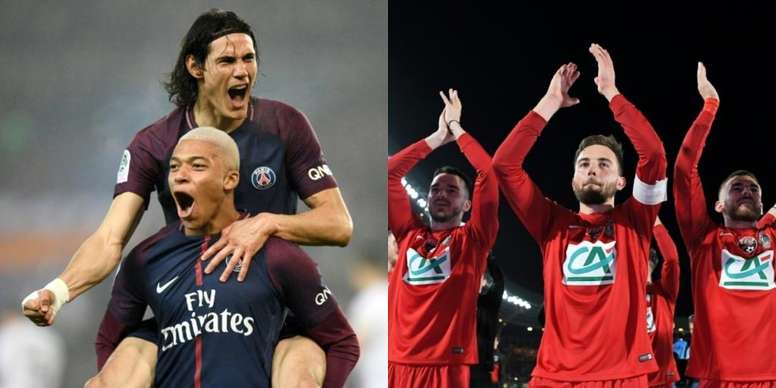 The French David and Goliath
When the competition started, nobody would have predicted this final. Well, many people would've predicted half of it.
PSG's journey to the Coupe de France final has been nothing short of a walk in the park. Easing past Rennes, Guingamp, Sochaux, Marseille and Caen, PSG's rather forseeable path of destruction has granted them the chance to lift the trophy for the fourth year on the trot.
Having run away with Ligue 1 and after comfortably beating Monaco in the Coupe de la Ligue final, PSG are en route to completing a French treble. The only thing standing in their way is minnows Les Herbiers.
Any football fan loves rooting for the underdog, it's almost an unwritten rule of the game. in 2013, Wigan pipped Manchester City to the FA Cup, Greece won the Euros in 2004, and, in 2005, Liverpool miraculously resurrected at half-time after giving AC Milan a three-goal headstart in the Champions League final. Who's to say that Les Herbiers can't do it?
Now, you'd be forgiven for having no clue as to who 'Les Herbiers Vendée Football.' From the 'Hexagon's West Coast, PSG's opponents ply their trade in the country's third-tier, the Championnat National, where they sit mid-table and play every other week to an average attendance of 1,400 people - only about 44,000 less than the crowd at the Parc des Princes.
Les Herbiers have transformed into small-scale giant-killers in the Coupe de France this year. They saw off Ligue 2 outfits Auxerre and Lens in the round-of-16 and the quarter-finals before facing fellow third-tier Chambly in what wasn't exactly your typical, star-studded semi-final.
According to 'Transfermarkt,' the value of Les Herbiers' side is a humble €4.13m. Paris Saint-Germain? €775.50m. According to my calculator, that makes the squad from the capital worth over 187 times the market value of their opponents.
Boasting a €466million attacking trident, unparalleled French cup final experience, and an overwhelmingly strong goalscoring record, the Parisians are, without any doubt, favourites to claim the trophy.
Nevertheless, after an unprecedented cup run, the side from the West will walk out onto the turf at the Stade de France with their heads held high. Whether they'll still have a smile on their faces at the final whistle is another story.