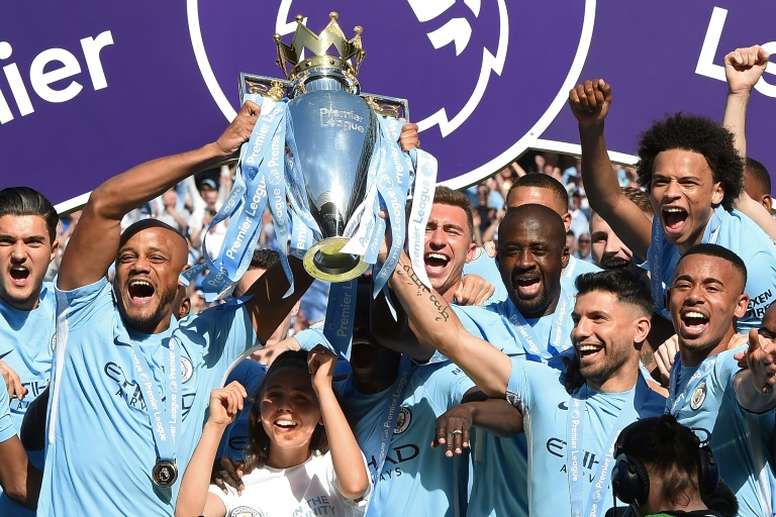 The final day of the Premier League - what's at stake?
The final day of the season is often a nail-biting occasion. Flashback to Sergio 'Aguerooooo' scoring in the dying seconds against QPR in 2012 to send the sky blue half of Manchester into a frenzy.
With all 20 teams in action, there's a chance of record breaking and significant position juggling before the final standings are decided. We take a look at the key battles that will be fought across the country this Sunday.
- City's century -
This season, Pep Guardiola's side took the wise decision to wrap things up nice and early in order to enjoy a victory lap rather than a blood-pressure-raising final day. Sat comfortably on their throne at the league's summit, City boast the highest points tally recorded in the history of the Premier League (97).
Nevertheless, Pep's army will not be content to stop there. With the chance to become the first team to reach 100 points, City are hoping to make Mark Hughes' Southampton their next victims.
- The race for the Champions League -
As it stands, Chelsea sit two points behind fourth-placed Liverpool. Had the Blues not dropped two precious points against Huddersfield on Wednesday, Antonio Conte would be neck and neck with Jurgen Klopp going into Sunday's showdown with Newcastle.
Now, the answer couldn't be more simple for Conte: Liverpool must lose to Brighton and Chelsea must win at St. James' Park. Any other combination of results will see this year's Champions League finalists guarantee their place in the tournament for 2018/19.
That said, if Chelsea do leapfrog the Reds, Klopp has a Plan B. Edging Real Madrid in Kiev will give Liverpool automatic qualification for the Champions League next season - but who'd want to rely on beating the 12-time champions of Europe?
- Foregone conclusion at the bottom -
If you'd tuned into the scenes at the Liberty on Tuesday night with no prior knowledge of the season, you'd be forgiven for thinking Southampton had just won the league. Alas, the Saints are still not, mathematically speaking, safe.
In the dropzone, Swansea will go into their clash with Championship-bound Stoke with one foot already in the grave. For the Swans to stay afloat, they'll need a miraculous 10-goal swing in their and Southampton's games - two 5-0s, a 6-0 / 4-0, maybe a 7-0 / 3-0... You get the picture.
Amongst all this excitement, we'll also bid farewell to Arsene Wenger, who has called time on his 22-year tenure with Arsenal, and Michael Carrick, who will be hanging up his boots.
Had you clumsily made plans for Sunday, you still have time to cancel them, plonk yourself in front of the TV and kick back as the Premier League's grand finale unfolds. It's set to be a thriller.