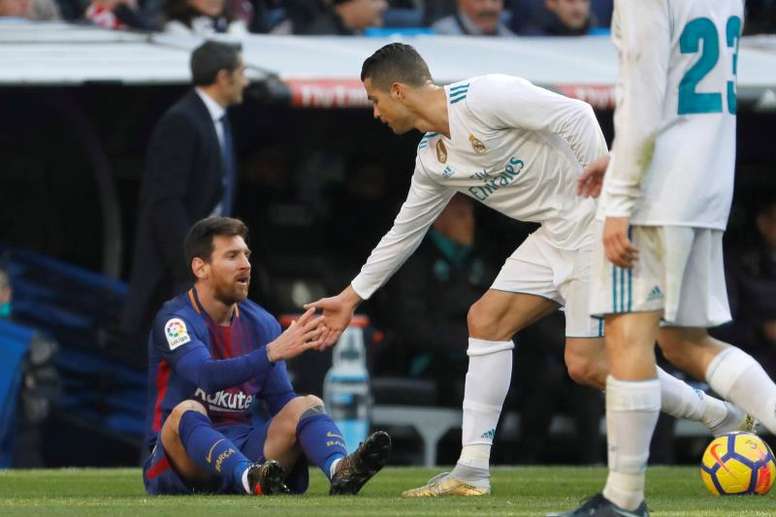 The end of an era: Ronaldo and Messi's La Liga rivalry at an end
The age-old debate of which of these two playes is better was something that could be dcided in part by looking at the goal-scoring charts in La Liga in a given season, or seeing which one shone in an 'El Clasico' fixture between Barcelona and Real Madrid.
While that was possible for the majority of the last decade, the Portugal captain's decision to leave Spanish football brings that period to an end.
The rivalry has at times become heated, with both players repotingly refering to the other by insulting nicknames to close associates and trying to out-do one another in advertising and social media campaigns as they vied for the top spot in La Liga.
Ronaldo did not get off to an easy start in La Liga in the 2009-10 season, as Barcelona and Messi dominated the league and left the former Man Utd man without a trophy in his first year in Spain.
However, as time went on the two players would dominate the league in a tit-for-tat style, as shown by their dominance of the Ballon D'Or over the last decade with the Argentine winning four consecutive awards from 2009-12 while his rival has won the last 2 consecutively.
Both players have had incredible goal-scoring records in the league, such as could be seen during the 2011-12 season when the pair of them scored a combined 96 goals in the league.
And that, is perhaps the most saddening thing to come out of this transfer saga as a neutral. Not only were the two players great competitors in La Liga, but they made each other better.
In the aformentioned season, Ronaldo scored 46 goals in the league so Messi scored 50. Three years later Messi bagged an incredible 43 times in La Liga, so Ronaldo went and scored 48.
While many have argued of which of the pair is better than the other for the entirety of the last 9 years, what's for certain is that the rivalry has made them want to outmatch one another and has consequently driven up both of their performances.
Will that still be the case now Ronaldo is playing his football across the Mediteranean in Italy? Only time will tell.