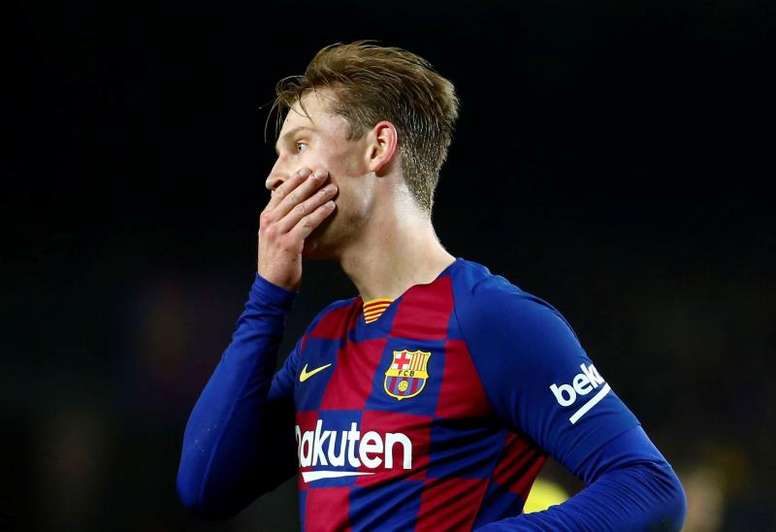 The debate surrounding Frenkie de Jong's position continues
Since he got to Barcelona, Frenkie de Jong has not quite been himself. Shy on the pitch, with much less prominence, he seems overwhelmed with the task in hand. Despite some flashes of brilliance, the Dutchman looks lost.
Against Betis, on Sunday, the Dutchman signed his best game as a Barcelona player. He played in the midfield on the left, just ahead of Sergio Busquets and with Sergi Roberto as his partner on the other side.
He even scored a great goal after combining with Leo Messi, taking advantage of the empty space ahead. "It was one of my best games after suffering a bit in the last few games, but it wasn't brilliant either. It was a good match, but I think I will improve in the next ones," said the Dutchman after the victory in Seville.
His connection with Messi in the 1-1, just three minutes after Betis opened the score, was a decisive turn of fortunes for the match. De Jong says it is "easy" to play alongside Messi. "Not that we have a special connection, but he gives good balls," he said.
Beyond his position in the field, De Jonh's real issue is most probably linked to a new environment, new team-mates, a new coach, a new team, a new game system, and a new demarcation.
However, the issue at hand is still relevant, because he has played his best games at Ajax and with the Netherlands in midfield. From there, he directed the attacking game and was the most useful to the goalscorers and assist creators.
In the Dutch National Team, Ronald Koeman also puts him as '4', alone or with Marten de Roon. His former coach at Ajax, Erik ten Hag, insists that Frenkie is not a goalscorer.
"He's the player who supplies (balls) to the teammates who give the assists or score goals," says ten Hag.
The twins Frank and Ronald de Boer, in a statement in 'El Periódico', are also clear that De Jong offers his best version as a midfielder: "Busquets is getting old, but he still offers the same quality on the pitch."
Even Ernesto Valverde, although he lined him up as a forward midfielder most of the time, was clear about the role of the Dutchman in the future: "Maybe I am talking about more, but in the future I see De Jong more as a midfielder".
Xavi Hernandez, asked at the time, also sees many similarities in playing style between Busquets and the Dutchman: "He's young, but he can make a great contribution. His profile is exactly what Barça needs."
And Arie Haan, a former midfielder for Oranje and Ajax, goes a step further: "He's a revelation, an improved version of Franz Beckenbauer."
The fate of this Barça team depends not only on the omnipresence of Leo Messi, but also on Frenkie de Jong's role in the team's play.
That is Quique Setién's objective, but with the devotion he feels for Sergio Busquets, of whom he even has a dedicated shirt at home - "For Quique with appreciation and admiration for your way of seeing football" - the Dutchman will hardly play in midfield unless he decides that they share that position.