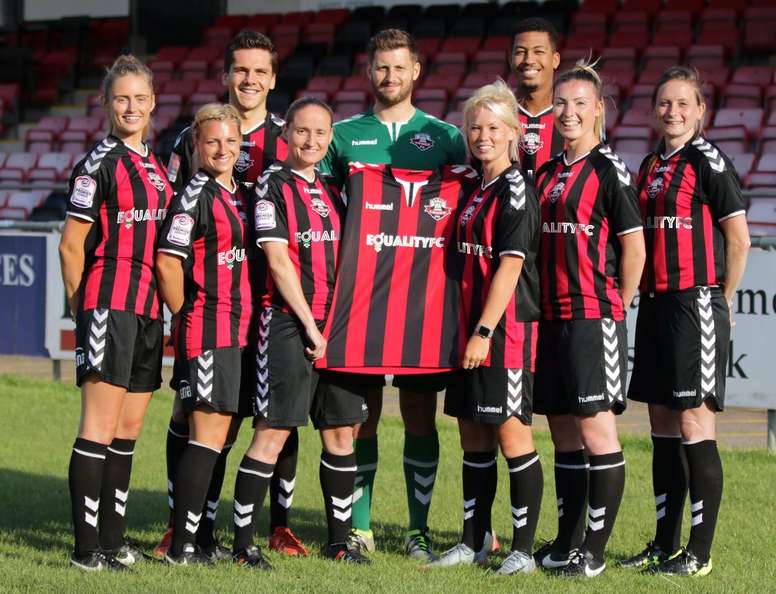 The club that pays men and women the same
The policy of equality was brought in in July 2017 and according the the club, they are the only team in the world that pays men and women the same amount.
Aside from money concerns, the men's and women's teams at Lewes also share the same facilities, playing and training at the same ground.
Volunteer director Charlie Dobres played down the gesture, saying that it should be the norm.
"Obviously within a squad different people get different amounts, but they have the same allocation of resources," he explained.
"To be clear, it's not just some sort of moral crusade - although we do feel it's completely how it should be - but also a very straightforward business decision. Men's football is a relatively mature product, whereas women's football is an incredibly exciting, fast-moving thing to be involved in.
"We see it as a bit of a journey whereby we start by equalising things. If the women or the men forge ahead and bring in greater revenues, that's money that comes to the whole family - think of it as a brother and sister - and we'll allocate it accordingly."
With Lewes playing in the Women's Championship this season, they will face Manchester United Women and Tottenham Ladies in the league, with Dobres admitting that clubs of their stature are unlikely to follow suit any time soon.
"Is it feasible that Manchester United or Chelsea or Arsenal Women will equalise their playing budgets by the end of next season? You'd have to be a fool to say that," said Dobres.
"But you start with that commitment. That's what it takes.
"We can do it much more quickly because the numbers here are so much smaller. But my challenge is: 'I'm not saying you can do it next year but surely you should want to do it?'
"Try and pick a harder place on the planet to do it than in football, a heavily male-dominated sport. I think it's a fantastic challenge to try and pull this off."