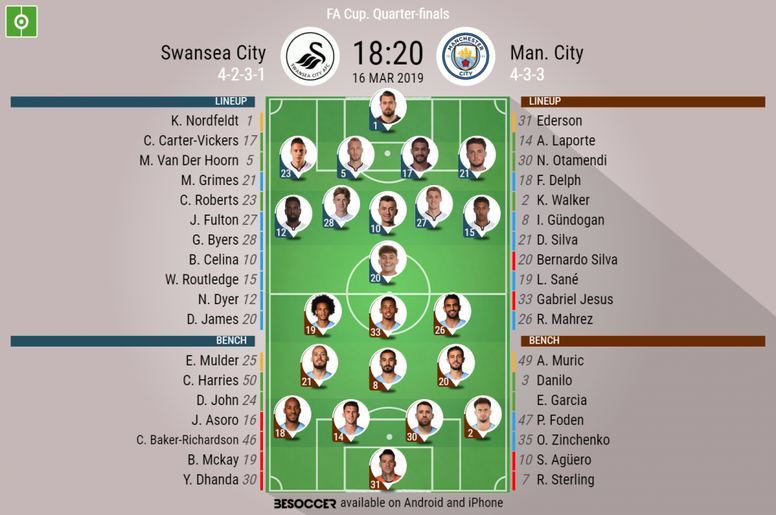 Swansea v Manchester City - As it happened
Swansea City

Man. City

95'
An incredible game! That's all for today, we hope to see you soon.
95'
FT: Swansea 2-3 Manchester City - The referee brings an end to a breathless encounter! Swansea had taken an unlikely two-goal lead through Matt Grimes and Bersant Celina, but City staged a remarkable second half comeback to turn the game on its head. Bernardo Silva pulled one back before a Kristoffer Nordfeldt own goal and a header from substitue Sergio Aguero made it 3-2.
93'
City time-wasting very effectively, taking the ball to the corner where they can and earning cheap free-kicks. Looks like that'll be that...
92'
A pitch invader holds up play. We might have to play a little longer than the four allotted minutes.
88'
GOOOAAALL FOR MAN CITY!! Sergio Aguero dives to head in Bernardo Silva's inch-perfect cross. The away fans go absolutely crazy. Comeback complete!
85'
Guardiola's ranting and raving on the touchline now. A far cry from his calm demeanour in the first half.
83'
MAN CITY CHANCE - Bernardo Silva pops up on the left and whips a low cross in. A Swansea toe clears it away, via the post. Desperate stuff.
78'
GOOOAAALL FOR MAN CITY - Aguero sends his penalty crashing against the left post, but it hits the back of Nordfeldt's ankle and rebounds into the net. Cruel twist of fate for Swansea. We're all level!
76'
PENALTY FOR MAN CITY - Raheem Sterling is brought down from behind as he burst into the box from the right. Chance for Sergio Aguero to even things up...
71'
City throwing everyone forward now. It's going to be a long 20 minutes for Swansea fans.
68'
GOOOOAAALL FOR MAN CITY - Bernardo Silva with a fine strike! David Silva finds the Portuguese in acres of space on the left-hand side of the penalty area, and the winger sends a beautiful shot across goal with the outside of his foot. It's as perfect as you get, almost grazing the post as it went in.
64'
Sergio Aguero is on! He replaces Riyad Mahrez. Pep Guardiola is really going for it - that's all his substitutions made with over 25 minutes of normal time to play...
62'
The corners are beginning to fly in for City. The latest one misses Laporte's head by inches.
58'
Fabian Delph, who conceded that first half penalty, is replaced by Oleksandr Zinchenko replaces him at left-back. Raheem Sterling is also on, with Leroy Sane making way.
54'
There's a scramble in the Swansea box, with about three defenders putting in superb blocks. City are really threatening now.
51'
City beginning to push Swansea back. The hosts' pressing of the first half seems to be gone.
47'
MAN CITY CHANCE - A clearance is accidentally struck against Gabriel Jesus, and fortunately for the hosts rebounds just over the bar.
45'
HT: Swansea 2-0 Manchester City - The hosts hold a two-goal advantage at the end of a bizarre half of football. A Matt Grimes penalty opened the scoring, before Bersant Celina sent Ederson the wrong way from the spot to double the lead. Swansea have been brilliant since the off, pressing City and playing some lovely football of their own. Can the visitors respond? It promises to be an absorbing second half...
44'
Aymeric Laporte goes in the book for clashing with Swansea players just before half-time.
43'
Swansea continue to push. They have a free-kick which is whipped in from the right, but it fizzes narrowly over everyone's heads.
40'
It's strangely quiet at the Liberty Stadium. Maybe because of the rain, or maybe they can't believe what they're seeing.
37'
MAN CITY CHANCE - David Silva sees a shot from six yards out cleared off the line by Swansea's Connor Roberts.
35'
Nordfelt is having a very good game.
33'
MAN CITY CHANCE - Swansea goalkeeper Kristoffer Nordfelt saves with his legs to stop Bernardo Silva's deflected effort.
31'
Guardiola takes a sip of water. He's looking pensieve on the City bench, and still hasn't left his seat.
29'
GOOOOAAALL FOR SWANSEA!! - What a zinger! This time Swansea hit City on the break, and the ball falls to Bersant Celina on the edge of the area. He sends a beautiful first-time strike curling into the top corner. 2-0! Nobody expected this...
26'
Still Swansea push men forward. City are only too happy to hit them on the break, but so far haven't been able to make a breakthrough.
22'
GOOOAAALL FOR SWANSEA!! Matt Grimes beats Ederson from the spot, sending the City goalkeeper the wrong way with a left-footed strike. Well that shakes things up!
20'
SWANSEA PENALTY - Fabian Delph lunges in on Connor Roberts, who had cut into the area from the right. His challenge is poor and it's a clear penalty. Matt Grimes steps up for Swansea...
17'
Although Swansea's attacking intent is admirable, they're leaving acres of space in defence. City look like they will take advantage soon.
14'
MAN CITY CHANCE - The ball falls to Bernardo Silva well inside the area, but the Portuguese takes too long to line up his half-volley and his effort is blocked.
10'
Swansea hitting the ball about quite well here. Trying to play City at their own game, a rarity in British football, with most teams sitting deep and striking on the counter.
7'
MAN CITY CHANCE - Swansea commit too many men forward and City him them on the break, but Sane's cutback is blocked at the last as he reached the byline. It was four on three then, City should have taken advantage.
4'
Manchester City pressing as you'd expect in a game like this.
Prev.
Everyone's in their places, here we go!
Prev.
The players are out and warming up, not long to go now!
Prev.
The players have arrived at the Liberty Stadium...
Prev.
Huge challenge for Championship side Swansea here. They're currently 35 places further down the football league ladder than their opponents today, and will need a monumental performance to get a result. Still, miracles do happen!
Prev.
Fabian Delph comes into the side at left-back ahead of Oleksandr Zinchenko, while Raheem Sterling and Sergio Aguero drop the bench. Gabriel Jesus leads the line for Guardiola's men.
Prev.
And for today's visitors, Manchester City: Ederson; Walker, Otamendi, Laporte, Delph; Gundogan, Silva (C), Bernardo; Sane, Mahrez, G Jesus.
Prev.
Time for some team news, starting with our hosts, Swansea: Nordfelt; Roberts, Van der Hoorn, Carter-Vickers, Grimes; Byers, Fulton, Celina, Routledge, Dyer; James.
Prev.
Hello and welcome to our live coverage of the FA Cup clash between Swansea and Manchester City!