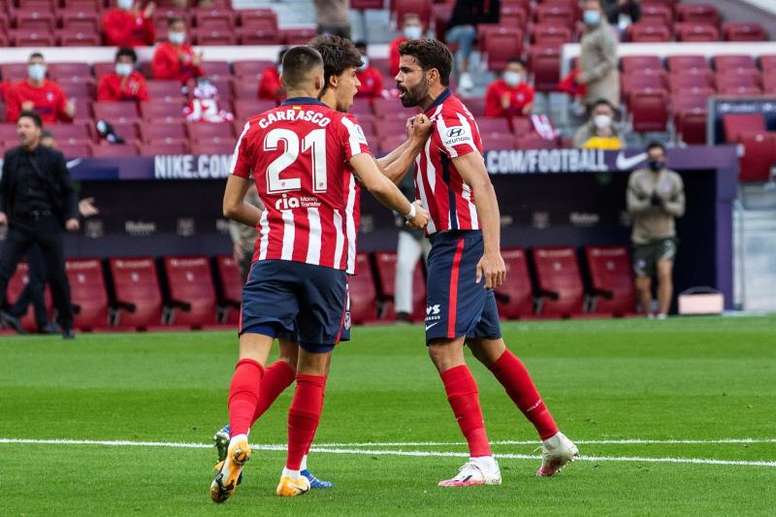 "Suarez? There'll be one of us punching and the other one biting"
Atletico Madrid striker Diego Costa was surprised that a team like Barcelona "let go" a striker like Luis Suarez, who scored two goals in his debut as an Atletico player and got an assist in the 6-1 win over Granada.
"We have a player like Luis who fortunately has left Barca, I do not know how a team like that lets him leave, in the end it's good for us, he gives us a lot with his goals and inside the dressing room he brings his warrior spirit, his desire to win, to get titles," said Costa in statements to 'Movistar LaLiga' after the match.
Costa, who scored the first of the six that Atlético scored this afternoon at the Metropolitano, predicted that the Uruguayan will "help a lot" in the team's search for titles.
"He will help us a lot, hopefully we can give the fans a title. It's not going to be easy, we have to keep going from game to game and see if we're lucky. Suárez is very good and one of us will be punching while the other is biting," he added.
The Spanish-Brazilian striker recalled that in other campaigns in which Atletico won titles it did so with lots of depth on the bench.
"The seasons we have won titles we always had great players: Villa, Adrián, Raúl Garcia... It's very important. Today three important players came out and three others came in who could play for any other team," he said.
"It is important that people gain confidence, that there is fair competition between us. We are teammates and there has to be a good atmosphere in the dressing room, but we have to compete," added Diego Costa, who was subbed to make way for Suárez in Atlético's league debut.
As for his future and his personal situation, Diego Costa indicated that he does not want to be "a burden to the club": he was open to leaving or being transferred. "If I continue, I will fight and continue to fight".