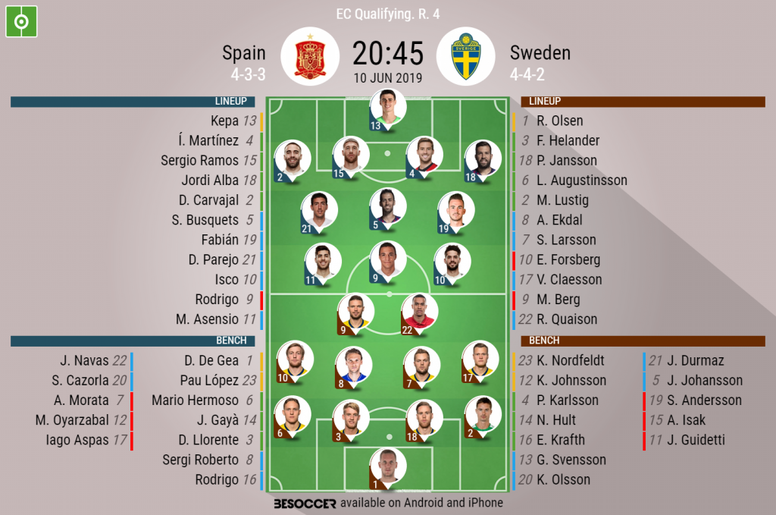 Spain v Sweden - as it happened
Post.
Thank you for joining us for tonight's Euro 2020 qualifier as Spain move five points clear at the top of Group F. Until next time!
90'
FT: Spain 3-0 Sweden! That's all from Madrid as Spain run out comfortable winners against Sweden. The visitors proved tough to break down, but a pair of penalties from Ramos and Morata did the job before Oyarzabal added an impressive third late on.
90'
Busquets tries to get in on the action with a rare goal, but he unsurprisingly curls his effort from the edge of the box wide.
90'
Three minutes added on in Madrid.
89'
Spain ending the match with some classic keep-ball. No doubt about it, they've deserved this win.
87'
Spain also make their third change as Iñigo Martínez makes way for Diego Llorente.
86'
Kristoffer Olsson replaces Ekdal for Sweden.
86'
AND ANOTHER ONE FOR SPAIN! What a goal from Oyarzabal! Fancy feet from Isco in midfield sets up Fabián, who slides in Oyarzabal on the right on of the area, who cuts inside and curls a left footed effort into the far corner. When it rains, it pours...
84'
GOOOOOALLLL for Spain! Morata gets up, dusts himself off, and follows his captain's example as he slots his penalty into the bottom left corner. Game over.
83'
ANOTHER PENALTY FOR SPAIN!! An incredible run from Morata down the left seems him spin his marker and run past Helander, who chops him down. No doubt about this one either...
81'
Fabián does well to chase down then outmuscle Isak, and receives a hearty Bernabéu round of applause for his troubles.
80'
Sweden send on promising young striker Alexander Isak for Seb Lasson as they search for an equaliser.
79'
Morata can't believe it as the referee pulls him up for a foul on Jansson as he looked to spin his marker on the edge of the box.
74'
And throw men forward they do - only some last ditch Jordi Alba defending stops a dangerous attack in the area.
73'
The hosts are keeping the ball well and probing for a second, but Sweden are still standing firm. They need to start throwing men forward soon, however, if they are to get something out of this game.
71'
Mikel Oyarzabal comes on to replace Rodrigo for Spain.
67'
With his 20th goal for his country, Ramos is the top scorer in the current Spain squad. Just a reminder that he is a centre-back...
66'
Spain have got their tails up now and are moving the ball around with real confidence.
64'
First change for Spain as Asensio makes way for Álvaro Morata.
63'
GOOOOAAAALLL! When Ramos stepped up, it was never in doubt. Spain's captain strolls forward, waits for Olsen to commit and tucks his penalty into the bottom left corner.
62'
PENALTY FOR SPAIN! Larsson blocks Asensio's cross with his outstretched arm, and the ref points to the spot.
60'
Chance for Sweden!! Quaison gets the ball from Berg on the edge of the area, but he fires his effort rather tamely straight at Kepa. Wasteful.
58'
Olsson comes out for a cross that Jansson heads clear, clobbering his defender in the face in the process. Jansson could be hurt here....
57'
Cross. Clear. Copy. Paste. It's like a training game of attack v defence at the moment as Spain struggle to make a breakthrough,..
54'
Big chance for Isco! Parejo releases him into space in the right of the box, but he drags his shot wide of the far post.
52'
Spain switch it up from a corner as Parejo chips one to Isco on the edge of the box, but the Madrid star hits his difficult volley just wide of the left post.
52'
Spain enjoying plenty of the ball again, forcing yet more corners.
45'
Strong start from the visitors as their sweeping attack ends with Augustinsson's volley being crucially blocked by Ramos in the box,
45'
Sweden, kicking from left to right, get us back underway in Madrid!
45'
HT: SPAIN 0-0 SWEDEN. All square at the break as Spain fail to break down Sweden's dogged defence. The hosts will feel aggrieved that Rodrigo's goal didn't stand, however, as Parejo was certainly onside in the build up. See you in 15 minutes for the second half.
44'
Ramos wants a penalty after Ekdal puts a hand on him from a corner. Moments later, Spain's captain blazes an ambitious bicycle kick into the top tier of the Bernabéu.
44'
Close for Spain!! Martínez towers at the back post to head back across goal, but Rodrigo can't turn his header home from close range under pressure from Helander.
41'
Spain's full-backs are bombing on and sending cross after cross into the Sweden box at the minute, but the yellow wall is standing strong so far.
39'
Quaison leaves one late on Iñigo Martínez after the defender passed the ball back to Kepa, but the referee chooses to keep his cards in his pocket this time - much to the centre-back's annoyance.
36'
Fabián tries his luck from distance again, this time with his stronger left foot, but it sails over Olsen's crossbar. Sweden have steadied the ship after those five busy minutes earlier on.
34'
A rare Sweden attack sees Martínez head away before Berg can get there. There are certainly spaces for the visitors on the break, here.
31'
Carvajal whips in a dangerous cross from the right, but again there's nobody in the middle to get on the end of it. Sweden hanging on so far.
29'
Silky footwork from Isco in midfield before he's chopped down by new arrival Claesson. Free-kick to Spain, very central around 30 yards out, but Parejo hits it harmlessly over.
26'
Jakob Johansson comes on to replace the injured Claesson.
25'
Claesson being helped off the pitch here and it looks to be a knee injury. Replays suggest that Alba was unlucky to get booked there - he barely seemed to touch the winger, whose injury was not caused by a challenge.
23'
Jordi Alba goes into the book after bringing down Claesson. The Swede has stayed down here, but there didn't seem to be too much contact from Alba.
20'
Sweden get some respite as they get a free-kick on the halfway line, but it comes to nothing as it's pumped out for a Spain goal kick.
16'
Goal disallowed!! Spain seem to make their pressure count as Rodrigo taps in Parejo's cutback, but the flag is up. Replays suggest that the linesman got that one wrong however, as neither Parejo nor Rodrigo were offside.
14'
AND AGAIN! What a start from Olsen! He keeps out a Ramos header this time as the captain tried to head home from the penalty spot.
14'
Another good save from Olsen!! This time it's Parejo who tries his luck with a volley from distance, but the keeper tips it round the post.
13'
WHAT A SAVE!! Spain string a nice move together, and Fabián cuts onto his right foot on the edge of the area before curling a powerful effort towards the far corner. Olsen is equal to it, however, and makes a top save diving to his left.
11'
Carvajal's cross from the right is just too high for Rodrigo, who was offside anyway. Spain yet to cause any real problems for Sweden. Moments later, Kepa chips a pass straight out of play under no real pressure. Curse of the commentator...
10'
Andersson is absolutely fuming in the technical area as the referee trots over to have a word. No idea why, I must admit.
6'
Spain win a corner after Parejo's dangerous cross is awkwardly turned behind by Jansson. Alba's cross following the corner is a threatening one too, but no red shirt can get on the end of it as it flies out for a goal kick.
4'
First moment of danger as Quaison finds himself with the ball on the edge of the area, but Carvajal blocks his curled effort before Busquets passes back to Kepa in typically calm fashion from a yard or two away. Lucky the Chelsea keeper is handy with his feet...
2'
Sweden have started with a very classic 4-4-2 shape, with their two banks of four quickly retreating behind the ball when they lose it. They will look to hit Spain on the break with their two strikers Marcus Berg and Robin Quaison up top.
1'
In what we would expect to be a sign of things to come, Spain have started by dominating possession, with captain Ramos stroking passes around the pitch at the moment.
1'
Spain get us underway at the Bernabéu!
Prev.
Ramos is now receiving a shiny trophy for his record 122 wins for 'La Roja'.
Prev.
Now the focus is on the hosts as 'La Marcha Real' starts to play...
Prev.
Sweden's turn first as their anthem rings out around a half empty Bernabéu.
Prev.
The teams are lining up in the tunnel, with Sergio Ramos, who recently broke the world record for the most wins with a national team, ready to lead Spain out.
Prev.
And, as this tweet points out, Spain have not lost a game in the Spanish Capital in 32 years. Will we see this run continue tonight?
Prev.
With three wins from three, Spain currently sit top of Group F ahead of tonight's game against second place Sweden, who trail the leaders by two points. Sweden would therefore move top of the group with a shock win at the Bernabéu this evening.
Prev.
Spain are returning to the Bernabéu tonight for the first time since their 6-1 thumping of Argentina last year. In fact, this will be like a home match for Carvajal, Ramos, Isco and Asensio, who all start tonight at the same stadium they play at all season with Real Madrid.
Prev.
Sweden, who tweeted this handy video of manager Janne Andersson reading out the starting XI, will be without their two usual centre-backs Victor Lindelof and Andreas Granqvist for today's game. Instead, Filip Helander and Leeds United's Pontus Jansson start at the heart of the Scandinavians' defence.
Prev.
Another inclusion that may raise a few eyebrows is that of Fabián in midfield. The Napoli player made his international debut against the Faroe Islands on Friday, and has been impressive throughout much of the past season in Italy.
Prev.
So, the big team news for Spain is that Kepa has taken the starting spot off of David De Gea in goal. De Gea was Spain's number 1 at the World Cup last year, but made high-profile errors and has struggled at times this past season.
Prev.
Sweden: Olsen; Lustig, Jansson, Helander, Augustinsson; Claesson, Ekdal, Olsson, Forsberg; Quaison y Berg.
Prev.
Spain: Kepa; Carvajal, Ramos, Iñigo Martínez, Jordi Alba; Parejo, Busquets, Fabián; Isco, Rodrigo and Asensio.
Prev.
Good evening and a very warm welcome to our live coverage of Spain's Euro 2020 qualifier against Sweden from the Santiago Bernabéu. With under an hour until kickoff, let's take a look at how both teams line up...