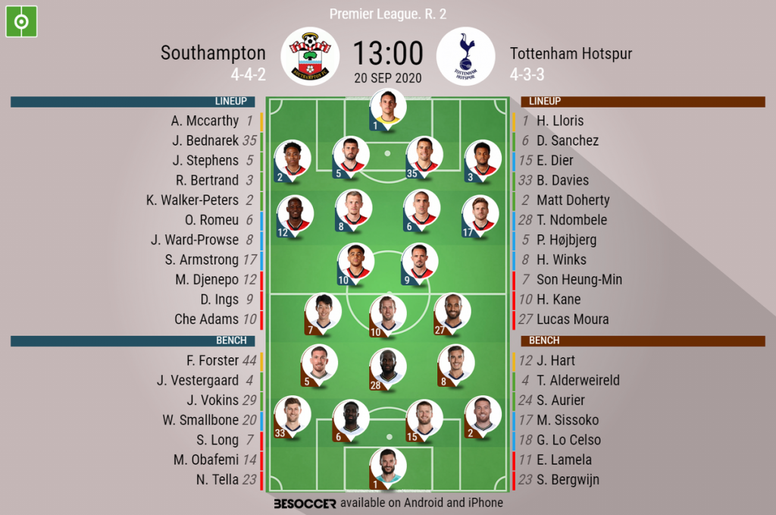 Southampton v Tottenham Hotspur - as it happened
Southampton

Tottenham Hotspur

94'
FT: Southampton 2-5 Tottenham!! All over at St Mary's!! Four goals for Son after being assisted four times by Kane gave Spurs a fully deserved win here. Kane then scored after Lamela's shot struck the post to make it five. Danny Ings put Southampton ahead and then netted a VAR penalty at the end when the game was already beyond the Saints. Thanks for joining us and see you again soon!
94'
Spurs win a corner after a shot is blocked.
93'
Southampton take a quick free-kick looking for a third, but it comes to nothing.
90'
Ings hits it down the middle and scores!!!
89'
Penalty to Southampton!! It's not deliberate, but his arm is out and that is given nowadays. He's unlucky as the ball hit Winks first.
88'
The referee has gone to the VAR screen for a possible handball by Doherty. The ball hits Winks and then strikes Doherty on his arm.
85'
Free-kick to the Saints here.
84'
Spurs sub: Kane is replaced by Bergwijn.
82'
Kane scores after Lamela's strike hits the post!! Spurs make it five.
80'
Southampton sub: Long on for Adams.
79'
Doherty brings down Djenepo and is booked.
78'
Spurs are comfortable here.
75'
Son is in again, but he can't get a shot off!
73'
And again!!! Kane assists, Son scores!!! For the fourth time in a row!! This is crazy!! Lo Celso finds Kane, he then sends a cross field pass to Son who controls with his chest and then scores!! Unbelievable.
71'
Son is in again, but he miscues it well wide. The flag was up in any case.
71'
Tella has an effort which goes wide of the goal.
68'
Spurs sub: Armstrong is replaced by Tella.
68'
Stephens fouls Lo Celso and is deservedly booked.
66'
Son has three goals, Kane three assists.
65'
This is a completely different Spurs side in the second half. Southampton are trying, but the visitors are comfortable and lethal going forward.
64'
Son completes his hat-trick!!! Kane sends a lovely pass from midfield to Son who runs towards goal and then beats the keeper. What a player!!
64'
Adams has a shot which goes narrowly wide of the post! Adams wants a corner, but it looks like Lloris doesn't touch it.
61'
Spurs sub: Lamela on for Moura.
58'
Spurs make a mistake in their own half, Djenepo gets the ball, passes to Armstrong and he fires over! Adams was offside and interfered with play though,.
56'
Quality save by Lloris to deny Armstrong after a lovely move from Ings. Ings was flagged offside though. Tight.
55'
Southampton sub: Romeu off, Smallbone on.
54'
Kane has a very ambitious effort from long range which goes nowhere near the target.
51'
Romeu is penalised for fouling Lo Celso and the Argentine is picked up a knock. He's ok though.
50'
Ward-Prowse has a go from distance and it's easily saved by Lloris.
49'
Spurs again!!! Son is through down thids near touchline, he passes for Moura in the middle, but the pass is behind the Brazilian and Bertrand clears. Son was offside though.
48'
Son and Kane linked up beautifully once again for the goal and Lo Celso has made an instant impact!
48'
Armstrong fires over now!
47'
And now Son puts Spurs in front!! Can you believe it?? Lo Celso finds Kane who plays a quick pass to Son and he beats McCarthy!! Lovely play.
47'
Adams!!! Armstrong attacks for Southampton, he finds Adams whose shot is straight at the goalie!!
46'
Spurs get us going again!!
45'
Spurs HT sub: Lo Celso is on for Ndombele.
45'
HT: Southampton 1-1 Tottenham! Half-time at St Mary's after an eventful first half! Son, Ings and Kane all had goals disallowed before Ings scored again and this time it counted. The Saints have been the better side, hit the post and forced Lloris into a great save, but Son drew Spurs level right on half-time with their first shot of the match excluding the disallowed goals. Join us shortly for the second half!
45'
Spurs are level with their first shot of the match.
45'
Son scores for Spurs!!! Out of nothing!!! Ndombele starts with a lovely turn in his own half, he feeds Kane on the far side, who passes to Son and the Korean takes a touch before beating McCarthy!
45'
Ndombele has his name taken now after going in late on Adams.
44'
Ward-Prowse is booked for clearly blocking off an opponent.
42'
Southampton are looking very comfortable here.
39'
Adams sees yellow for a foul in a previous incident.
39'
Bertrand!! Another dangerous move down Spurs' right sees Bertrand send a dangerous cross into the box and a Spurs man almost turns the ball into his own net.
38'
Spurs are once again disappointing here. Their bad performance in Plovdiv has not been a one off. They'll be desperate for Bale and Reguilon to start playing for them.
34'
Spurs have not a single shot in this match. Just the two disallowed goals.
33'
There was no chance this was finishing 0-0. Expect more goals here.
32'
Ings scores for Southampton and this will count!! Walker-Peters sends a lovely pass to Ings, he controls with his right foot before shooting across Lloris into the far corner. Excellent goal!
29'
Ings can't connect with JWP and the chance goes.
28'
Three goals disallowed here!! Two of them for Spurs, one for the Saints.
27'
Kane scores now for Spurs, but it's offside!!! A ball is played for Moura on the near flank and he passes across the box for Kane to tap in. Moura was just offside.
26'
Djenepo!! Off the post!! A free-kick into the area is only half-cleared by Spurs straight to Djenepo and his effort strikes the base of Lloris' right hand post!
25'
Davies is penalised for a foul on Walker-Peters.
22'
Southampton have been the better side in the last five minutes.
20'
Goalmouth scramble!!! Djnepo makes a fine run down the by-line, he sends the ball to Adams, his goabklund shot is blocked and then Spurs scramble it clear!
17'
I think the on-field call may have been offside. It wasn't off, but it was handball. It's 0-0 anyway.
16'
Ings scores for Southampton, but this is coming back!!! The ball is sent forward for Ings, Lloris comes out, he clears it onto Ings' arm and then he slots it into the empty net. I think the linesman gave offside or handball. It wasn't offside, but it was handball so no goal.
14'
Both teams attacking in this one. It's been a good contest so far.
12'
Son!!! A pass is played to Kane who lays the ball off to Son and the Korean's effort is well saved. Both Kane and Son were offside.
10'
What a tremendous save!!! Bertrand's ball in takes a touch and breaks to Adams in the box and his shot is superbly saved by Lloris!!
8'
Davies sends a cross in which is cleared by the Saints.
7'
It's a very open game here so far.
5'
Romeu is cautioned for a foul on his former teammate Hojbjerg.
4'
Son is offside in the build up and the VAR takes it away! Tight, but the correct call.
3'
Kane scores for Spurs!!! A long ball is sent to Son on the far side, he crosses across the face of the goal, Doherty heads it back into the mix and Kane scores with a spectacular volley. McCarthy gets some part of his body to it, but it isn't enough.
1'
Doherty makes the first foul of the game on Djnepo.
1'
Southampton get us going from right to left!! Both teams in their usual colours!
Prev.
The players are making their way out here!
Prev.
Bale and Reguilon are not in the squad for today's match, by the way.
Prev.
This fixture last season was a 1-0 win for the hosts. Danny Ings scored the only goal back on New Year's Day.
Prev.
David Coote is the referee for this one while Chris Kavanagh is the VAR.
Prev.
19 degrees and dry in Southampton this lunchtime.
Prev.
Dele Alli has once again been left out of the Spurs squad and it looks he may leave the club.
Prev.
Both teams lost their first match. Southampton 1-0 at Palace, Spurs 0-1 v Everton. Since then, Spurs have been in Bulgaria and really struggled to beat Lokomotiv Plovdiv in the Europa League. They came from behind to win 1-2 v 9 men. Tottenham have a Carabao game on Tuesday and a trip to Macedonia on Thursday. The Saints were knocked out of the Carabao in midweek.
Prev.
Tottenham XI: Lloris (GK); Davies, Sanchez, Dier, Doherty; Hojbjerg, Ndombele, Winks; Son, Kane and Moura.
Prev.
Southampton XI: McCarthy (GK); Bertrand, Bednarek, Stephens, Walker-Peters; Armstrong, Romeu, Ward-Prowse, Djnepo; Ings and Adams.
Prev.
Hello and welcome to our live coverage of the Premier League clash between Southampton and Tottenham!