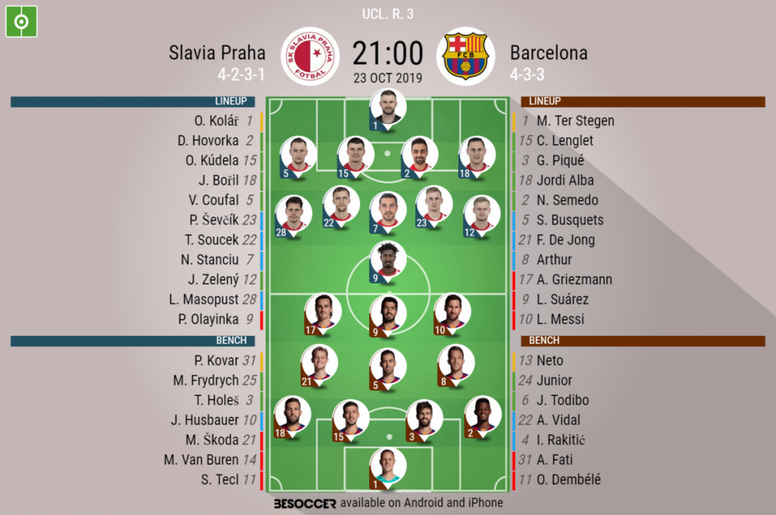 Slavia Praha v Barcelona - as it happened
Slavia Praha
Barcelona

Post.
Thanks for joining me here tonight, see you tomorrow for some Europa League action.
90'
FT: Slavia Prague 1-2 Barcelona. The home side gave Barca a hige scare and probably deserved something from this match. They will be pleased with their performance.
90'
Slavia have a shot blocked that goes out for a corner. The Slavia manager can't believe it and is on his knees.
90'
Dembélé is booked for a cyncil foul.
90'
The goalkeeper came up for the corner. Slavia won the header but Ter Stegen saved. Didn't see who it was.
90'
The ball is crossed for Sevcik, but his header goes straight at Ter Stegen.
90'
A waste!! Sevcik shoots from outside the box but it goes well wide.
89'
Good save from Kolar. Messi cuts in and shoots, but Kolar parries it away.
88'
Barca are defending for their lives here. They are throwing everything at Slavia's shots.
86'
Will Slavia get a late equaliser?
84'
Barca sub: Raktic on for Arthur.
83'
Barca counter-attack. Dembélé breaks away and he passes it to Suarez, but his shot is saved well from Kolar.
78'
Barca sub: Vidal on for Busquests.
77'
Slavia sub: Husbauer on for Stanciu.
76'
Slavia sub: Masopust off for van Buren.
76'
Sevcik is booked for throwing the ball down in frustration.
75'
The ball is crossed in and Messi is almost on the goal line. You would expect him to score but he skews his shot. The British expression 'foot like a 50p' comes to mind.
71'
Olayinka is booked for a foul on Busquets.
70'
Suarez is played the ball, he runs into the box, and he puts it inches wide.
70'
Griezmann was really quiet when he was on the park. I forgot he was playing
69'
Barca sub: Griezmann off for Dembélé.
68'
The ball is played to Messi just inside the box, he drives with it and shoots, but it is saved by Kolar.
64'
Boril is booked for a nasty elbow in Messi's stomach as he went to head the ball.
59'
The corner comes in and Soucek headers it over the bar.
57'
Messi puts in a freekick that goes all the way to the back post. Suarez gets on the end of it and scores from the bye-line!! It was helped though by Kolar who fumbled it on his own net.
57'
GOOOOOOOOOOOOAAAAALLLL BAAAAAARRRRCCCAAAAAA
54'
Stanciu has a shot from outside the box and it goes just wide. All Slavia here!!
51'
Masopust passes to Boril in the box, who toe pokes it by Ter Stegen. 1-1.
50'
GOOOOOOOOOOAAAAL SLAVIAAAAAAAAAAAAAAAAAA
46'
Slavia sub: Zeleny off for Tecl
45'
HT: Slavia Prague 0-1 Barcelona. An early Messi goal put the visitors in front, but Slavia are no way out of this. They have had more chances. All to play for in the 2nd half.
45'
So close. After a Piqué error, Masopust gets thre ball and shoots from just outside the box, but it goes wide.
40'
Frenkie De Jong has a shot from inside the box that Kolar saves well with his foot.
38'
Half chance for Suarez. The ball comes to him but he hits it straight at the keeper.
37'
Olayinka gets the ball just inside the box, he shoots but Ter Stegen produces a great fingertip save.
36'
Another great chance for Slavia Prague. Masopust gets the ball in the box but hits it straight at Ter Stegen.
35'
Alba is booked for a bit of afters with Slavia player.
33'
Stanciu has an ambitious effort from outside the box that Ter Stegen gathers comfortably.
29'
Semedo passes to Suarez in the box who fires wide. Decent chance.
27'
Fairly quiet game so far in terms of chances.
20'
Great save Ter Stegen. The ball works its way into the box, it comes to Sevcic who sides foots it and Ter Stegen saves it with his foot.
14'
Barcelona are dominating here. They should score more.
4'
Messi passes to Arthur, Arthur finds Messi in the middle of the box, who taps it in the bottom corner. 1-0 Barca.
3'
MESSSSSSSIIIIIIIIIIIIIIIIIIIIIIIIIIIIIIIIIII
Prev.
Slavia's last game against a Spanish side was a 4-3 win against Sevilla in 2019. Barcelona's last game against a Czech team was a 4-0 win away to Viktoria Plzen in 2011.
Prev.
Only 5 players remain from the Slavia side that won 3-1 against Pribram: Kolar, Kudela, Soucek, Sevcik, and Masopust.
Prev.
Barcelona make 2 changes from the side that beat Eibar 2-0. Piqué and Semedo come in for Umtiti and Roberto.
Prev.
Barcelona XI: Ter Stegen; Semedo, Piqué, Lenglet, Alba; De Jong, Busquets, Arthur; Messi, Suárez, Griezmann
Prev.
Slavia Prague XI: Kolar; Coufal, Kudela, Hovorka, Boril; Soucek, Sevcik; Masopust, Stanciu, Zeleny; Olayinka
Prev.
Hello and welcome to Prague for this Champions League clash between Slavia Prague and Barcelona. Who do you think will win?