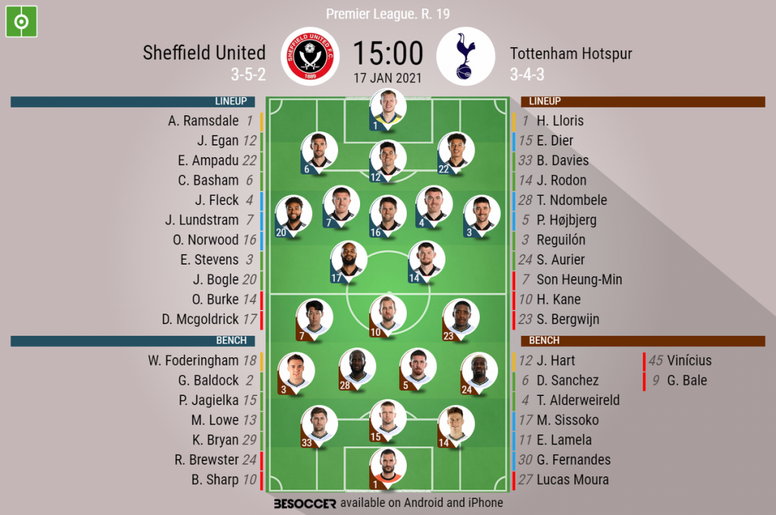 Sheffield United v Tottenham Hotspur - as it happened
Post.
That's all from us. Thanks a lot for joining us and see you again soon!
94'
FT: Sheff Utd 1-3 Tottenham!! All over at Bramall Lane and Spurs deservedly win this one. It was very comfortable, to be honest. Aurier and Kane had put Spurs two up at the break, McGoldrick pulled one back for the Blades just before the hour mark as the home side sent more men forward, but Ndombele's lovely chip in the 62nd minute put Spurs 1-3 up and the result was never in doubt after that.
94'
Spurs sub: Reguilon goes off and D Sanchez is on.
93'
Ampadu has seen a yellow card.
92'
Spurs sub: Vinicius on for Son.
91'
Kane!!!! Moura gives the ball to Son who lays the ball off for Kane and he smashes over.
90'
A long pass finds Stevens on this near side and his cross in is regulation for the Spurs GK.
89'
Spurs are just passing the ball around here. The 3rd Spurs goal killed this one off.
87'
Spurs sub: Moura on for Bergwijn.
86'
Egan sees yellow for a foul on Kane.
85'
Mourinho's really angry about something on the touchline! Not sure what about.
82'
Lundstram puts a ball into the area, Spurs head out to Sharp who volleys wide!
80'
Spurs are very comfortable here.
78'
Sheff Utd clear and the ball strikes Marriner on the back! The official's laughing and the Blades get the ball back.
77'
Son's shot is blocked behind for a corner.
76'
The Spurs corner is cleared away by Bogle.
75'
Reguilon's ball into the box is knocked behind by Bryan.
74'
Sheff Utd sub: Basham is replaced by Sharp.
71'
Sheff Utd sub: Brewster on for Burke.
70'
McGoldrick has an effort now, but it's routine for Lloris.
67'
Sheff Utd sub: Norwood is replaced by Bryan.
64'
Collision between Ampadu and Davies and the former is penalised.
62'
Ndombele!!! How did you do that?? Ampadu loses the ball with a stupid lateral pass, Spurs attack, Bergwijn finds Ndombele who chips Ramsdale and the ball goes in off the far post. Lovely goal!
60'
Ndombele looks for Son from the kick-off and Sheff U clear for a corner! So nearly an own goal by Egan!
59'
McGoldrick pulls one back for the Blades!!!!! Lundstram passes to Fleck and his cross is headed in by McGoldrick! Game on!!
57'
Lundstram's cross cum shot flies past the far post.
56'
Both teams are attacking and it looks there'll be another goal.
55'
Kane hits a curling effort from 25 yards which goes wide of the keeper's right hand post.
54'
Fleck gets the corner for the home side.
53'
Mix up at the back by the Bladesand Egan and Ramsdale get the ball away between them. Son and Ramsdale ended up falling on top of each other.
50'
Kane!!! Spurs take a quick free-kick and Kane's long range effort is tipped over by Ramsdale.
50'
Lundstram sees yellow for a clear trip on Bergwijn.
49'
The Blades aren't playing badly. They've just been a bit sloppy at the back and lack the cutting edge in the final third.
48'
Lovely quick passing by the home side, Stevens' sbhot is blocked, play continues and then McGoldrick's pop is deflected over.
47'
Bogle!!! Stevens sends a ball to the far post and Bogle heads over the goal.
46'
McGoldrick's cross is knocked out for a throw-in.
46'
Spurs get us going again!
45'
HT: Sheff Utd 0-2 Tottenham!! Half-time at Bramall Lane and the visitors deserve their lead. Aurier headed home a Son corner after five minutes, Son hit the post two minutes later and Mourinho's men were dominant. The home side came into the game after the first 20 minutes, but Norwood's error was punished by Kane and Chris Wilder's men have an uphill task in the second 45. Burke has looked good for the Blades, but Lloris hasn't really been tested. Back shortly!
45'
45+1: Bogle gets a corner off Davies here.
45'
There looks a gulf in class between the sides here. Two added minutes.
43'
Bogle sees his shot blocked by Dier and then Basham's ball in is headed away for a corner.
41'
Norwood got the Blades in trouble there and Spurs punished him. That's the difference between the two sides. The visitors have more of a cutting edge.
40'
Harry Kane makes it two!! Norwood miscontrols Bogle's pass, Hojbjerg gets the ball back for Spurs, he plays in Kane who runs, controls and then picks his spot in the far corner.
38'
That so nearly went in!! Son's cross into the area sees Ampadu's clearance go straight up in the air, Ampadu just stands there and Ramsdale has to punch away to prevent the ball sneaking in!!
35'
Fleck has a long range effort which is easy for the GK. The game is more even now.
35'
70% possession for the visitors so far.
34'
Burke goes down Spurs' right, but his cross doesn't find a teammate back in the middle. The Scot had looked sharp for the Blades.
32'
Bergwijn looks for Kane, the Englishman miscontrols and then fouls Basham and a free-kick.
31'
Ndombele looks for a teammate in the box and the Blades deal with it.
29'
Burke!!! Fleck runs down the middle and then passes for Burke whose shot is straight at Lloris.
28'
McGoldrick is through, but he takes a heavy touch and that allows a defender to get back.
26'
Spurs go forward and Davies is penalised for a foul deep in the Blades half.
23'
Son's free-kick goes in and it ends up being a corner for the visitors.
23'
Norwood is booked for a very cynical foul from behind on Kane.
21'
McGoldrick has a pop now and his effort is blocked. It was offside anyway.
20'
Ndombele passes for Son in the box who then looks for Bergwijn, but the pass is intercepted.
19'
Still 0-1 here and no major chances in the last few minutes.
16'
Spurs are definitely playing the better football so far.
16'
Bad challenge on Kane now and the game is getting a bit rough now.
13'
Reguilon makes a strong challenge on a Blades man, no foul is given, Spurs attack and Son's cross is knocked away by Ampadu for a corner.
11'
Basham heads at the far post from the corner and Davies heads away!
10'
McGoldrick passes to Burke into the area and wins the corner.
9'
The Blades attack, but Lloris comes and jumps on the ball before Burke can get there.
7'
Off the post by Son!!! Lovely combination play to start with, Kane picks out Son and the South Korean's chip strikes the outside of the post!
5'
And Spurs take the lead through Aurier! Son's corner is headed by Aurier inside the six yard box. Ramsdale comes out of his goal and then retreats and the defending wasn't great either. The worst possible start for Wilder's men.
4'
Bergwijn!!!! He and Kane combine superbly with a lovely one-two and the Dutchman's shot is tipped over the bar by the GK!
3'
The home side have a bit of possession here now at midfield. Quiet start to this one.
1'
The Blades GK makes a mistake after 30 seconds, but Spurs are unable to capitalise on it.
1'
Sheff Utd get us going from left to right!! The hosts in their usual colours, Spurs in dark green.
Prev.
The players make their way out here!
Prev.
Just one change for the hosts as Enda Stevens comes back from injury to replace Ben Osborn.
Prev.
The Blades last played on Tuesday night and got a vital 1-0 win over Newcastle thanks to a Billy Sharp goal. He starts on the bench like he did against the Magpies.
Prev.
Tottenham's last match was a 1-1 draw with Fulham on Wednesday night. They make two changes from that one. Ben Davies and Welsh defender Joe Rodon come in for D Sanchez and Harry Winks.
Prev.
6 degrees and dry in the Steel City this afternoon.
Prev.
Bottom v 6th. 5pts v 30pts.
Prev.
Andre Marriner is the referee for this one while Mike Dean is the VAR.
Prev.
Tottenham XI: Lloris (GK); Davies, Dier, Rodon; Reguilon, Ndombele, Hojbjerg, Aurier; Son, Kane and Bergwijn.
Prev.
Sheff Utd XI: Ramsdale (GK); Ampadu, Egan, Basham; Stevens, Fleck, Norwood, Lundstram, Bogle; Burke and McGoldrick.
Prev.
Hello and welcome to live coverage of the Premier League match between Sheff Utd and Tottenham!