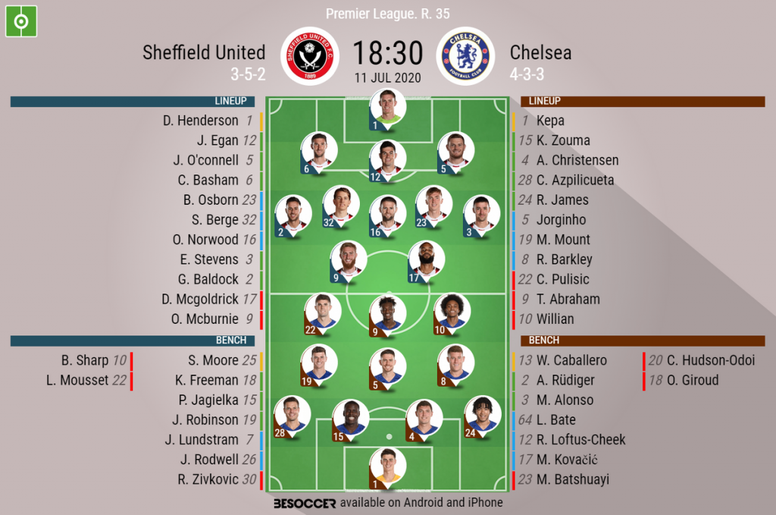 Sheffield United v Chelsea - as it happened
Sheffield United

Chelsea FC

93'
FT: Sheff Utd 3-0 Chelsea! All over at Bramall Lane! McGoldrick (2) and McBurnie gave the Blades a deserved win over a Chelsea side who were far from their best. Thanks for joining us and see you again very shortly!
93'
Willian sends the ball into the box, Henderson catches it and that's full time!
91'
Three added minutes and the hosts almost score through Stevens, but he hits wide!
90'
Chelsea are having a go, but the Blades are defending really well. It's too late now anyway.
87'
Chelsea threaten again inside the Blades' box, but Sheff Utd clear.
86'
Abraham heads Hudson-Odoi into the ground and it's easy for Henderson.
82'
What a miss by Mousset!! Sheff Utd counter, McGoldrick plays a lovely pass for Mousset and his chip goes wide of Kepa's goal! He was one on one.
78'
Chelsea sub: Loftus-Cheek on for Barkley.
77'
It's 3-0 to the Blades!!! McGoldrick!!! Game, set and match. McGoldrick counters for the Blades, he finds Mousset to his right, Mousset's cross isn't dealt with by Rudiger and McGoldrick smashes home.
75'
Chelsea sub: Hudson-Odoi on for James.
74'
Chelsea are looking more dangerous now.
73'
Dangerous!! Rudiger heads on Willian's corner, but Giroud and Abraham can't turn it in at the back stick.
72'
Azpilicueta shoots across Henderson and it's deflected wide off a defender for a corner.
70'
The Blades attack dangerously again and the ball ends up in Kepa's gloves.
68'
Back now and Jagielka came on for Basham.
67'
Basham can't continue and it's drinks. Basham has gone down the tunnel. He got hit on the head in the wall from Barkley's free-kick.
66'
What an opportunity! A long punt by Rudiger is volleyed by Giroud just wide of the goal from the edge of the box!!! He has only been on the pitch seconds!
66'
Chelsea sub: Giroud on for Pulisic.
65'
Still 2-0 here and Chelsea are running out of time. It doesn't look like they'll score.
63'
Sheff U double sub: Berge and McBurnie off, Mousset and Lundstrom on.
61'
Basham is getting looked at by the doctor. I don't know if he has lost a contact lens or taken a blow to the head.
60'
Free-kick for Chelsea after a needless foul by Berge on Barkley who was going away from goal.
59'
Chelsea win another corner, but nothing comes of it.
57'
Corner for Chelsea. Willian takes it and the defence head clear.
55'
Willian passes to James and Egan heads away the ball sent into the box.
52'
Basham sends in a dangerous looking cross in looking for Osborn and James knocks behind for a corner kick.
51'
Free-kick to Chelsea near midfield.
50'
Alonso heads wide James' cross at the far post.
47'
The Blades attack, but Chelsea clear the danger.
45'
Chelsea HT double sub: Alonso and Rudiger on for Mount and Christensen.
45'
HT: Sheff Utd 2-0 Chelsea! Half-time at Bramall Lane and the Blades lead through goals from McGoldrick and McBurnie. The hosts were on top in an open 10 minutes, before the game became more even, but Wilder's men have been comfortable since they went 2-0 up. Chelsea have lacked the cutting edge going forward and James' shot is the only real opportunity they've had since going 2-0 down. Back for more in a bit!
45'
McBurnie heads away the set piece and that's half-time!
45'
Basham concedes a corner under pressure and Chelsea will end the half with a corner.
43'
Save by Henderson!!! James has a pop from 25 yards which bounces into the ground and is well knocked away by the GK with the cap on.
41'
Sheff Utd are looking comfortable here at Bramall Stadium. The Blues are lacking that cutting edge.
39'
Pulisic sends a pass for Abraham which is too strong and the ball goes out of play.
36'
Lovely play by Pulisic for Chelsea, but Basham makes a fine intervention to bring the move to a halt.
33'
McBurnie makes it 2-0! The Blades strike again! Stevens plays a beautiful one-two with Osborn before sending in a cross which McBurnie heads right into the corner! Chelsea in trouble now.
32'
Sheffield United look solid in defence and now they win a free-kick in Chelsea's half.
29'
Chelsea having some good possession now in Blades' half. Barkley sends one in from the far side which is dealt with by Egan.
27'
Pulisic sends a ball to the back stick which doesn't find a teammate.
23'
Time for a drinks here after a quiet last few minutes.
19'
Let's see how Lampard's men to this, It is certainly not a major shock given what we've seen so far.
18'
And the Blades score as I say that!!! Baldock crosses the ball to McBurnie whose volley deflects off Barkley and James, Kepa makes a tremendous save despite being wrong footed and McGoldrick taps in the rebound.
17'
Both teams are passing the ball well, but there hasn't been a clear cut opportunity in the last 10 minutes.
14'
Chelsea passing the ball amongst themselves and then Pulisic makes a move towards goal and finds Azpilicueta to his left, but his cross is poor.
11'
Christensen is down injured after turning his ankle badly while running.
8'
Chelsea attack down Sheff U's right, but the pass into the box is cut out by Egan.
7'
Pulisic!!!! James' cross to the back post is headed over the goal by Pulisic.
5'
Kepa punches only to Osborn who boots over.
5'
Norwood's ball in is headed over the bar after deflecting off James! Corner.
3'
Baldock is in the book for a foul on Pulisic. An early card.
2'
Barkley has a shot along the ground from distance which is easily saved by Henderson.
1'
The Blades are caught offside from the corner.
1'
Brilliant move from the kick-off sees Stevens find O'Connell and his cut back is knocked behind for a corner by Mount!
1'
Sheff U get us going from right to left! Both teams in their usual kits.
Prev.
Minute's silence for Jack Charlton.
Prev.
The players are out here!
Prev.
Andre Marriner is the referee for this one while Andy Madley is the VAR. Let's hope there is no need for an apology by the Premier League after this one.
Prev.
Sheff Utd fought back from two goals down to claim a point when these two sides met at Stamford Bridge earlier in the season.
Prev.
18 degrees and dry in Sheffield this afternoon.
Prev.
7th v 3rd. 51pts v 60pts. Sheffield United are in a Europa League spot at the moment and 7 or 8 points off the Champions League places while Chelsea need the points for a CL place. If City lose their appeal against UEFA ban this Monday, they can breath easy, but if they win it then Lampard's men are only in the top four by two points.
Prev.
Chelsea won 2-3 at Crystal Palace on Tuesday and they make two switches from that one. Jorginho comes in for Gilmour who has undergone knee surgery while Abraham replaces Giroud.
Prev.
McGoldrick in for Billy Sharp is the only change for the Blades from the 1-0 victory over Wolves last Wednesday.
Prev.
Chelsea XI: Kepa (GK); Azpilicueta, Zouma, Christensen, James; Mount, Jorginho, Barkley; Pulisic, Abraham and Willian.
Prev.
Sheff Utd XI: Henderson (GK); O'Connell, Egan, Basham; Stevens, Osborn, Norwood, Stevens, Baldock; McGoldrick and McBurnie.
Prev.
Good afternoon and welcome to our live coverage of the Premier League game between Sheff Utd and Chelsea!