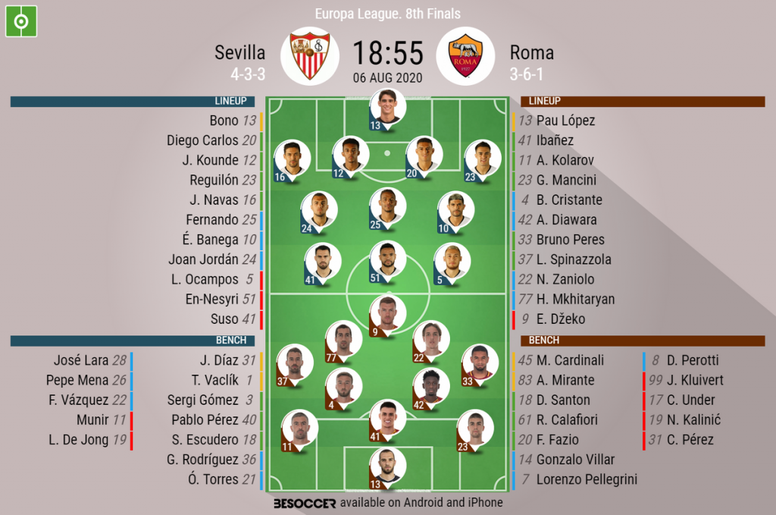 Sevilla v Roma - as it happened
100'
FT: Sevilla 2-0 (10) Roma!!! Sevilla are through to the quarters after an easy win. Reguilon and En-Neysyri scored goals in the first half and they could have easily scored more in the second half. Kounde had a goal disallowed in the second half and Banega hit the bar. Mancini was sent off by VAR right at the end for an elbow on De Jong. Thanks for joining us and we'll see you again soon!
100'
Mancini sees his yellow upgraded to red for an elbow on De Jong's head. That was a silly thing to do.
100'
He elbows him and he could be off.
99'
VAR checking to see whether Mancini elbowed De Jong in the head. He could be in trouble.
98'
Mancini is carded for a foul from behind.
96'
Kounde's header from close range is saved by Lopez!
95'
Sevilla sub: Vazquez on for Ocampos.
95'
This result means Lazio, Roma's fierce rivals, will be in the Champions League next term.
93'
Sevilla sub: Luuk de Jong on for En-Nesyri.
92'
Jordan is booked for a foul on Villar.
91'
Banega hits a powerful free-kick from just outside the box and the ball strikes the bar!
88'
Little to report in the last few minutes. Roma are running out of time.
85'
Pellegrini is booked for shouting and shouting at the official.
82'
Sevilla are still in command here.
81'
Free-kick to Sevilla on this near side and Roma are running out of time. Kounde heads the free-kick at Lopez.
78'
Roma sub: Villar on for Kolarov.
76'
Fernando is getting treatment here after a head clash.
74'
On another angle it looks offside and the offside is confirmed.
73'
Kounde scores at the back stick after Munir's cross, but the flag is up! The VAR is checking and Kolarov could well be playing him on. Looks a goal for me, but it's very close.
72'
Navas looks for En-Nesyri with a cross and Ibanez slides in to concede the corner. That was a vital intervention!
70'
Roma threaten, Dzeko turns inside the box before firing wide of the target. Good chance!
67'
Sevilla sub: Munir on for Suso and drinks.
66'
The free-kick is headed behind for a corner.
66'
Free-kick to Sevilla on this near side.
63'
Roma win a corner and then another one.
61'
Diego Carlos is cautioned for a foul in a previous move.
59'
Brilliant defence by Banega to win the ball off Peres just outside the box.
58'
Good chance for Ocampos!! Banega plays a scooped ball for Ocampos and his acrobatic effort is soft and straight at Lopez.
58'
Roma double sub: Pellegrini and C Perez on for Zaniolo and Diawara.
57'
Roma hit one now from distance which goes well wide.
54'
Cristante has the ball in a dangerous area after a pass by Mkhitaryan, but his shot is blocked.
52'
Ibanez has been down getting treatment, but he's up now.
51'
Mkhitaryan hits a shot across Bono which goes just wide of the GK's left hand post.
49'
Reguilon is down injured after colliding with Diawara. Not much in that.
48'
Roma go up the other end, but it comes to nothing.
47'
Sevilla attack through Ocampos and he hits wide of the far post.
45'
HT: Sevilla 2-0 Roma! Half-time in Duisburg and Sevilla have been dominant. The Spanish side had two clear chances at 0-0 including a Kounde header which hit the bar and then Reguilon put them ahead after 22 minutes. En-Nesyri then made it 2-0 just before HT after a well worked move. Roma have just had one chance all half which was by Zaniolo in the 35th minute. Back for more in a bit!
45'
Kolarov sees yellow after a clear foul on Suso.
45'
Diego Carlos is down after Dzeko accidentally steps on his foot as they both jump for the ball.
44'
Sevilla make it 2-0! En-Nesyri!!! Jordan passes for Ocampos, Ibanez slides in, but misses, the cutback from the byline is touched by the GK and En-Nesyri taps in at the back stick! Roma wanted a foul by Diego Carlos at the beginning of the move, but VAR gave it the all clear.
41'
A ball into the area is headed goalwards by En-Nesyri, but it's easy for Lopez.
38'
A few challenges flying in! Diego Carlos wins the ball, but then also catches Zaniolo and then Roma concede a free-kick a few seconds later.
37'
En-Nesyri is knocked over by Kolarov.
35'
Opportunity for Roma!! Dzeko has the ball in the box, Diego Carlos wins the ball with a tackle and then Zaniolo hits the loose ball over the bar. It takes a deflection so it will be a corner.
33'
Ocampos barges over Ibanez, the foul is called and the Roma player is getting treatment on his back.
30'
What a chance for Sevilla!!! The pass by Fernando is played for Navas, Lopez comes flying out of his goal, Navas gets there first, but his touch is very heavy and the ball goes out of play for a goal kick.
28'
Sevilla then counter with a long pass forward and Ibanez clears it for a throw in.
28'
Roma threaten through Spinazzola, he cuts back from the byline, but Bono catches easily.
23'
Free-kick given to Roma after a foul by Fernando on Mkhitaryan. Drinks!
23'
We said the goal was coming.
22'
Reguilon puts Sevilla ahead! A cross field pass by Banega finds Reguilon who runs 20 yards and beats two defenders before hitting under Pau Lopez! That was a brilliant goal, but the goalie should have done much better.
20'
Suso sends a ball from this near side and En-Nesyri heads wide.
19'
Dzeko runs with the ball in Sevilla's half, but then catches Jordan in the face with a stray arm and a foul is called.
16'
The La Liga side win another corner.
15'
Sevilla continue to threaten and Roma are just about hanging on.
12'
Off the bar! The corner is swung in, Kounde jumps to head and his effort strikes the bar!
11'
Huge shout for a handball by Roma in the box from Banega's cross, but nothing is given. Sevilla then win a corner. Not a pen for me.
10'
Kolarov catches Suso on the ankle from behind and the free-kick is awarded.
9'
Mkhitaryan is penalised for a foul at midfield.
8'
Roma attack through Dzeko, but his pass can't find Zaniolo.
7'
What a save by Lopez! Ocampos hits one from distance and the Roma GK has to tip over for another corner.
6'
Another corner for the Spanish side.
5'
Banega plays for Reguilon who beats a couple of defenders before Mancini wins the ball and concedes the corner.
4'
Reguilon sends a cross into the area and Spinazzola heads out for a throw in.
3'
Chance for En-Nesyri! Suso passes to him and his shot is well saved by Pau Lopez.
2'
Nothing comes of the corner and Roma counter through Mkhitaryan, but Sevilla clear.
1'
A long punt forward sees Sevilla win the first corner of the game.
1'
Roma get us going from right to left! Both teams in their usual colours.
Prev.
Roma are in good form going into this one.
Prev.
Navas and Dzeko are in the middle with the ref.
Prev.
The players are out here and the EL anthem is being played.
Prev.
Gudelj is unavailable for this match after he tested positive for coronavirus eight days ago.
Prev.
Sevilla have not played since 19th July and ended La Liga in 4th. Their last game was a 1-0 victory over Valencia. They make four changes from that one: Oliver Torres, Gudelj, De Jong and Munir are the ones to drop out, Fernando, Banega, En-Nesyri and Suso come in.
Prev.
Smalling has now returned to Man Utd after United would not renew the player's loan deal for the remainder of the Europa League.
Prev.
Roma last played on Saturday when they won 1-3 at Juventus. From that match, only Ibanez, Cristante and Zaniolo start so it's a much changed team. Fuzato is replaced in goal while the others to drop out are: Fazio, Smalling, Calafiori, Gonzalo Villar, Zappacosta, Kalinic and Perotti. Roma ended the season in 5th.
Prev.
It's sunny and hot in Duisburg this evening. 32 degrees the temperature.
Prev.
Bjorn Kuipers is the referee while Pol van Boekel is the VAR. All the officials are from Holland.
Prev.
The match is being held over one leg at the MSV Arena as the first leg was unable to be played before the coronavirus stoppage.
Prev.
Roma XI: P Lopez (GK); Kolarov, Ibanez, Mancini; Spinazzola, Cristante, Diawara, Peres; Mkhitaryan, Dzeko and Zaniolo.
Prev.
Sevilla XI: Bono (GK); Reguilon, D Carlos, Kounde, Navas; Banega, Fernando, Jordan; Ocampos, En-Nesyri and Suso.
Prev.
Hello and welcome to our live coverage of the Europa League last 16 tie between Sevilla and Roma from Duisburg in Germany!