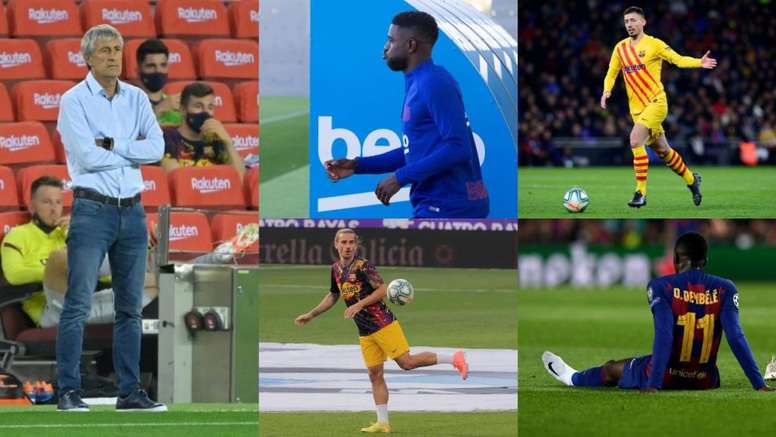 Setién's French concern
The Barcelona players are enjoying some days rest after the end of La Liga to charge their batteries and gain momentum for the competition that could save their season: the Champions League.
Barca have the key days marked in red on the way to the Champions League and hope that their players arrive as best as they can ahead of the first match against Napoli at the Camp Nou.
The coaching staff led by Quique Setién's biggest worry is the French players, as the physical state of the four of them has the coaches on tenterhooks.
Griezmann, Lenglet, Umtiti, and Dembélé are recovering these days from their various problems and are fighting to come into the match against Napoli at 100%.
As 'AS' states, the less worrying situations are those of the ex-Atlético Madrid player and the ex-Sevilla CB. Their injuries, in the quadriceps and groin (respectively), aren't serious at all, and despite the fact that they will reincorporate to training in a lesser physical tone than their teammates, they will be practically perfect for the European date.
Similarly, although his participation in the match as a starter seems complicated, Samuel Umtiti is still working with the club's medical services on his battered left knee and, if there is no problem, he could be training with the group on his return from this short holiday.
The big question mark is, undoubtedly, what the physical form of an Ousmane Dembélé will be who has been in the dry dock the whole of 2020. The speedy winger is facing the final stretch of his recovery and is training these days in the club's facilities to cut corners.
Despite that, the Barca coaching staff and medics want to be cautious with the player, who has suffered numerous muscular problems since his arrival. Setién thinks that Dembélé could be an excellent weapon for the Champions League, but he will not risk him in the slightest for the match against the Italians except if it's strictly necessary.