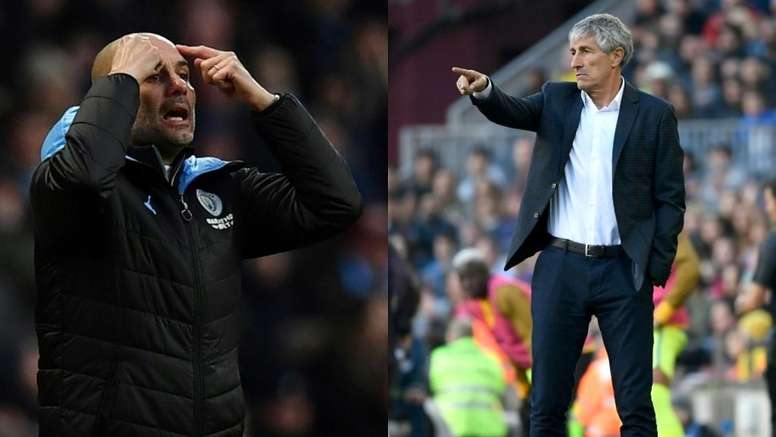 Setién and Guardiola met after City's victory over Real Madrid
Taking advantage of the fact that the 'Clásico' approaches and that Barça trained in the morning, Quique Setién and his assistant Eder Sarabia spied on Real Madrid in a box at the Santiago Bernabéu, as the journalist Mónica Marchante revealed in 'El Partidazo de COPE'.
The coaches took good note of how Manchester City cacelled out Madrid's efforts as they lost 1-2 in eight fateful minutes just as Isco's goal had put them ahead. Gabriel Jesus and De Bruyne concocted the Sky Blues' comeback in 10 short minutes.
But Setién and Sarabia were not only there to watch the match live. According to 'SER Catalunya', the Cantabrian and his second coach talked directly with Pep Guardiola in the hotel where Manchester City stayed.
The two coaches happened to be staying at the same hotel as the English team, so after the game they took the opportunity to meet Guardiola and talk for a few minutes, no doubt about the game they had just witnessed in order to get some pointers ahead of Sunday.
'Mundo Deportivo' adds that Guardiola wanted to know how the two coaches were getting along with their huge task of managing Barcelona, as well as wish them luck and ask about their preparations for El Clasico, which will take place this Sunday from 9.00pm at the Santiago Bernabéu.
Barça will rest this Thursday after having worked out just a few hours after the draw (1-1) in Napoli. Setién is already back in Barcelona and this Friday the trainings will continue in order to prepare the match against Real Madrid.