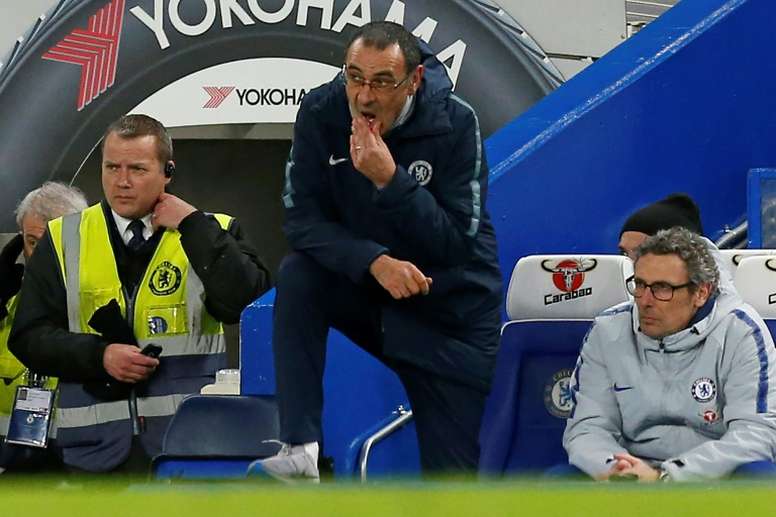 Second half blitz sends Chelsea through
Despite having lost the first leg 2-1, Malmo manager Uwe Rosler was sufficiently pleased with his side's performance to name an unchanged line-up at Stamford Bridge. Meanwhile Chelsea's Maurizio Sarri shuffled his pack, handing rare starts to Callum Hudson-Odoi and Willy Caballero. This encounter was of vital importance to the under-fire Italian - he knew that failure to progress here would spell the end of his Chelsea tenure.
Malmo went into the match knowing they needed to score at least two goals to avoid elimination, and this was clearly evident in their energetic start to the game. Rasmus Bengtsson went close with a header after only four minutes, before striker Markus Rosenberg flashed a low shot narrowly wide.
Chelsea also had chances in the first half's entertaining opening stages, with Olivier Giroud seeing a low drive blocked and a header fly over the bar. The excitement gradually petered out as the half wore on, with Chelsea getting a foothold on the game and stifling Malmo's early momentum.
The second period began amidst a cloud of smoke after a flare was set off by the away end, and the game rather fittingly sparked to life. Chelsea grabbed the breakthrough 10 minutes after the restart, with Kante driving down the middle of the pitch before slipping in Willian, who crossed calmly for Giroud to tap home. But the away goals rule meant the situation remained fairly similar for Malmo, who still needed two goals to avoid elimination.
What did change their situation, however, was Bengtsson's sending off on 74 minutes, making an already difficult task near impossible. And from the free-kick Bengtsson had conceded in being red-carded, Barkley sent a beautiful strike curling into the top corner to effectively end the contest. It was the midfielder's second goal over the two legs, and his recent form has provided a rare bright spot in an otherwise torrid 2019 for Sarri's men.
But Chelsea weren't finished, and capitalising on their one man advantage, set about stretching the Malmo defence. With six minutes to go, Callum Hudson-Odoi controlled a lofted crossfield ball on the right wing before surging towards the penalty area and driving a powerful strike into the far corner of the net. It was a strong message to the manager from the youngster, who has received very limited gametime this season.
As the match drew to a close, the Malmo fans were louder than ever; an admirable show of appreciation for their team's effort over the two legs. But it's Chelsea who will advance to the round of 16, and Maurizio Sarri will hold onto his job for a little longer.