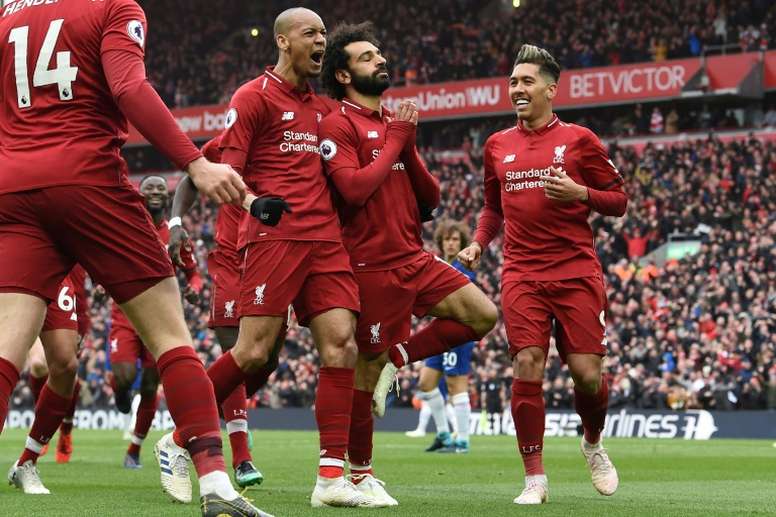 Salah screamer sends Liverpool back to the top
Liverpool defeated Chelsea 2-0 at Anfield with a magnificent 10 minute period after half time, producing 2 fantastic goals. with Sadio Mane and Mo Salah the scorers.
With the 30th anniversary of the Hillsbrough disaster tomorrow, this was an especially poignant moment for Liverpool. The minute's silence followed the incredible 'You'll never walk alone' and the tense atmosphere that has been around Liverpool for the last few weeks was set to continue.
The first half was all Liverpool in terms of possession with 60% possession to the home side, however, they could not create the chances that would penetrate the Chelsea defence and in fact it was bizarrely Chelsea who were causing Liverpool more problems, with Willian having a fantastic chance on the counter attack.
Salah had a decent volley saved by Kepa early on and Mané had an effort that should have been on target, but there was not really a clear cut chance for either side in the first half, with Liverpool dominating possession but both sides only having one sole shot on target in the first half.
Jurgen Klopp's team talk must have ben inspring because Liverpool were outstanding in the first 10 minutes of the second half. Sadio Mané scored a good header from a flowing move that David Luiz won't want to see again, with Jordan Henderson's pin point cross leaving Kepa stranded. It had to be finished by Mané, and it was.
Chelsea had barely recovered from the first goal when Mo Salah decided to cut in from the right hand side and shoot from 30 yards out. It sailed into the top left corner, and Kepa could do nothing about it, Liverpool had scored 2 goals in 2 minutes and it seemed to be game over.
Chelsea then made a change, with Higuain coming on for the young Callum Hudson-Odoi, and Eden Hazard shifting to his preferred left hand side. The change was inspired and Hazard caused problems immediately, hitting the post and then having an effort well saved by Allison. Higuain then had a chance himself but could not get onto the ball and it remained 2-0.
That ended up being Chelsea's chance, they could have and should have scored, but they could not and on 70 minutes Liverpool regained control. The last 20 minutes peetered out and became enjoyable for the Liverpool supporters, which is something of a rarity in situations like this.
Full time came and Jurgen Klopp gave a huge fist pump, this was a vital win for Liverpool who now have only 4 matches left of the season and have survived the tough period with Tottenham and Chelsea coming to Anfield in between the FC Porto tie in the week, they go back to the top of the league, with Chelsea clinging on to 4th spot for the moment, with Arsenal and Manchester United in the hunt for that illustrious last Champions League spot.