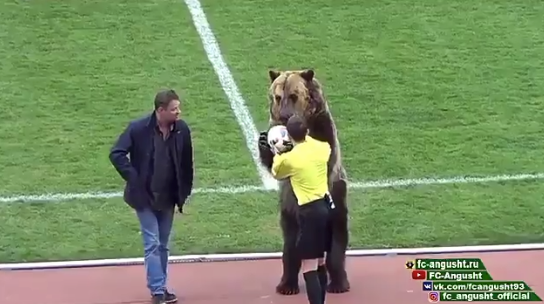 Russian club condemned for 'inhumane' performing bear stunt
The bear was lead out by its trainer prior to the game, and was placed in front of the stand while the players lined up before kick-off. It then sat on its hind legs and clapped, and was given the football in order to hand it to the referee.
After a clip of the incident emerged on YouTube, Russian third-tier side Anghust claimed that the bear was going to be used in the opening ceremony of this summer's World Cup in Russia, however FIFA have strongly denied these claims.
Elisa Allen, the director of animal welfare charity Peta, condemned the use of performing bears.
"In addition to being inhumane and utterly out of touch, using a bear as a captive servant to deliver a football is downright dangerous," she stated. "Unless, as is often the case, the animal's teeth and claws have been cruelly removed."
"Bears are not willing performers, so Russian circuses and other lousy acts take them from their mothers as babies and then 'train' them using beatings, electric shocks, cigarette burns, and food deprivation to make them perform belittling, stupid tricks like this, which make no sense to them."
"The bear is the symbol of Russia, so we hope the country's people will show some compassion and national pride and stop abusing them."
Brian da Cal, from Four Paws UK, released a similar statement:
"While some supposedly find this depressing scene 'entertaining' there is nothing at all light-hearted about this kind of abuse."
"Bears are wild animals and as such have very specific and complex needs."
"Being chained up, muzzled and forced to perform unnatural acts in front of large, rowdy crowds of people causes tremendous stress and can have an untold impact on these animals, both psychological and physical."