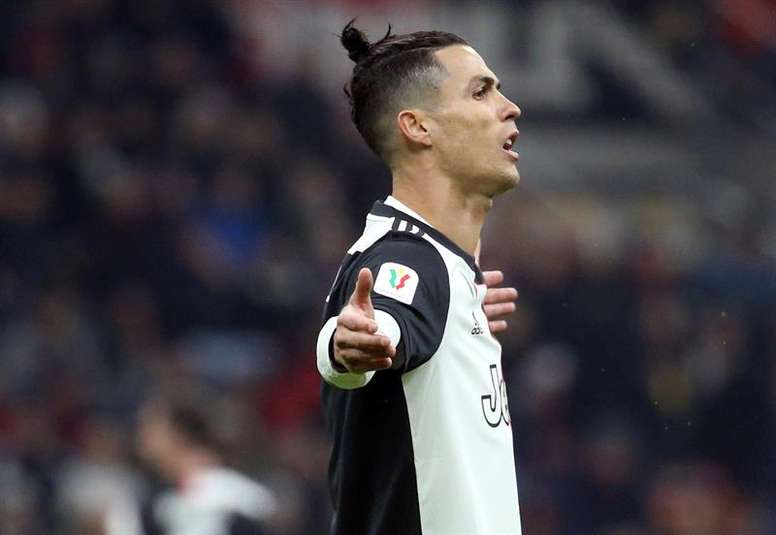 Ronaldo's dream and the 1000 legends
Dangerous striker. Award collector. Insatiable goalscorer. Age-defying player. All these terms can apply when describing Cristiano Ronaldo dos Santos Aveiro, who officially reaches his 1000th match. The Portuguese has become a compulsory subject of study in the illustrious encyclopedia of goals. In Lisbon, in Manchester, in Madrid, and in Turin. And apparently, anywhere else he wishes to set his sights on, in any galaxy he sets out to explore.
His admirable statistics are the reward for genetics worthy of study, an enviable disposition to triumph. A career of a whopping 29 titles spanned across 10000 games, but still, Cristiano is always thinking of those to come. That's his secret on the field, to play for the next record as if the previous ones had never existed.
A humble childhood and family challenges pushed Cristiano Ronaldo to become a goalscorer with a discipline only achieved in the military. The guy with the 0.73 goals per game in 12-star years, the player who knocked out 114 of the 155 teams he faced. His is a story of destiny, no doubt. He has now reached a thousand matches, having turned every obstacle in his life into a drive for glory that he always manages to control, even if having everything taste little of that insatiable desire to win.
Because the Portuguese made scoring a way of life: football is not the most important of things; it has become a catalyst for passions and fears. And with tremendous irony, because his first football matches happened on empty streets in Madeira, with no goal or goalkeeper to stop him.
But the boy with the crooked teeth never really disappeared. It's the same boy who appeared in front of a room full of football's biggest names and yelled "Siiiiiuuuuuu" when he won his third Ballon d'Or. The same boy who left in tears, heartbroken after being sent out in Mestalla. The very same boy who gave De Burgos Bengoetxea a push in El Clasico. the same boy who appears in every tantrum he makes for having missed a goal.
The story of the son of a gardener
That is the life of "the kid's dream". That is the message he engraved on his boots to remember it just before going onto the pitch before every match. That is the phrase he said in front of a packed Bernabeu in his presentation in July 2009. The presentation, watched all over the world, made him become the most expensive signing in the world. But his best achievement, which changed his destiny, he got when he was kid. He was playing for CF Andorinha and his father was the kitman.
That modest gardener always used to see his son play and every night when he got home, he told his wife and other daughter about his son's feats. It was not enough to motivate them to see him in action. And that is when he began to develop his competitive nature. He began scoring more and more goals and even managed to get them to watch him in the stands for the first time. Cristiano says that that day when he saw them on the touchline with his father, he realised that he could achieve what he proposed. The story of his life.
With time, as well as his family and his hunger for glory, he earned luxurious things. They are the three main things in his life. He looks after his body and his image, he eats healthily and detests alcohol, probably because it claimed his father's life prematurely. And he is learning that now: only his role as a father is comparable to his role as a striker.
At 35, nobody doubts that he can reach the age of 40 at the top level. His well looked after body is the result of his genes and when at the age of 11, he realised that he had a great desire and a talent superior to everyone else's. He also decided to become the man who works the best and most out of everyone. That is how he has been always; if something has changed over the years it has been his hairstyle: curly hair, blonde highlights, headband, and endless fringe or his current 'Samurai appearance'.
His temperament has changed gradually over these 17 years at the elite level. As time has gone on, he has understood that he cannot always win everything. He has learnt to enjoy his achievements more. He has 127 yellows and 11 red cards. He has not celebrated teammates' goals because he did not score them. Or his arrogance, summed up perfectly with that famous phrase "they are jealous of me because I'm handsome, rich and a great footballer."
That evolution can also be measured by his eternal and long-standing rivalry with Leo Messi. Messi has won many titles and awards instead of him and he ended up hating him because of all that. But when he understood that his existence made him become better, he even began to enjoy it. Messi has got more Ballon D'or's than him, but Messi has still yet to score a type of goal which Ronaldo has scored: an overhead kick. That acrobatic effort that saw him leap into the Turin sky made headlines around the world. The great goal which saw him move shortly afterwards to Juventus, the team he scored it against.
Mr. Champions League
The Champions League also brings out Ronaldo's full capacity. It is nothing unusual that his best moments have come on the club competition which is considered the best in the world. It is little wonder that the Champions League is the trophy that he has won the most. His string of merits in Europe is frightening. he has carved the nickname "Mr. Champions League"
He has is the player to have won the most Champions Leagues (5), scored the most goals (169), played in the most matches (169) and played the most seasons (17). He is the only player to score in the 6 group stage matches. 65 goals in the knockout stages. Record scorer in a Champions League season (179... in his fibrillated body his muscles end.
In fact, it could be that his head is the one that retires before his legs and lungs. Maybe when his bullying of players ends and he breaks Ali Daei's record. Or when he wins the only big trophy he is missing: the World Cup.
We don't know which year he will retire, but a dream 2013 will always be remembered. 69 goals in 59 matches. Playing in white, the colour that best suited him. At Real Madrid, he reached an average of 1.03 goals per game. He enjoyed making Atlético become the team he won most against (16 times), with the peak in Lisbon and Milan in the Champions League final; and suffering against Barca, the team who he lost the most matches against (15).
We're talking about the guy with more goals than football, a physical beast. Destroyed in defeat, insatiable even in victory. The player that has reached 1000 matches player is already thinking about his thousand and one nights of glory.