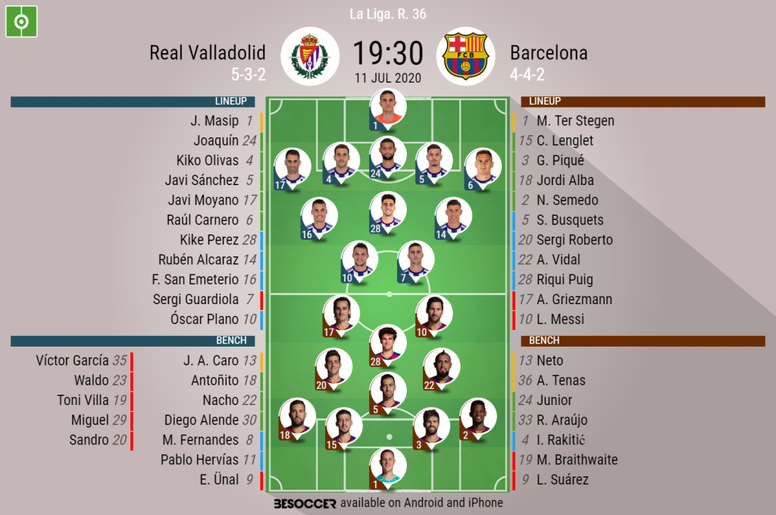 Real Valladolid v Barcelona - as it happened
Real Valladolid
Barcelona

Post.
Thanks for joining me today. See you next time for more action.
94'
FT: Real Valladolid 0-1 Barcelona. And Barca get the win which means Real Madrid can't win the league on Monday. Vidal was on the scoresheet for Barcelona.
92'
Sandro has a shot from a tight angle that is saved by Ter Stegen at his front post.
91'
Will we get any drama in injury time.
88'
Not so much happening lately. Barca are holding on with the hosts not threatening too much.
81'
Just under 10 minutes left and it's a big ten minutes for Barcelona.
80'
Valladolid sub: Plano off for Waldo.
79'
Alba is booked for what seems to be dissent.
74'
Barca sub: Busquets off for Junior.
70'
Barca are 20 minutes away from getting a crucial win. Despite a defeat meaning Valladolid haven't secured their Primera División position for next season, I don't see them going down.
67'
Real Valladolid have been showing signs of getting back into the game recently.
66'
Unal has a header which is easily saved by Ter Stegen who gets down to his left.
65'
Perez is booked for a foul on Roberto.
64'
I wonder if Sandro can come back to haunt his old club.
63'
Messi has a free-kick that Msips touches over the bar.
61'
Real Valladolid sub: Guardiola off for Sandro.
60'
Good save from Ter Stegen. The free-kick comes in, Unal heads it and the German gets down and parries.
58'
Perez missed for Valladolid.
57'
Barca sub: Rakitic on for Puig.
57'
Barca sub: Lenglet off for Araujo.
52'
A shot from Unal far out is straight at Ter Stegen.
50'
That's the change I expected Setién to make. Griezmann hasn't made much of an impact in the match.
49'
Puig has a shot from the edge of the box that goes straight at the keeper.
46'
Real Valladolid sub: Joaquín off for Hervías.
46'
Real Valladolid sub: Alcaraz off for Unal.
46'
Barca sub: Griezmann off for Suárez.
45'
HT: Real Valladolid 0-1 Barcelona. The visitors have been the better side but will want a goal to make things more comfortable.
45'
Messi has a free-kick from well out that goes past the post. I don't know if that was a cross or a shot.
45'
Alcaraz is booked for a foul on Vidal.
42'
Messi has a shot from inside the box that is deflected just wide.
40'
Lenglet is booked for a foul on Plano.
37'
Perez is through for Valladolid but Ter Stegen saves. A good chance for the hosts.
36'
After this match, Barca have two games left: Osasuna (h) and Alavés (a). Madrid have still got to play Granada (a), Villarreal (h), and Leganés (a), so the title race isn't over.
34'
Barcelona won the last match between these sides 5-1 in October.
31'
Masip has just gathered the cross which was played along the ground. If he didn't make it then Griezmann was tapping it into the empty net.
26'
I do see Barca scoring more in this match. Valladolid have hardly been in Barca's half.
25'
Real Valladolid sub: Carnero off for Nacho.
25'
Semedo has a shot from inside the box saved by Masip. You would have hoped for a striker to hit that.
20'
Barca only need to win this match as goal difference doesn't count because Madrid have a better goal difference.
19'
Sitter from Griezmann. The ball is crossed in and all Griezmann has to do is slot the ball in the net but he scuffs his effort. Should have been two.
16'
And Barca are in front. Messi chips the ball through to Vidal and he fires the ball off the post and in from a fairly tight angle. Just what the doctor ordered for Barca.
13'
Valladolid are defending really well; Barca look like they are up for it.
10'
Just the one chance on target from Puig. Barca are having most of the possession though.
5'
First chance for Barcelona. The ball is crossed in for puig, but his shot is saved by Masip who gets down and gathers. Bright start from Barca.
Prev.
The big news is that Puig is starting and Suárez is not.
Prev.
Last time that Barcelona failed to beat Real Valladolid was 2014.
Prev.
Very simple for Barcelona: if they don't win then Real Madrid can win the league on Monday. A win for Valladolid would mean they are safe and they'd move ahead of Real Betis.
Prev.
Barcelona XI: Ter Stegen, Semedo, Piqué, Lenglet, Alba, Busquets, Vidal, Riqui Puig, Griezmann and Messi.
Prev.
Valladolid XI: Masip, Moyano, Olivas, J.Sánchez, Carnero, Joaquín, San Emeterio, Alcaraz, Kike Pérez, Óscar Plano and Guardiola.
Prev.
Hello and welcome to Valladolid for another crucial La Liga match as Barcelona look to keep the pressure on Real Madrid. Team news to come.