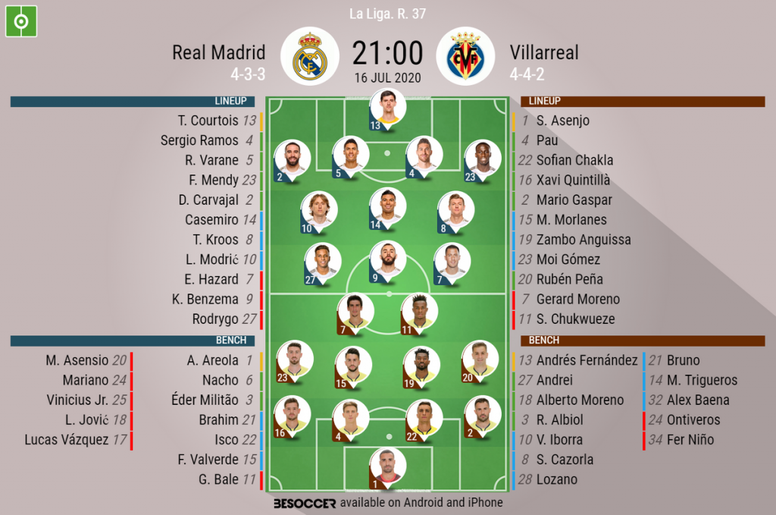 Real Madrid v Villarreal - as it happened
Real Madrid

Villarreal

96'
FT: Real Madrid 2-1 Villarreal!! Real Madrid are champions!!! Real Madrid are champions after winning 2-1. Benzema scored two, the second from a retaken penalty. Iborra pulled one back, but it wasn't enough for Villarreal to get a draw. Asensio thought he'd scored, but the VAR took it away, but RM won't care. Barca lost anyway so RM's result was irrelevant. Well done to RM and thanks for joining us. See you again soon!
96'
Osasuna are in front at Barca! 1-2.
95'
Hernandez Hernandez runs to the monitor and disallows it after five seconds due to a handball by Benzema at the start of the move.
95'
Asensio makes it 3-1 to RM!!! Absolutely stunning play by Vinicius who spins and beats two or three defenders before passing for Asensio to tap in. Villarreal want something.
93'
Triple chance for Villarreal!!! Ontiveros' ball in bounces and Courtois bats away, Bruno shoots the rebound, Courtois saves with his foot and then Iborra knocks wide.
92'
Casemiro is penalised for a handball.
90'
Villarreal are threatening but RM will win the title unless Villarreal and Barca both score.
88'
Rodrygo can't keep the ball in play.
87'
Goalmouth scramble in the RM box!!! Cazorla's delivery seals pinball ensue and Chakla fires over from inside the area.
85'
RM triple sub: Valverde, Isco and Lucas Vazquez on for Modric, Kroos and Carvajal.
83'
Villarreal pull one back!!! Gaspar sends a cross in from this near side, Iborra jumps and sends a looping header in off the far post!! Great header and just onside so the goal counts.
82'
Villarreal sub: Trigueros on for Anguissa.
81'
Kroos absolutely cannons one into the crossbar from 25 yards!! Off the bar, but no goal.
80'
Chance for RM now and it's a corner for RM.
79'
Let's clear things up. The RM first penalty would have been legal had Benzema not entered the box early, (like Messi and Suarez's penalty v Celta). As players from both teams were in the box, a retake was ordered. Had no Villarreal men been in, it would have been a free-kick to the away side. The penalty decision was questionable but with no clear angle, it wasn't going to be overturned.
77'
Benzema scores the retake!!! Asenjo nearly gets there as he dives to his right but it's right in the corner. Vilarreal are complaining why it wasn't a free-kick to them, but as Villarreal men were also in the box, it's a retake.
75'
But what is going on!!!! RM try to pass a penalty and a retake is ordered!!! Ramos touches the ball on the spot and Benzema runs and fires home. Benzema ran into the box before Ramos took and as Villarreal players were also in, it's a retake. If no Villarreal players had been in, it would have been a free-kick to Villarreal.
73'
Penalty to RM!!! Chakla brings down Ramos. Moreno makes a defensive error and Chakla brings down Ramos. VAR is checking as it's a bit dicey. I don't think this will be overturned.
72'
Ontiveros runs and has an effort at Courtois from distance, but it's easy for the Belgian. That was Villarreal's first shot on target.
70'
Courtois is back after treatment and Barca's goal was offside so still 1-1.
69'
The contact with his left knee on Courtois was nasty.
68'
Barca have just scored a second, but the flag is up,. VAR is checking.
68'
Barca is 1-1 by the way as Messi scored a free-kick 10 minutes back.
67'
Courtois is down after being caught!! A pass was sent to Quintilla and he catches Courtois in the knee with his head. That was really nasty. The Villarreal man was booked.
63'
RM double sub: Vinicus and Asensio on for Hazard and Rodrygo.
63'
Villarreal double sub: Iborra and Cazorla on for Morlanes and Gomez.
63'
There seems to be confusion as Modric seemed to be booked in the 54th minute as well. Maybe it was for Carvajal the first one.
61'
Modric is booked for a foul on Ontiveros after a pass by Gerard Moreno. It's a free-kick in the dangerous area.
60'
Mendy gets past his marker and runs into the box, but his effort is tame.
58'
Ontiveros brings down Rodrygo on the far side near the area. Not a good challenge and he avoids the card.
56'
The corner comes in and Courtois catches easily.
55'
The free-kick is sent into the box and Varane heads behind for a corner.
54'
Carvajal is booked for a foul.
53'
Top save to deny RM now!!! Modric plays to Carvajal who turns and then sees his shot saved by Asenjo. Benzema then can't hit the rebound.
50'
Real Madrid claim a penalty after the ball touches Moi Gomez's hand, but nothing is given.
48'
Villarreal move the ball through Moi Gomez, he gives the ball to a Quintilla and his ball in is headed by Carvajal.
46'
Real Madrid have the first attack, but the ball goes behind for a goal kick.
45'
Villarreal HT double sub: Ontiveros and Bruno Soriano on for Pena and Chukwueze.
45'
Kick off delayed until 22:05 CET we believe due to lengthy added time in other games.
45'
HT: Real Madrid 1-0 Villarreal!!! Half-time at the Di Stefano! It has been comfortable for the hosts. They haven't had tons of chances, but Villarreal just came for a 0-0. Benzema penalised an error by Chakla to put RM in front after 29 minutes and Villarreal have done little going forward.Even if Villarreal score, Barca are still losing so only 2 Barca goals plus a Villarreal one would prevent RM winning the title in 45 minutes time.
45'
The free-kick is sent in, Chakla goes down claiming a penalty, but there's little in that.
45'
Ramos is penalised for a foul on Chukwueze as he jumps for the ball.
45'
Three extra minutes here.
44'
Good play by RM sees Rodrygo receive the ball on Villarreal's left and his pass along the ground across the box is kicked behind for a corner.
41'
Morlanes looks to find Quintilla on this near side and Carvajal slides in to cut out the pass.
39'
Villarreal attack and Carvajal defends well.
37'
Rodrigo sends a cross to the back stick from this near side and it's headed out for a corner.
36'
Quintilla sends a ball forward for Villarreal and Courtois claims easily.
30'
Chakla got a booking and was at fault for the goal. Not a good half-hour for him. Drinks!
29'
RM take the lead through Benzema!!! I was just praising the Villarreal defence and now a terrible error costs them!! Chakla sends a poor pass to his teammate, it's cut out by Casemiro, the ball breaks to Modric who feeds Benzema and he puts it under the GK's legs!
26'
Modric passes to Carvajal who gives to Rodrygo and his effort is blocked by a defender. The away side are defending solidly.
24'
RM attack done the flank and the cutback is cleared by Gaspar.
21'
RM still the much better side, but little to report in the last few minutes in terms of goalmouth action.
18'
Chakla sees yellow after bringing down Hazard from behind. Clear pull back.
16'
Top save by Asenjo!!! Kroos passes to Modric and his effort from outside the box is knocked away for a corner.
15'
Big news!! Osasuna have scored at Barca. It's 0-1 and if Barca don't get two goals, RM are champions regardless.
14'
Benzema hits wide of the goal!! Casemiro's pass finds the Frenchman at the back stick and he volleys wide.
13'
Rodrygo is caught offside, but replays show he wasn't.
12'
Casemiro goes for goal and it is well wide of the goal!
11'
Kroos sends a ball into the box, but nothing comes of it.
9'
RM threatening through Modric and Carvajal, but Villarreal are holding firm.
7'
Modric passes to Benzema in the box whose shot is scuffed and it's simple for the goalie. RM picking up.
7'
Carvajal finds Modric who tries a heel, but it's easily dealt with.
4'
Chukwueze is down after clashing with Casemiro. It seems his shoulder.
4'
Ramos finds Carvajal with a long pass and Carvajal's chip is well saved by Asenjo!
3'
Modric sends a pass for Hazard on the far side, but the Belgian can't reach it.
2'
Villarreal have the first attack and a cross is sent into the box which is headed away.
1'
Villarreal get us going from right to left in the yellow! RM in their usual kits.
Prev.
The players are out! Ramos and Gaspar shake hands with the ref.
Prev.
A reminder that we'll have a shortened half-time here as all games will begin at 21:00 CET and the second halves at 22:00 CET regardless of the amount of first half stoppage time.
Prev.
It was 2-2 when these two sides met earlier in the season.
Prev.
It's 34 degrees in Madrid this evening and still light so tricky conditions for the players.
Prev.
Alejandro Hernandez Hernandez is the referee here while Pablo Gonzalez Fuertes is the VAR.
Prev.
Villarreal lost 1-2 at home to Real Sociedad last Monday. They make six changes. Albiol, Moreno, Trigueros, Cazorla. Ontiveros and Nino are all out, Chakla, Quintilla, Morlanes, Gaspar, Chukwueze and G Moreno are in.
Prev.
Real Madrid had to work hard for their 1-2 win at Granada on Monday night and Zidane makes two changes from that match. Isco and Valverde are out, Hazard and Rodrygo are in.
Prev.
1st v 5th. 83pts v 57pts. It's a big game for both sides. RM will win the league tonight with a win here or if Barca do not beat Osasuna at the Camp Nou. For Villarreal, it's also important. The Yellow Submarine are all but assured an EL place (top 7), but a win tonight all but assures a place in next season's group phase without the need to play in qualifying rounds (top 6).
Prev.
Villarreal XI: Asenjo (GK); Quintilla, Pau, Chakla, Gaspar; Gomez, Morlanes, Anguissa, Pena; Moreno and Chukwueze.
Prev.
Real Madrid XI: Courtois (GK); Mendy, Ramos, Varane, Carvajal; Kroos, Casemiro, Modric; Hazard, Benzema and Rodrygo.
Prev.
Hello and welcome to our live coverage of the La Liga clash between Real Madrid and Villarreal!