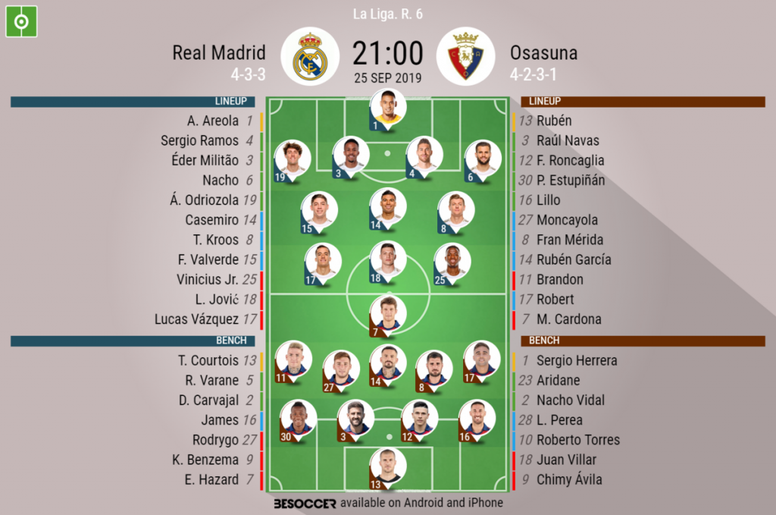 Real Madrid v Osasuna - as it happened
Real Madrid

Osasuna

94'
FT: Real Madrid 2-0 Osasuna!!! It's all over at the Bernabeu and RM go top thanks to goals from Vinicius and Rodrygo. RM were far from their best, but Osasuna did next to nothing in attack. Once they conceded, their game plan was ruined and they had no answer after going behind. Their unbeaten record is now over and RM deserved the win. That's all from us, thanks for joining us and see you again soon!
94'
It's all over at the Bernabeu!!!!
94'
Avila chests the ball inside the RM box, before Nacho clears it.
92'
Corner for Osasuna after Casemiro heads out Lillo's ball in to the far stick.
89'
Real Madrid haven't been best, but they haven't had to be. Osasuna have been really disappointing.
87'
Avila fouls Militao and the home side want a second yellow. He throws a stray arm in his face. A bit lucky in my view.
86'
Jovic flicks n the corner and Rodrygo can only hit the side netting.
85'
Rodrygo gives it to Kroos and then Vazquez's hit is deflected.
83'
Avila runs towards the Madrid goal and Militao defends really well to halt his progress.
82'
RM sub: Valverde makes way for James.
80'
Avila is carded for a challenge on Militao.
79'
The game's done as a contest as Osasuna haven't looked like scoring all night.
77'
Valverde has picked up a knock, but he is walking off under his own power.
74'
The goal is confirmed after a VAR check.
72'
Real Madrid make it 2-0!!!!! Rodrygo!! Long pass to Rodrygo by Casemiro, he cuts inside past Lillo and into the far corner. A brilliant goal.
71'
The goalscorer Vinicius also makes way for RM! Rodrygo comes on.
71'
Osasuna sub: Roberto Torres on for Robert Ibanez.
68'
Valverde now hits over the bar from just outside the box. The disallowed goal has not changed things really, to be honest.
67'
Kroos shoots and Ruben bats it away for a corner.
65'
Osasuna subs: Avila and Villar on for Brandon and Cardona.
62'
Vinicius' cross in is smacked out for a throw by Navas.
62'
Jovic was offside by millimetres! If his shoe size was one less, it would have been a goal.
61'
Casemiro slides in with both feet on Robert and gets the ball before sliding in and catching him.
60'
It's no goal!!!!! The VAR has taken it away and it's still 1-0.
59'
VAR checking and I think Jovic could just be off.
58'
Lucas Vazquez plays a lovely through ball to Jovic and he puts it down to Ruben's left and into the goal. It may just be off though. It's very tight.
58'
James and Rodrygo warm up, but they aren't needed! It's 2-0!!!
57'
Moncayola wants a foul after being caught in the face by Kroos. Nothing given though, Nacho is booked for clearly pulling an opponent from behind.
55'
Casemiro is brought down by Estupinan.
52'
Jovic passes the ball across the area, but no attacker is there to finish.
51'
Merida fires over the crossbar from distance.
50'
Off the bar by Jovic!! A terrible pass back by Estupinan is picked up by Vazquez and he squared it for Jovic who hit the crossbar from inside the box. Osasuna are making some shocking individual errors.
48'
Brandon goes down in the box and Lahoz penalises him for bringing down Militao as well.
47'
Robert earns a corner for the away side after Ramos knocks his cross behind.
46'
Ramos commits a foul early on.
46'
Welcome back everyone!! Osasuna get us going once again.
45'
Real Madrid 1-0 Osasuna!! Half-time at the Bernabeu! Real have been the better team, but have been far from impressive. Their best chance before the goal was the almost own goal by Navas, who later deflected Vinicius' strike in the goal. Although Osasuna have had the odd attack, they have come to nothing and the home side have been comfortable since going in front. Join us for more shortly!
45'
Real Madrid keep possession amongst themselves and the half-time whistle goes!!
45'
Cardona!!! He runs onto a long ball, but Areola anticipates it and comes out to pick up.
43'
Desperate defending by Osasuna now as they have to clear a cross into the area!
41'
Lillo is carded for kicking Nacho in the leg.
40'
Roncaglia picks up a knock after bumping into Vazquez after clearing the ball. Nothing major though.
39'
And now he hits over again Vinicius! That goal was huge for the home team.
37'
Navas stuck his foot out to stop it and ended up making it worse. It'll be Vinicius' goal though. That's Vinicius' first goal since the beginning of February. He was crying during his celebration. It meant a lot to him.
36'
Vinicius scores a screamer!!! Unbelievable! RM work a move in Osasuna territory, Kroos gives to Vinicius on his left and his strike from outside the box goes into the top corner. It's a great goal, but the shot deflected off Navas' foot and that took it past the keeper's hand.
34'
The away side go on the attack through Lillo and Areola gets a good hand to the ball to catch.
33'
The home crowd are getting frustrated with Vinicius as he has yet to do anything of note so far.
31'
Osasuna are comfortable so far.
30'
Osasuna threaten and Militao has to head away Cardona's ball in.
27'
Lillo and Moncayola combine and then Osasuna want a corner! A goal kick is given as Ramos played it off Lillo.
26'
Estupinan down injured. Roncaglia stepped on his ankle area when he headed away to clear. Their teammates are causing Osasuna all the problems so far!
25'
Real are putting balls in, but the away side are dealing with them easily. Lillo is having a good game.
24'
Osasuna win a free-kick now. The game has returned to how it was before now after those two opportunities.
22'
Vazquez fires a ball in from this near side and it's headed away.
21'
That shot by Navas seems to have lifted Real Madrid.
19'
Kroos!!! Osasuna lose the ball and the German fires wide from 30 yards.
18'
Almost an own goal!!! Odrizola makes a brilliant run down the near side and beats two defenders before Navas shoots the cross straight at his own GK!!! Ruben makes a reflex save and then Jovic fires over the rebound.
16'
Osasuna are having a bit of possession now in Real's half. The crowd aren't enjoying what they are seeing.
15'
Three touches and Brandon gets the ball!!! Militao is forced to concede the corner.
14'
Vinicius' cross in is poor and it's a goal kick.
13'
Ruben Garcia gives it to Estupinan and his cross in is cleared away by Nacho. RM not dominating here.
12'
Second corner for the home team. Valverde's ball in is headed away and playing back to the keeper earns the home players some whistles.
11'
Brandon makes a run towards the area before tripping over the ball and on the break, Lillo is forced to tackle Vinicius and concede a corner.
10'
Militao picks up the fiest card of the game for a poor challenge on Ruben Garcia almost inside the centre circle.
9'
Nacho can't control Ramos' ball and it's a throw in.
8'
Brandon is adjudged to have got the last touch at midfield and it is a throw for the hosts.
6'
Valverde sends a cross field pass to Jovic on this side and he crosses along the ground back to Valverde in the area, but Lillo makes a superb sliding tackle.
5'
Marc Cardona commits a foul.
4'
Osasuna attack and think they have a corner, but offside is given. Didn't look like Moncayola was offside.
3'
Lucas Vazquez miscontrols Kroos' pass and the ball goes for a throw-in.
2'
Real Madrid having early possession here.
1'
Real Madrid get us going from left to right! Both teams in their usual colours.
Prev.
Marcelo, Ramos, Modric and Hazard are showing their awards they got at The Best before kick-off.
Prev.
Chimy Avila and Roberto Torres, two dangerous players for the visitors, are on the bench,
Prev.
Ramos and the ex-Arsenal man Merida shake hands in the middle with the ref!
Prev.
The two teams make their way out onto the pitch here at the Bernabeu!
Prev.
It's a warm night in the Spanish capital. 23 degrees.
Prev.
4th v 11th. 11pts v 7pts.
Prev.
Ruben, Merida and Ruben Garcia start from the 0-0 draw with Betis.
Prev.
Ramos, Kroos and Casemiro are the only ones to start from Sunday's win at Seviila. It's a star studded bench though. They have the derby on Saturday in mind.
Prev.
Antonio Mateu Lahoz is the ref while Ignacio Iglesias Villanueva is the VAR.
Prev.
Osasuna team: Ruben (GK); Estupinan, Navas, Roncaglia, Lillo; Brandon, Moncayola, Ruben Garcia, Merida, Robert; Cardona.
Prev.
Real Madrid side: Areola (GK); Nacho, Ramos, Militao, Odriozola; Kroos, Casemiro, Valverde; Vinicius, Jovic and Lucas Vazquez.
Prev.
The teams are in and they are much changed ones as usually happens with midweek La Liga games. Except Ramos, Kroos and Casemiro, it could be a RM B team.
Prev.
Good evening and welcome to our live coverage of the La Liga match between Real Madrid and Osasuna from the Bernabeu. Will both teams' unbeaten start remain intact? Stick around to find out.