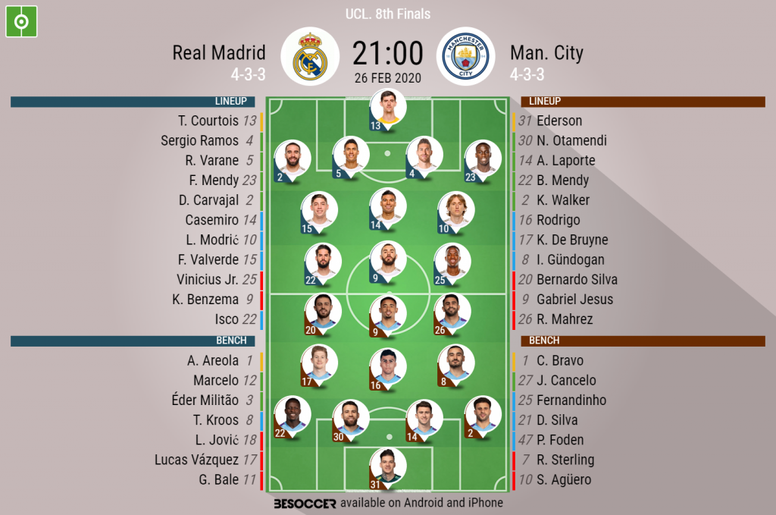 Real Madrid v Man City - as it happened
Real Madrid

Man. City

93'
FT: RM (10) 1-2 Man City!!! All over at the Bernabeu!! Isco had put the hosts ahead, but then Jesus headed City level despite RM wanting a foul and then De Bruyne made it 1-2 after Carvajal fouled Sterling. To make things worse for Zidane's men, Ramos got sent off for DOGSO and now the Spanish side need at least two goals at the Etihad. Man City are the only English side not to lose in the CL last 16 first legs. That's all from us, thanks for joining us and see you again soon!
93'
City don't clear it, RM get the ball back, F Mendy sends a cross to the far stick and it goes out for a goal kick!
92'
F Mendy!!!! He shoots from inside the area and it goes wide of the goal.
92'
Mahrez runs again into the box and he runs into traffic. RM lucky he didn't get a shot off there. Zidane's men need full time.
91'
Sterling!!! He shoots from close range and Courtois saves.
88'
Man C are all over the hosts now.
87'
Mahrez takes the free-kick, it goes under the wall and Courtois saves!
85'
Red card to Ramos for DOGSO!!! Ramos pulls back Jesus just outside the box after a defensive calamity! It was a pull back so in the area, it would have been a red as well.
84'
RM double sub: Modric and Isco are replaced by Jovic and Vazquez.
83'
De Bruyne takes it and he sends the GK the wrong way!
82'
Pen to Man City! Carvajal brings down Sterling and it's a clear foul.
81'
There's a slight touch on Ramos' back by Jesus before he heads in, but it's not a foul.
79'
Almost 1-2!!! Mahrez's pass from the far side is headed over by Jesus from point blank range.
78'
Jesus scores for City!!! RM shouting for a foul, but it's given for now. De Bruyne's chipped pass is headed in by Jesus. Jesus touches his with both hands before heading in, but it's not enough for a foul for me.
76'
Bale has his first touch of the ball and his shot is saved easily by Ederson after being deflected!
75'
KDB's free-kick into the box is caught by Courtois.
75'
RM sub: Vinicius is replaced by Bale.
73'
RM sub: B Silva is replaced by Sterling.
72'
Modric's corner is caught by the keeper.
71'
Chance again for RM!!! Great play by the home side, Isco's cutback finds Ramos and his shot is deflected behind for a corner.
70'
RM are looking quite comfortable here now.
68'
Replays showed the ball clearly struck Modric on the shoulder.
66'
RM attack again and the cross from the far side by Valverde is intercepted by Ederson.
65'
Man C continue to attack, but that goal has done them a lot of damage. It could be four losses out of four for the English sides.
63'
Guardiola claims a second yellow card for Modric for handball! The ref says shoulder.
61'
RM take the lead when Man C were all over them and Courtois had made two tremendous saves, but that lateral pass by Rodrigo was shocking...
60'
Isco scores for RM!!! Totally against the run of play! City lose the ball after a stupid lateral pass by Rodrigo, Vinicius picks up the ball and runs towards goal before unselfishly squaring for Isco to score!
59'
And now Fernandinho hits wide from outside the box!
59'
B Mendy wins a corner for City. RM are all over the place at the back!
58'
The ball goes to Isco and his tame header finds Courtois.
57'
And again Courtois!!! Mahrez controls a long pass, he's one on one and Courtois has to make a fabulous stop to his right!
56'
What a save by Courtois to deny Mahrez! The Algerian is inside the box and shoots, but Courtois saves!
55'
Courtois comes out and chests Ederson's long ball before running onto the loose ball.
55'
Vinicius runs 30 yards into the box and then throws himself to the ground for no reason! Why not try and score?
54'
Modric is booked now for a sliding challenge on Mahrez. Clear.
52'
City definitely looking the more dangerous side.
51'
F Mendy concedes a corner..
50'
Mahrez!!! Almost 0-1!!! KDB breaks at lightning speed, he runs 35 yards before passing to Mahrez on his right and he runs before curling his shot wide of the goal.
49'
RM have a long possession, but nothing comes of it.
48'
Valverde is cautioned for a cynical shirt pull on Gundogan.
47'
Casemiro takes a chance nearly his penalty box and is dispossessed, but Orsato penalises B Silva for a foul.
46'
Welcome back! Man C have just got us going again!
45'
HT: RM 0-0 Man C! Half-time at the Bernabeu! RM began the game with more possession, but Man C looked more dangerous towards the end. Jesus has had two very clear chances, one which was saved by Courtois and the other which was cleared off the line. Benzema's header brilliantly saved by Ederson is the closest the Spanish side have come. Back in a bit for more!
45'
Off the line by RM!!! KDB's corner is only knocked by Courtois' right hand to Jesus whose shot is going off target, but the ball strikes Ramos' right leg as he tries to clear and Casemiro has to clear off the line!
45'
Jesus wins the corner for the away side.
45'
City are passing it amongst themselves in RM's half, but there is no opening.
42'
Valverde is down injured here! Mahrez trips Valverde and he then collides with Benzema. Valverde has been caught in the left eye I think.
40'
B Mendy sends a ball into the box and Courtois claims.
38'
Both teams attacking here! It has certainly livened up after a dull opening 20 minutes.
37'
Chance for B Silva! KDB finds Jesus who then feeds B Silva and the Portuguese's tame effort is comfortably stopped by Courtois.
35'
Rodrigo makes a nasty challenge on Benzema and is lucky not to see yellow. He's kicked on the shinpad.
35'
It doesn't seem tooo serious and we are back underway.
34'
Gundogan is down now. They're going down like nine pins. Modric falls on top of him. Was accidental.
33'
Man C sub: Laporte has picked up a knock here and has had to be replaced by Fernandinho.
32'
Laporte is getting treatment here.
31'
RM attack again and it ends with Casemiro firing well off target.
30'
Edersooooon!!!!! How did he save that? It looked like it was going to be 1-0! F Mendy's cross from the far side is headed by Benzema in the box and Ederson dives to his right to make a tremendous stop! On the rebound, Vinicius slides to try and score, but fails to connect.
29'
B Mendy is booked for fouling Modric and he will miss the return.
28'
Man C again!! A move by Guardiola's men ends with Mahrez passing to KDB, but the Belgian's strike goes well wide!
28'
Modric has taken a blow to his chest after Laporte caught him with his boot in his follow through after a clearance.
27'
Jesus!!! He makes a dangerous run into the box, but then he is stopped.
25'
Vinicius!!!! Mahrez is dispossessed inside his own six yard box after being fouled by Vinicius!!! The ball was then put into the net well after the whistle. It was a foul, but Mahrez took a big risk there!
22'
That is easily the best opportunity up to now.
21'
What a save by Courtois!!! De Bruyne makes a great pass to Jesus in the box, the Brazilian cuts inside and is denied by Courtois from point blank range! A superb save.
20'
City counter through Gundogan, he gives it to Mendy, but then he loses his footing and his pass to Jesus is poor.
19'
Rodri makes a terrible error at the back, but Modric takes a poor touch and the chance goes.
17'
Mahrez thinks he's won a corner, but the ref thinks otherwise.
16'
Chance for Varane!!! Good build up play sees Isco cut a ball back from the byline for Benzema, B Mendy heads out to Varane outside who takes a touch before firing well wide.
13'
First real bit of action! The home side go City's right and Vinicius' ball into the box for Benzema is dealt with by Laporte.
11'
Man C attack down this far side through B Mendy and his cross is blocked by Carvajal.
9'
F Mendy runs for RM down the far side, but then makes one turn too many and Walker gets the ball off him.
8'
Gundogan is fouled in the centre-circle.
7'
RM are absolutely dominating possession here, but City are comfortable. Jesus dispossesses Carvajal, but Varane then gets back to recover.
5'
Carvajal's pass is cut out by the City defence. Quiet start to this one after the first 30 seconds.
3'
RM having some possession now, but without doing anything dangerous with it.
1'
Good play by City early on down this near side!!! B Mendy sees a cross half cleared and then B Silva's shot is blocked by Carvajal!
1'
RM get us going in the white from left to right!! City in black tonight.
Prev.
There's a great atmosphere here and Ramos and De Bruyne shake hands with the ref! We're almost ready.
Prev.
The players are out on the pitch and the CL anthem has been played! It's not long away!
Prev.
The players are in the tunnel here at the Bernabeu!
Prev.
Remember that this the first leg and the away goals rule applies. The return at the Etihad will be on Tuesday 17th March.
Prev.
We've got a Mendy in each side plus an Otamendi so things could get entertaining on here.
Prev.
Since then, there has only been one game between the teams, That was in July 2017 when City beat RM 4-1 in Los Angeles as part of the International Champions Cup. Otamendi, Sterling, Stones and Brahim Diaz got the City goals while Oscar Rodriguez now on loan at Leganes got the RM consolation.
Prev.
The two sides last met in the Champions League in the semi-finals of the 2015/16 season. It was goalless at the Etihad and then RM won 1-0 in the return thanks to a Fernando own goal.
Prev.
It's 10 degrees and dry in the Spanish capital this evening.
Prev.
The big news is that Sterling is back for Man C after being out through injury, but he is only on the bench. Aguero is also on the bench after starting v Leicester.
Prev.
Man C make two switches from the team which beat Leicester 0-1 at the weekend. Laporte and Aguero are replaced by Otamendi and Jesus. Jesus came off the bench to score the only goal against the Foxes.
Prev.
RM make three changes from the side which lost 1-0 at Levante on Saturday. Mendy comes in for Marcelo in defence, Valverde starts ahead of Modric while Vinicius starts after Hazard's injury.
Prev.
We have Italian referees for this game. Daniele Orsato is the ref while Massimiliano Irrati is the VAR.
Prev.
Man City XI: Ederson (GK); Mendy, Otamendi, Laporte, Walker; De Bruyne, Rodrigo, Gundogan; B Silva, Jesus and Mahrez.
Prev.
Real Madrid XI: Courtois (GK); Mendy, Ramos, Varane, Carvajal; Modric, Casemiro, Valverde; Vinicius, Benzema and Isco.
Prev.
Welcome to live coverage of the Champions League clash between Real Madrid and Man City from the Santiago Bernabeu.