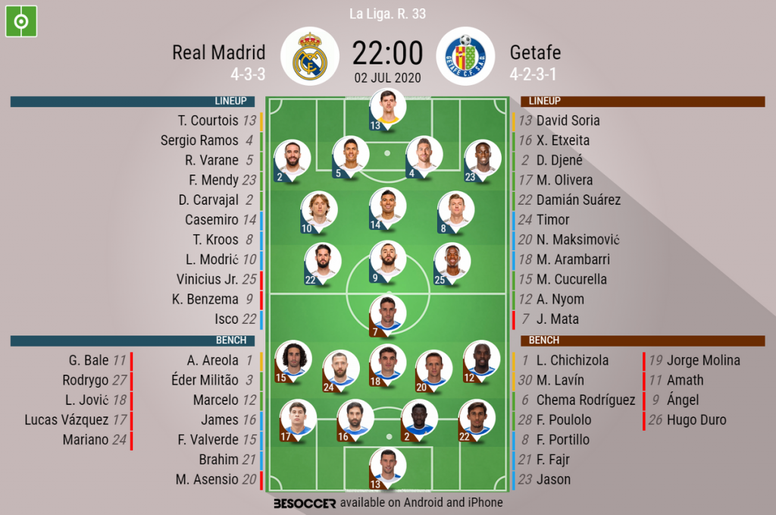 Real Madrid v Getafe - as it happened
Real Madrid

Getafe

95'
FT: Real Madrid 1-0 Getafe!! An even game saw both teams have good spells, but there were few chances. 0-0 would have been fair, but RM won it 11 minutes from time with a Ramos penalty after Olivera fouled Carvajal. RM are now four points clear of Barca and Getafe were unlucky not to get a draw. Thanks for joining us and see you again soon!
95'
Kroos fouls Jason, the GK takes the free-kick and the ref blows for full time!
94'
Getafe get a free-kick in their own half, Fajr launches it forward, RM win the header and then go into Getafe's half and keep the ball.
94'
Getafe get a free-kick in their own half, Fajr launches it forward, RM win the header and then go into Getafe's half and keep the ball.
94'
Mariano is booked for a foul.
93'
Getafe try and attack, but Maksimovic loses the ball on the edge of the RM box and the hosts counter.
92'
RM sub: Mariano on for Benzema.
90'
RM are caught offside from a long punt.
89'
Mendy is penalised for a foul.
88'
63% possession for the hosts.
87'
RM are comfortable here now as Getafe's game plan was to play for 0-0.
84'
Getafe double sub: Angel and Fajr on for Arambarri and Timor.
84'
Arambarri brings down Mendy and is carded.
81'
It's not really deserved, but RM are winning.
79'
Ramos makes it 1-0! He passes it into the net! It's not a great pen as it not in a corner and the GK goes the right way, but he took a step to the right before diving to his left and that cost him.
78'
Penalty to RM! Carvajal makes a lovely run down the far side after being played in by Benzema and Olivera brings him down. Clear trip.
75'
Getafe double sub: Molina and Jason on for Mata and D Suarez. Time for drinks!
73'
Djene has to send a cross from Rodrygo behind for a corner to prevent Benzema tapping in. Djene then wins the header and concedes another corner.
72'
Mata is carded for a foul on Casemiro.
71'
Arambarri tries his luck from distance and it goes well over the goal.
69'
Getafe sub: Hugo Duro on for Cucurella.
68'
Good play by Asensio down this near side, he passes for Benzema whose scuffed effort goes wide.
66'
RM attacking, but Casemiro's long ball is simple for Soria. Getafe are looking very solid in defence. It's been even.
64'
Getafe lose the ball in their own half, the ball is played to Benzema and Damian dispossesses the Frenchman in the area. Good defending.
63'
RM triple sub: Valverde, Asensio and Rodrygo on for Modric, Vinicius and Isco.
58'
What were RM doing? The home side give the ball away stupidly through Mendy and Mata fires over!
58'
Modric's shot from outside the box is deflected for a corner.
55'
Still 0-0 here and RM need to pick up if they want to win.
52'
Free-kick for Getafe on this near side, it is cleared and D Suarez gets his customary card after felling Modric on the counter.
51'
Cucurella has a shot and it is cleared by Ramos.
50'
Little to report here in the last few minutes.
47'
Militao is booked now for a kick on a Getafe man.
47'
Nyom is booked for a foul on Kroos.
46'
Second half has started here!
45'
HT: Real Madrid 0-0 Getafe! Goalless at the Di Stefano at the break in a half with few clear chances! Getafe were the better team for the first 20 minutes, but then RM picked up, Olivera came the closest for Getafe while Vinicius and Isco could have scored for RM. 0-0 is fair though. Back for more in a bit!
45'
Timor's free-kick into the box beats everyone and it's a goal kick.
45'
Modric steps on Mata's foot and that is a clear yellow.
45'
Djene catches Casemiro in the face with his arm and the Getafe man is down injured. He's up though.
45'
Vinicius passes to Benzema in the box, but the Frenchman's shot is poor. 0-0 is fair up to now.
43'
Vinicius runs into the box from the far side, but he slips.
41'
Real Madrid are caught offside. Four were off.
40'
Free-kick for Real Madrid after a foul on Mendy.
38'
Nothing much comes of the free-kick.
37'
Olivera brings down Casemiro right on the edge of the box and it's a free-kick. VAR is checking, but it's just outside.
36'
Olivera goes down in the box after a Mendy error and then on the counter, Ramos crosses for Isco and the former Malaga man's shot is well saved.
33'
Nasty clash between Benzema and Arambarri.
32'
RM sub: Varane has been substituted by Militao after getting hit with the ball.
30'
Isco heads the set piece goalbound and Etxeita has to clear! Drinks!
29'
Real Madrid attacking a bit more now and they have just won another corner.
26'
Ramos brings down Mata after a clear foul with his foot from behind. Ramos claims he is caught in the face, but nothing in it. It was a clear foul by Ramos.
23'
Save by Soria!!! Modric passes to Mendy and his cross finds Vinicius who stretches out with his leg and Soria makes a fine stop to his left.
22'
Getafe get another corner which RM deal with.
22'
Getafe head wide from the set piece!
21'
Benzema concedes the corner.
20'
Getafe are the better team here so far. Take out the Benzema chance and Zidane's men have done nothing.
17'
Carvajal comes from behind and bumps into Mata as he jumps for the ball, but nothing is given.
16'
The free-kick hits the wall.
15'
Carvajal has his name taken after barging into Cucurella 25 yards out from goal. Clear.
12'
Getafe threaten again and Mata's effort is saved.
10'
Getafe get a corner, but nothing comes of it as the away side are penalised for a foul on Casemiro.
9'
What a save by Courtois!!! The free-kick is sent into the box, Maksimovic heads, the ball then hits Olivera's thigh and Courtois has to make a brilliant save!
8'
RM attack down the far side, but Kroos' pass to Vinicius is poor and the move breaks down.
6'
The corner is sent in by Arambarri and Olivera heads at Courtois.
5'
Nyom wins a corner for the visitors.
2'
Benzema gets the ball just outside the box and his curling shot is saved by Soria to his right.
1'
Timor fouls Isco from behind and is booked after 15 seconds!
1'
Getafe get us going from right to left! Both teams in their usual kits!
Prev.
The players make their way out here!
Prev.
Juan Martinez Munuera is the referee for this one while Pablo Gonzalez Fuertes is the VAR.
Prev.
29 degrees at the ground at the moment despite it being gone 9.30pm.
Prev.
Djene is back from suspension for Getafe so Chema Rodriguez drops out while Timor comes in for Hugo Duro.
Prev.
Mendy replaces Marcelo, Modric in for Valverde and Vinicius comes in for Hazard.
Prev.
Real Madrid won 0-1 at Espanyol last time while Getafe controversially beat Sociedad 2-1.
Prev.
1st v 6th. 71pts v 52pts. Real Madrid will go four points clear at the top with a win while Getafe are in an EL spot and will go two behind Sevilla who are in a CL spot with 3 points here.
Prev.
Getafe XI: Soria (GK); Olivera, Etxeita, Djene, D Suarez; Cucurella, Timor, Arambarri, Maksimovic, Nyom; Mata.
Prev.
Real Madrid XI: Courtois (GK); Mendy, Ramos, Varane, Carvajal; Kroos, Casemiro, Modric; Vinicius, Benzema and Isco.
Prev.
Hello and welcome to our live coverage of the La Liga clash between Real Madrid and Getafe at the Alfredo Di Stefano Stadium!