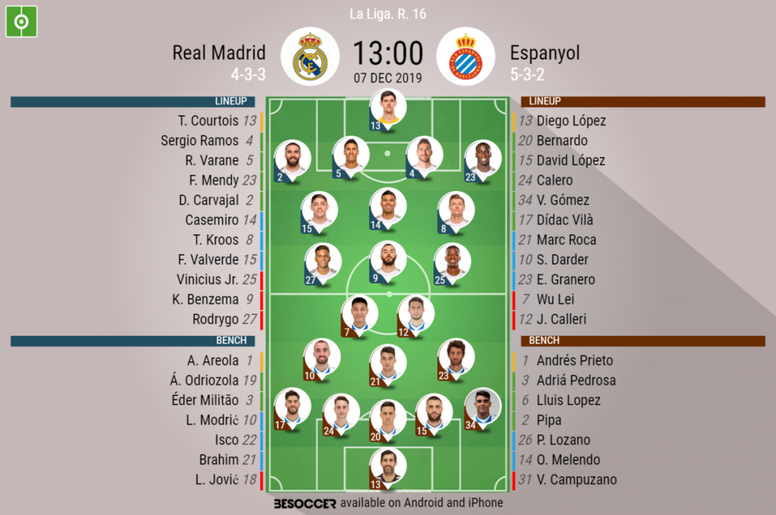 Real Madrid v Espanyol - as it happened
Real Madrid

Espanyol

92'
Full Time!! Full Time sees Real Madrid get all three points and go above Barcelona to the top of the table, after goals from Varane and Benzema put them 2-0 in front! They were by far the better team and it was a deserved win for the whites! Espanyol tried and tried but were not clinical enough and that cost them in the end. Final score: Real Madrid 2-0 Espanyol
88'
After Mendy's red card, Madrid will go to Mestalla next weekend to play Valencia without a left-back as the Frenchman will be suspended and Marcelo is injured..
85'
Double change for Real Madrid now as Vinicius and Rodrygo go off, replaced by Eder Militao and Brahim Diaz. What a great game Vinicius has had today!
84'
Jonathan Calleri off for Espanyol, Oscar Melendo is on
82'
Ferland Mendy is sent off after he gets none of the ball. A big blow for Real Madrid with 10 minutes left. Free kick now for Espanyol. This was his second yellow card, therefore he is straight off the pitch
78'
Karim Benzema is the goalscorer here and looks more than happy with himself, as he doubles the whites lead. Good play by Benzema on the edge of the box as he feeds a ball through to Valverde and continues his run. The Frenchman then gets it back from the Uruguayan and slots a low shot into the corner to make it 2-0!
76'
Marc Roca's curling shot from outside the box lands right in the keeper's arm. A good chance for Espanyol!
75'
Corner for Espanyol! Courtois catches the ball into the box
73'
Valverde goes into the book for a late challenge on Campuzano! Free kick to the visitors, which is hit into the box, but Real Madrid deal with it once again
72'
Second change for Espanyol, as Lozano is brought on for Granero
70'
Real Madrid bring on Luka Modric to try to double their lead and pick up the pace again in this game, Toni Kroos comes off for him
67'
Casemiro takes a free kick 30 yards out, but it is a wasted opportunity as he skies it well over the bar! Not clinical enough at the moment
64'
First change for the visitors, Wu Lei, the first Chinese to play at the Santiago Bernabeu, is replaced by Campuzano
61'
Free kick for Real Madrid on the right, about 30 yards out! But it is headed out for a throw in
57'
Kroos recieves the ball from Vinicius on the left and has a shot, but his attempt goes well wide as he is challenged by the Espanyol defence
54'
Corner for Espanyol, as they look a little more lively in the past few minutes, but the corner is easily cleared
51'
Mendy has a shot from outside the box, but he skies it over the goal!
50'
There is a great attendance at the Bernabeu today, 64, 125!
49'
This half has started off pretty much the same as the last did, with Real Madrid piling on the pressure and dominating in possession!
46'
Rodrygo, Valverde and Carvajal link up down the right, but the latter's cross is intercepted on the edge of the box
45'
The second half is underway!!
45'
HALF TIME! It is 1-0 to the hosts at half time after a great strike from Varane is the difference between the two sides. Real Madrid have dominated the game and deserve to be in front as Epsnayol have not really made any of their chances count, but have been rather solid in defence. An exciting second half to come!
42'
Corner for Espanyol as they try to salvage a goal now. Courtois catches the corner ball and Madrid counter, but Vinicius run up the pitch and subsequent shot is hit straight at the keeper and goes out for a Real Madrid corner
40'
He is back on his feet now and Espanyol have a free kick in their attacking half. The free kick is easily dealt with by Madrid
39'
David Lopez is down injured and in a lot of pain after a bad foul from Vincius.
37'
After a lot of good play from Madrid, the corner is taken and the ball ends up at Raphael Varane's feet, he is in the box on the left and just manages to slot the ball past the keeper and put it in the back of the net at the far post. Real Madrid deservedly in front now!
36'
Fede Valverde skips past the defenders and has a curling shot from the edge of the box, it is going in the top of the goal, but Diego Lopez jumps up and just manages to get a hand to it and it is a corner!
33'
Vinicius with some super skill as he turns an Espanyol player inside out and earns a roar of approval from the Bernabeu, but the Brazilian cannot produce a good cross and Espanyol clear his low ball out of the area
31'
Espanyol won a free kick 30 yards out and Granero curled the ball into the box, only for Mendy to head it away from danger!
29'
Kroos now has a shot as he curls his ball in, but it is headed away. Real Madrid are certainly dominating this game, surely it's only a matter of town before they get a goal!
26'
Big chance for Espanyol! Granero recieves the ball in the box, but his on target header is dealt with by Courtois! Real Madrid counter at the other end and Vinicius has a shot at goal, but Diego Lopez stops the home side from going ahead.
24'
Mendy fouls Calero on the wing and a free kick is given to the visitors
21'
The ball is chipped into the area, but Varane rises to head it away. The Frenchman also falls awkwardly and holds his back, but is soon back on his feet...
18'
Now Vinicius Junior is booked for going in a little hard on Diego Lopez. Nothing comes of the free kick given to Espanyol
15'
Granero goes into the book for a foul on Kroos and Madrid have a free kick near the half way line!
14'
Benzema now tries his luck as he receives the ball from Vinicius, who has been involved a lot so far! However he shoots right at the keeper and so there is no real danger
13'
Espanyol's defence has been solid so far, as they have received and keep receiving a lot of attacking threats, but they throw a lot of men back and seem to manage to deal with all the pressure at the moment. A corner now given for Madrid
11'
Real Madrid have a corner, which is hit into the box but cleared out, only to as far as Rodrygo just outside the box, who has a powerful shot, but he can't find the target and it goes just wide!
9'
Esoanyol have a free kick on the left hand side, but their shot is headed out of play by Madrid. No real threat posed by them at the moment
8'
Thibaut Courtois is forced into action. The Belgian does well to intercept a cross from the right and is applauded...
5'
Vinicus is at it again as he skilfully dribbles past the defenders and has a shot, but Diego Lopez is aware of the danger and is there to punch the ball away.
4'
Vinicus Jr is proving himself early on, as he makes a run down the left wing but is forced to turn back and Fede Valverde's attempted ball into the area is blocked by an Espanyol defender...
3'
Real Madrid have started off strong at the beginning of this game, as they have had pretty much all of the ball and are putting pressure on a struggling Espanyol
Prev.
We have kick off! The visitors get today's game underway
Prev.
Kick off will be underway in under ten minutes!!
Prev.
Vinicius Junior is back after not featuring for a month and starts his first match for Real Madrid since the 1-0 loss at Mallorca in October.
Prev.
Team news: Eden Hazard remains out after his injury suffered against PSG was worse than first thought and he could now be out for a month. Real also revealed on Thursday that Marcelo has picked up a calf injury and will be unavailable. Gareth Bale has a hamstring issue and will also not play.
Prev.
The hosts will don their green away strips instead of traditional white on home soil this afternoon in order to show support for the Climate Summit in Madrid.
Prev.
Espanyol: Diego Lopez (GK); Bernardo, David Lopez, Calero, Gomez, Didac Vila; Marc Roca, Darder, Granero; Wa Lei, Calleri
Prev.
Real Madrid: Courtois (GK); Sergio Ramos, Varane, F. Mendy, Carvajal; Casemiro, Kroos, Valverde; Vinicius Jr, Benzema, Rodrygo
Prev.
Join us for live commentary of the exciting La Liga game between Real Madrid and Espanyol at the Santiago Bernabeu. Real Madrid will go into this game favourites, as they face one of the bottom sides in the league.