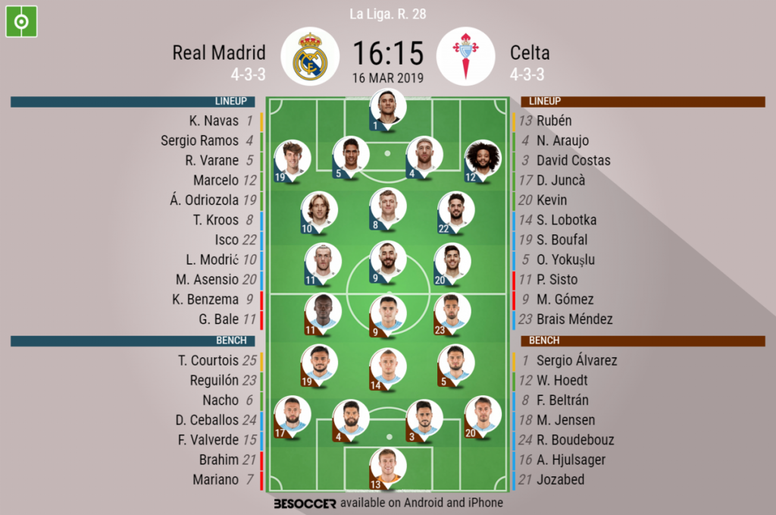 Real Madrid v Celta Vigo - as it happened
Real Madrid

Celta

94'
FT: R Madrid 2-0 Celta! It's all over at the Bernabeu! Isco and Bale scored in a second half to beat Celta. Madrid were dominant in the second half after an even first period. Modric also had a goal disallowed by VAR at 0-0 in the second period. Celta stay in the drop-zone and Zidane starts in the perfect fashion. Thanks for joining us and see you next time!
94'
Marcelo dribbles with the ball, but he loses the ball just as he is about to reach the area.
92'
Good play by Asensio, he sees Kroos on the edge of the box, the ref steps over the ball, but Kroos mishits it for a goal kick.
90'
Four minutes of stoppage time.
89'
Hjulsager sends a cross into the box, but it doesn't find a Celta shirt.
87'
Still 2-0 here. Little to report. Real are cruising and there is no sign of a reaction from the side from Northern Spain.
83'
Bale wants a pen after going down under Araujo, but the referee doesn't agree.
82'
Real Madrid sub: Benzema goes off and Mariano Diaz comes on.
80'
This is a much improved Real Madrid in the second half after an even first period. Much better than anything we saw under Solari.
79'
Asensio comes close! Valverde ran and passed him the ball, but the Mallorcan's effort hit the top of the net.
77'
Gareth Bale scores to kill this one off!!! Marcelo gave the ball to the Welshman whose shot from just behind the penalty spot went in off the post. A Celta defender slipped and that gave Bale room to score.
76'
Madrid sub: Luka Modric makes way for the Uruguayan Fede Valverde. The Croatian is applauded as he leaves the park.
76'
Celta make their final change. Okay leaves the pitch and Beltran comes on.
75'
Another key block by Wesley Hoedt to stop Ceballos testing Blanco.
74'
Kroos delivers another corner, but it was headed away!
72'
Bale gives the ball to Marcelo who shoots at the goalie!
70'
Asensio's hit goes straight to Blanco and then Celta countered.
69'
Celta sub: Hjulsager on for Boufal!
68'
Save by Blanco! I think it was Bale who had the shot.
67'
Real Madrid are dominating the game now. Celta need a goal, but they could concede another.
64'
The call stands!!! Real Madrid are 1-0 up!
63'
We have VAR again!!! I think Benzema is just in line. The game hasn't resumed. It is extremely tight.
62'
Real sub: Ceballos on for Isco. He got a standing ovation.
62'
Isco scores!!! 1-0 Real!!!!! Most of the goal is made by Asensio who makes a darting run, he passes to Benzema who looks to be just on, The Frenchman then scores for Isco to tap in.
61'
The goal didn't count, but Real Madrid are dominating the second period. And just as I say that! Navas has to deflect a Boufal shot for a corner. They are looking a bit vulnerable in defence.
58'
No goal!!!! He's disallowed it for offside by Varane! That's the right decision. Still 0-0
57'
The ref has been called over to see it!!! This has to be disallowed. He is trying to get out of the way, but he is right next to it.
55'
Real score!!!! This has to be disallowed!!!!! The corner is half-cleared, Modric hits the ball into the ground and goes into the goal but there are two Real players offside. One of them is Varane, but he is clearly obstructing the goalie's view. He is trying to get out of the way, but Blanco's view is clearly blocked.
53'
Real dominant! Asensio's shot is deflected by two Real defenders, Celta break at speed through Maxi Gomez and Boufal, but Boufal passed it straight to Navas! Inexplicable.
52'
Bale brings down Boufal! The away side want a 2nd yellow, but the ref isn't interested. I agree, it's not enough for a second yellow.
51'
Another corner after a block by Hoedt to deny Isco! Hoedt heads away the corner. The Celta defence looks good in the air.
50'
Corner for Madrid after Benzema's header is deflected. The resulting corner is headed for a throw by Mendez.
48'
Marcelo turns past Costas to get into the area, but Lobotka cuts out the pass along the ground.
47'
What a fast start here! Real Madrid's attack ended badly and Maxi Gomez went up the other end, but he didn't get the one-two back from Mendez.
46'
Welcome back everybody! We are back underway here. No changes.
45'
HT: R Madrid 0-0 Celta: Half-time here at the Bernabeu. Both teams have attacked an had great chances to score. In the last 10 minutes, Real Madrid picked up and the away side will be happy it's half-time. Bale had Madrid's best chance, Gomez came the closest for Celta. Back in 10!
45'
Bale is booked for a foul. It was an arm in Kevin's face. I tell you what, that isn't far off being a red. A yellow is probably just right. He catches him with the elbow in the face. An orange probably.
44'
A crucial block by Hoedt avoid's Isco's shot from going on target.
43'
Real Madrid are finishing the half well here, but Celta are holding on.
42'
It's a definite foul, but the foul on Asensio may be outside the box and Bale may be offside. Looks to be outside the foul anyway. Our friend from Benidorm is told to play on by the VAR! It can't intervene if outside the box unless it's a red card offence.
41'
Asensio wants a pen for an off the ball push! We have VAR here! Bale put the cross in.
39'
Bale's cross cannot a find a teammate in the Celta box! It is quietening down now till HT.
35'
Save away by Ruben Blanco! There has to be a goal soon! Blanco makes a great save from Marcelo! Then Ramos almost does a Ramos special from the corner, but it just goes wide of the far post.
34'
You wouldn't think Celta are in the relegation zone watching this.
33'
Danger for the home side! Celta Vigo are really giving Real a game here. Sisto's looping ball in, Gomez heads it in the box to Boufal. The ex-Southampton man's low shot from the edge of the area was blocked by Varane.
30'
Off the bar by Real Madrid! Benzema tries an overhead kick after Asensio's ball from the side, his overhead kick is a high boot, but the ref dsoesn't give anything. Bale then boots the bouncing ball onto the bar! May have been disallowed had it gone in.
29'
Varane goes down injured, but I think he will be alright. Has just struck him in an uncomfortable area, I think. He is now up.
28'
Brais Mendez fires from the 30 yards, but Varane makes a vital block!
27'
Kroos wants to open the scoring! The German shoots from 25 yards, but it hits the top of the net rather than the back of it.
24'
Fouls 6-4. The free kick by Mendez is woeful. It goes miles wide.
23'
Dangerous free-kick for Celta here after Kroos fouls Sisto. This will go into the box.
21'
Celta are defending very well now. This is a very even game.
19'
Modric feeds Odriozola who then puts it into the box. Hoedt could have left it for Blanco, but he decides to clear himself.
17'
Lobotka runs through the Madrid midfield with ease. He runs 30 odd yards before finding Kevin. However, Odriozola and Bale then come and end the move.
15'
What an amazing save by Navas to deny Gomez! Hoedt put in an wonderful cross, Ramos got a head to it, but it fell straight to Gomez who headed powerfully. Navas had to dive to tip it over. A fantastic save.
13'
Real Madrid look more dangerous, but Celta Vigo have not come for a 0-0. They are trying to play as well.
10'
Maxi Gomez has a go for the visitors! He tries to curl his shot using Marcelo as a marker, but his shot goes straight and goes wide.
9'
Isco forces a corner after a turn in the box! Benzema and Marcelo formed part of the build-up. Maxi Gomez heads away the corner.
8'
Good play by Celta, but Real comfortable. Brais Mendez had possession and Celta made a few passes to Sisto and Lobotka, but nothing of notable.
7'
What a save by Blanco! Bale sent a cross field pass to Marcelo on the far side and the Brazilian sent in a dangerous cross, but Blanco gots fingers to it to change the ball's trajectory and prevent Benzema from scoring.
4'
Celta sub: Hoedt comes on for Junca. Corner for Real Madrid. Kroos' delivery was headed over by Sergio Ramos.
3'
Hoedt and Hjulsager are warming up
2'
Celta have started positively here, but we have an early injury. A ball was sent to David Junca on the near sideline, he stretched with his left leg and he holds his groin area. His game looks to be over.
1'
Underway here at he Bernabeu!!! Real Madrid kicked off
Prev.
The players come out onto the pitch here at the Bernabeu!
Prev.
Juan Martinez Munuera from Benidorm (the city, not the TV series!) will be the referee for this afternoon's fixture. Javier Alberola Rojas is the main VAR.
Prev.
Real Madrid have got nothing to play for, but Zidane wants his team to try and win every game. They are in 3rd place, on 51 points, 12 points off Barca and 5 off Atletico. Celta Vigo, on the other hand, are in 18th position with 25 points and 1 point off safety.
Prev.
This is how the visitors line up: Rubén Blanco (GK); Kevin, Araujo, David Costas, Juncá; Okay, Lobotka; Boufal, Brais, Sisto; Maxi Gómez
Prev.
Real Madrid XI: Keylor Navas (GK); Odriozola, Varane, Ramos, Marcelo; Modric, Kroos, Isco; Bale, Benzema, Asensio
Prev.
Zinedine Zidane has rung the changes for this clash and many players who weren't starting under Solari are playing today. In fact, eight of the starting XI started the Champions League final against Liverpool last May. Marcelo, Keylor Navas and Isco all start. Reguilon and Courtois do not.
Prev.
Hello everyone and welcome to our live coverage of the La Liga game between Real Madrid and Celta Vigo from the Bernabeu. Stay tuned for the all pre-match info.