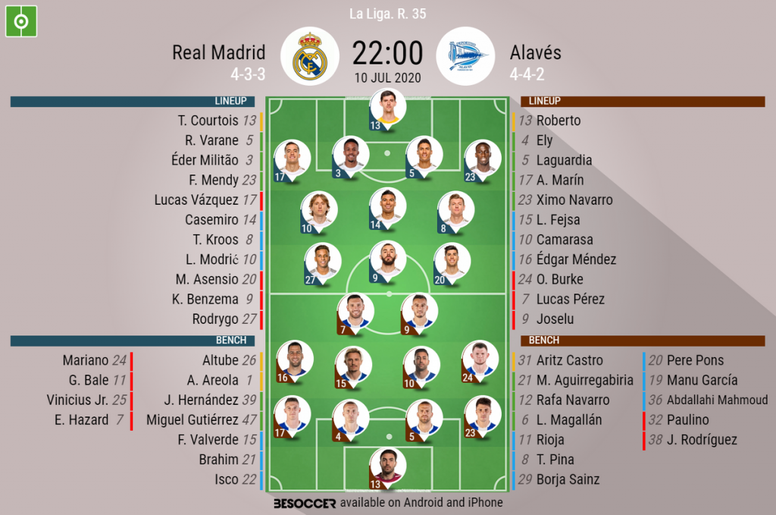 Real Madrid v Alavés - as it happened
Real Madrid

Alavés

96'
FT: Real Madrid 2-0 Alaves!!! All over at the Di Stefano! Benzema scored a penalty in the first half to give RM the lead and then Asensio scored a goal given by VAR in the second half. Alaves were good in the first half, but once it went 2-0, 'Los Blancos' were comfortable. The Segunda B referee had a good 45 minutes in his La Liga debut and RM are just five points away from the title. Thanks for joining us and see you again soon!
94'
RM sub: Casemiro is replaced by Brahim Diaz.
93'
RM are just playing out time here. It has been easy for the home side in the second half.
90'
Rodriguez hits one from just outside the box and it's easily saved by Courtois.
87'
Benzema is holding his hamstring in the stands. Not a good sign.
85'
Militao goes down in the box from Kroos' free-kick. Nothing given.
84'
Chance for Isco and it's well saved by Roberto.
83'
Mahmoud is booked for a bad foul on Kroos.
82'
RM double sub: Hazard and Isco come on for Benzema and Rodrygo. Varane is given the armband.
80'
Rodriguez makes a bad challenge from behind on Casemiro's ankle and the RM man is in pain. It's a clear yellow.
75'
Chance for Rodrygo!! An RM move ends with Vinicius passing to Rodrygo and his strike is well stopped by Roberto!
74'
Alaves win a corner as Sainz's shot is deflected behind.
72'
The second goal has made RM comfortable. Alaves are having a goal, but I don't think they'll get back into this.
70'
Burke is penalised for a foul.
70'
RM double sub: Modric and Asensio leave the park, Valverde and Vinicius come on.
68'
Alaves double sub: Mendez and Joselu off, Rodriguez and Sainz on.
68'
Another effort for RM by Modric is well saved by Roberto.
65'
Asensio's cross is cut out for a corner, but nothing comes from it.
64'
Chance for RM!! Rodrygo is fouled, the ref plays advantage, Benzema passes to Vazquez and the shot goes wide.
62'
Opportunity for Alaves again and Courtois makes a stop from Mendez from a tight angle.
61'
What a save by Courtois to deny Joselu!! Rioja plays a nice pass for Joselu and the Belgian GK makes a fine stop.
60'
RM are dominating this one now.
58'
Great save by Roberto!! Asensio runs and passes for Benzema whose shot is saved by Roberto and then on the rebound, Rodrygo can't head home Vazquez's cross.
57'
Rodrygo is caught offside.
56'
Alaves double sub: Rioja and Mahmoud on for Fejsa and Perez
54'
Burke is down injured after a clash of heads with Vazquez.
51'
The goal's given by Mr Rodriguez after listening to the VAR!!! Laguardia was obviously just playing him on and the Segunda B ref's crash course VAR class at HT comes in handy. He delayed the whistle, the goal counts and RM are 2-0 up!
50'
Benzema is offside and then he squares for Asensio to tap in. It's very close, but I think it's just offside. Asensio is onside, but Benzema looks just off.
49'
A long ball is sent forward by Alaves, but the ball can't reach it.
48'
Alaves attack in the first couple of minutes, but RM have kept them at bay. This is a great experience for the Segunda B ref, by the way.
46'
Back underway and Hector Rodriguez Carpallo from Segunda B has taken over as referee! Gil Manzano couldn't continue-
45'
HT: Real Madrid 1-0 Alaves! It's half-time here at the Di Stefano and Benzema finally gets up from the Alaves area. The game started even and Perez and Joselu had a double chance at 0-0, but then Benzema gave the hosts the lead after a foul by Navarro. Navarro then had to go off injured and RM have been better, but Burke has looked dangerous for Alaves. The ref is also not 100%. Back for more in a bit!
45'
Benzema looks dizzy and seems to have a problem with his neck after the whistle is blown. He's kneeling on the ground. I think he's holding his left shoulder or neck area.
45'
Benzema shoots at Roberto from the edge of the box and Roberto saves. And Manzano ends the first half.
45'
RM have been very comfortable in the last 10 minutes.
45'
Asensio's ball in is headed away by the Alaves defence and the ref is still limping a bit.
45'
Marin fouls Modric near the area and is perhaps locking not to see yellow.
45'
Five extra minutes. By the way, Benzema's pen was RM's 500th goal for RM under Zidane.
42'
RM attack again through Vazquez, but nothing comes of it.
41'
Rodrygo goes down in the box, but there's no penalty call from Manzano. Good decision.
38'
Things have quietened down here in the last few minutes. I'd say RM have got this fairly under control, but Alaves are looking a threat when they attack.
35'
Great play by Burke!!! He bits Militao all ends up on the byline and the pass back is knocked wide by Joselu. He should have left it for Perez.
34'
A free-kick is sent into the box by RM and Alaves head it away.
31'
The ref is coming back and has just shared a joke with Perez. Good to see.
30'
Gil Manzano is getting his left ankle bandaged up. I think he may not continue. It was a completely accidental coming together with Perez.
28'
Drinks! And Gil Manzano still isn't right. The Segunda B 4th official may have to come on.
27'
Oh no! Gil Manzano is down injured, He ran into Perez by mistake, but he is ok after treatment to his ankle.
26'
Asensio shoots, Ely blocks his shot and then Alaves counter and Burke sees his shot saved. A great run down the near side and then Courtois makes a great stop.
25'
RM attacking again and Lucas Perez has been stepped on by Varane. That was nasty.
23'
Alaves sub: Navarro is replaced by Aguirregabiria. We'll call him Aguirre from now on. A bad night for Navarro ends early as he conceded the penalty.
22'
Navarro has got injured while fighting for the ball with Rodrygo. It seems to be near his ankle.
21'
Alaves again! Perez's free-kick in causes problems for the defence, but Militao heads away.
20'
Alaves have conceded 15 penalties this season.
18'
Almost an own goal by Alaves!! Mendy plays a one-two with Benzema and the former's pass for Asensio is turned by Camarasa towards goal! Great stop by Roberto.
16'
Perez's free kick is headed over at the back stick by Joselu.
16'
Joselu is fouled by Militao.
15'
Alaves are still attacking here at the Di Stefano as you would expect.
13'
Kroos hits over the bar from just outside the box!
13'
Alaves have actually played quite well up to now, but that was a penalty and they are now behind.
12'
RM score!! Benzema sends Roberto the wrong way and a stupid bit of defending has undone Alaves' good work. No need for Navarro to do that and RM are 1-0 up.
10'
Penalty to RM!!! Mendy is brought down by Ximo Navarro as the defender slides in and catches him with his back knee. It's just inside the box.
10'
Kroos wins a corner off the Alaves man.
8'
Vital defence by Militao after a long punt is flicked on by Alaves and it's a corner.
8'
Lovely play by Benzema on the far side who then hits wide, but he is offside from Modric's pass.
7'
RM attack through Benzema, but the defence stop him.
6'
Free-kick to Alaves after a foul by Varane from behind.
3'
Alaves hit the bar and then off the line!!! Mendez's cross is headed onto the crossbar by Joselu and then the rebound by Perez is cleared off the line by Varane!
2'
Chance for RM!!! Mendy goes down the far flank, his cross is batted away by Roberto to Vazquez who passes for Modric and his shot goes wide.
1'
RM get us going from left to right! Both sides in their usual kits.
Prev.
Benzema and Laguardia, the captains, are with Gil Manzano.
Prev.
The players make their way out here!
Prev.
Alaves have a new manager in Juan Ramon Lopez Muniz after sacking Asier Garitano.
Prev.
Alaves lost 1-0 at Valladolid last time out and they make a few changes, especially in defence. Pina, Duarte, Magallan and Aguirregabiria are replaced by Ely, Marin, Ximo Navarro and striker Joselu.
Prev.
31 degrees in the Spanish capital.
Prev.
RM won 0-1 at Athletic Bilbao last time out through a Sergio Ramos penalty, but they have made several changes for this one. Marcelo (injury), Ramos and Carvajal (both suspended) and Valverde are replaced by Mendy, Varane and Lucas Vazquez in defence while Kroos comes in for Valverde in midfield. It's going to be strange seeing Vazquez at the back, but RM are short of numbers at the back.
Prev.
Jesus Gil Manzano is the referee for this one while Javier Alberola Rojas is the VAR.
Prev.
1st v 17th. 77pts v 35pts. RM are one point ahead of Barca (2 with the head to head record), but this is their game in hand, They will be five points away from the title with a win here. Alaves are just three points above the bottom three.
Prev.
Alaves XI: Roberto (GK), Marin, Ely, Laguardia, X Navarro; Mendez, Fejsa, Camarasa, Burke; L Perez and Joselu.
Prev.
RM XI: Courtois (GK); Mendy, Varane, Militao, L Vazquez; Kroos, Casemiro, Modric; Asensio, Benzema and Rodrygo.
Prev.
Hello and welcome to our live coverage of the La Liga clash between Real Madrid and Alaves!