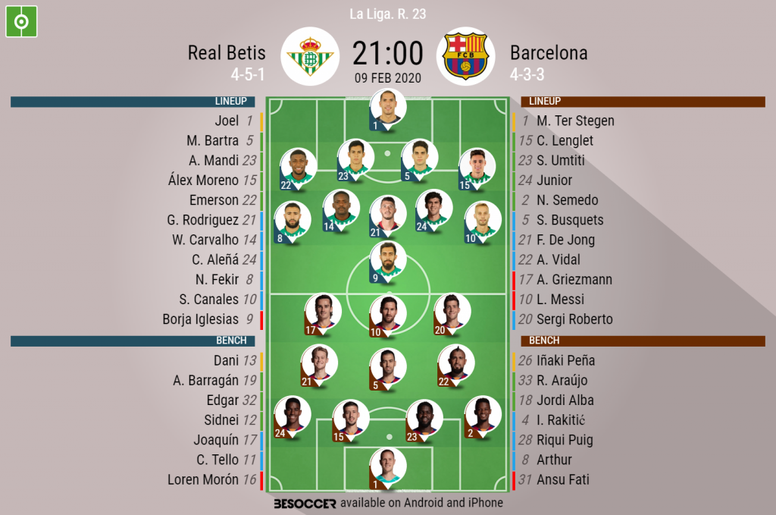 Real Betis v Barcelona - as it happened
Real Betis

Barcelona

Post.
Thanks for joining me tonight. See you next time for more action.
90'
FT: Real Betis 2-3 Barcelona. What a game. A 5 goal thriller in Sevilla ends with Barcelona getting the 3 points, while there was also 2 red cards.
90'
It looks like Messi was pulled back in the box but nothing is given.
90'
Tello crosses, it hits a Betis player, then another Betis player but goes straight at Ter Stegen.
89'
Barca sub: Griezmann off for Rakitic.
86'
Betis sub: Tello on for Rodríguez.
86'
Betis trying to get that equaliser.
82'
This game is certainly not over, don't go anywhere.
79'
CRAZY GAME. Lenglet gets a 2nd booking for a foul on Joaquín. 10 v 10, 3-2 Barca with 10 minutes left.
76'
And Fekir is off. As soon as he was booked he must have said something to the referee as he got a 2nd booking and has been sent his marching orders.
76'
Fekir is booked for a foul.
73'
And Barca are in front for the first time tonight. That man Messi once again crosses in the free-kick, Lenglet gets up and heads it in the net. It was practically an open goal as Robles slipped.
72'
LENGLET!!!!!!!!!!!!!!!!!!!
72'
Referee checking VAR for a possible Barca penalty but it's not given.
70'
Betis sub: Carvalho off for Joaquín.
67'
So unlucky from Messi. He tries to chip Robles from the edge of the box and it goes just wide.
62'
Messi takes it by one, goes into the box and tries to find the bottom corner but Robles gets down really well to save it.
62'
Betis sub: Morón on for Iglesias.
57'
Barca sub: Arthur on for Vidal.
57'
Barca sub: Junior off for Alba.
57'
Busquets is booked for his protests.
56'
Great chance for Betis on the counter but Fekir wastes his past.
55'
I wonder how many goals we have left in this match.
51'
De Jong chips it through and Rodríguez heads it away just before Messi gets to it.
47'
Vidal passes to Messi at the edge of the box, he takes a touch and shoots, but his shot is saved by Robles.
45'
HT: Real Betis 2-2 Barcelona. Well, what a half. 4 goals, 5 bookings and a penalty. This match could go either way. Don't miss the 2nd half.
45'
Betis manager Rubi is booked.
45'
And it's Sergio Busquets. Messi swings in the free-kick, Busquets takes a touch and volleys into the net.
45'
2-2!!!!!!!!!!!!!!!!!!!!!!!!!!!!!!!
45'
Mandi is booked for a hard tackle on Vidal.
45'
Aleñá has shot from outside the box that is deflected and almost catches Ter Stegen out.
41'
Setién so far as Barcelona manager has played 6, won 4 and lost 2. This would be his 3rd loss if things stay the same of course. He has one 1 game away from home against Ibiza.
38'
Roberto has just given a foul away at the edge of the box, he has to be careful as he's already on a booking. Good chance for a shot.
36'
Emerson is booked for a foul.
34'
Betis have a few ex/current Barca players playing tonight. Bartra, Emerson and Aleñá, with Tello on the bench.
33'
3 yellow cards for Barcelona now.
32'
Vidal is booked for a bad foul on Fekir.
30'
Just looking at the comments and haji_5220266 predicted 2-1 Betis. You're correct so far.
29'
Roberto is booked for pulling back Fekir.
27'
And it comes from a Barca mistake. They lose the ball in the centre, the ball is passed through to Fekir and from the edge of the box, he lashes it into the bottom corner. 2-1 Betis
26'
2-1 BETISSSSSSSSSSSSSSSSSSSSSSSSSSS
24'
Great chance for Barca. Messi is through, his first touch isn't great but it comes to ot Griezmann and he hits a very weak shot that is cleared.
23'
Messi is through, tries to chip the keeper but Robles saves it with his hand.
20'
Looks like it's a sell-out tonight, with lots of Barca fans dotted about the ground.
17'
Been no chances since we had the goals.
12'
Busquets is playing a dangerous game here. He's just had 2 quickfire fouls and the home fans are calling for him to get booked, no card given.
10'
What a game we have on our hands here. Messi plays it over the top to the advancing De Jong, the Dutchman chests it down and volleys past Joel Robles. 1-1.
9'
GOOOOAAAAAL BARCAAAAAAAAAAAAA
7'
What a start it is for Betis. Canales steps up and side foots it lovely into the keeper's bottom right corner, sending Ter Stegen the wrong way.
6'
GOOOOOOOOOOOOOOOOOOAAAAAAAAAAL!!!!
5'
Lenglet is thus booked for the handball.
5'
And it's a penalty to Betis!!!!!
5'
Looking at the replay and it looks like it hit Lenglet's arm, let's see...
4'
Betis fans calling for a handball, referee is about to check VAR.
3'
Betis pressing really well.
Prev.
Minutes silence for ex-Betis player Francisco Grau. May he rest in peace.
Prev.
Barcelona haven't kept a clean sheet away from home since 1st December, Real Betis last kept a clean sheet on 19th January.
Prev.
Setién is actually coming back to his old stadium as he was manager of Betis.
Prev.
If Barcelona win this, they will cut the gap to 3 points, if they draw they will be 5 points behind Madrid, and if they lose, well they'd be 4 points above Getafe. A win for Betis will see them move into the top half of the table above Granada.
Prev.
Betis last beat Barcelona at home in 2011, and their last league win came in 2008.
Prev.
Last match between these two ended in a 5-2 win for Barca in August, while the last match here ended in a 4-1 win for Barca in March. There have been 24 goals in the last 4 matches between the pair, with Barca scoring 17 of them. They thus average just over 4 goals a match in this fixture...
Prev.
Looks like Barca are playing a 4-4-2 here with Messi and Griezmann up top. Of course, they are without the injured Suárez so this could be why they are doing this. That being said, they have 4 recognised CMs so it really is intriguing.
Prev.
Barcelona XI: Marc-Andre ter Stegen; Nelson Semedo, Clement Lenglet, Samuel Umtiti, Junior Firpo; Sergi Roberto, Sergio Busquets, Frenkie de Jong, Arturo Vidal; Lionel Messi, Antoine Griezmann.
Prev.
Real Betis XI: Emerson, Aissa Mandi, Marc Bartra, Alex Moreno; William Carvalho, Guido Rodriguez; Carles Alena, Sergio Canales, Nabil Fekir; Borja Iglesias.
Prev.
Hello and welcome to the Estadio Benito Villamarín for this La Liga match. Barca will be hoping to make amends for that Copa del Rey defeat on Thursday. Team news to come.