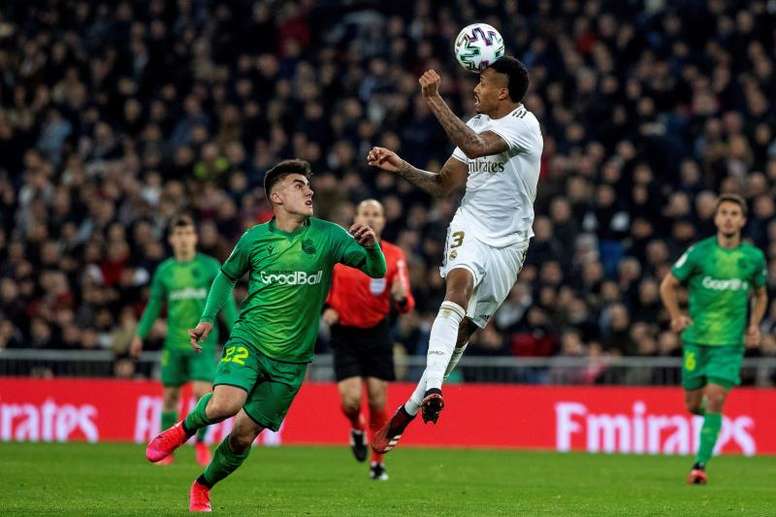 "Ramos isn't here, but I'm here"
Militao has been at Real Madrid for just over a year and he has an opportunity to show to fans that he deserves to at the club.
Next Friday, Zidane's men face Man City in the second leg of the last 16 and the Brazilian will start in defence in place of the suspended Ramos.
In an interview given to 'AS', the former Porto player admitted that it was time to step up: "It's a unique moment for me, you have to go hard. Our captain isn't here, but I'm here. Have faith in me, I'm going to have a good game.
Precisely, Militao praised Ramos: "I was impressed watching on TV and now in person. He's a gladiator."
On the other hand, the Brazilian, who has still not scored for Madrid, imagined scoring his first goal in Manchester.
"The winning goal with a header. I wouldn't know how to celebrate it. Nothing is impossible, I'm going to celebrate it. Up to now, I'd give myself a 7." he continued.
On the criticism received he said: "The press always have to say something about Real Madrid. We know what we're working on in training, how well we were doing. We don't like losing, we always want to win, but you can't always win."
The defender recalled the day he fainted during his presentation. "I'd never had a press conference with so many journalists and in a moment, I saw many people looking at me, filming me, I was emotional and I don't know what was happening, I couldn't speak...;" he conlcuded.
Lastly, Militao, who admitted he gets on well with Zidane, was asked whether he feels under pressure as he is the most expensive defender in the club's history. "It's something very important. The amount paid is deserved and I have to keep working." He also said that he talks to Zidane before he goes out to play every time.
August 1, 2020