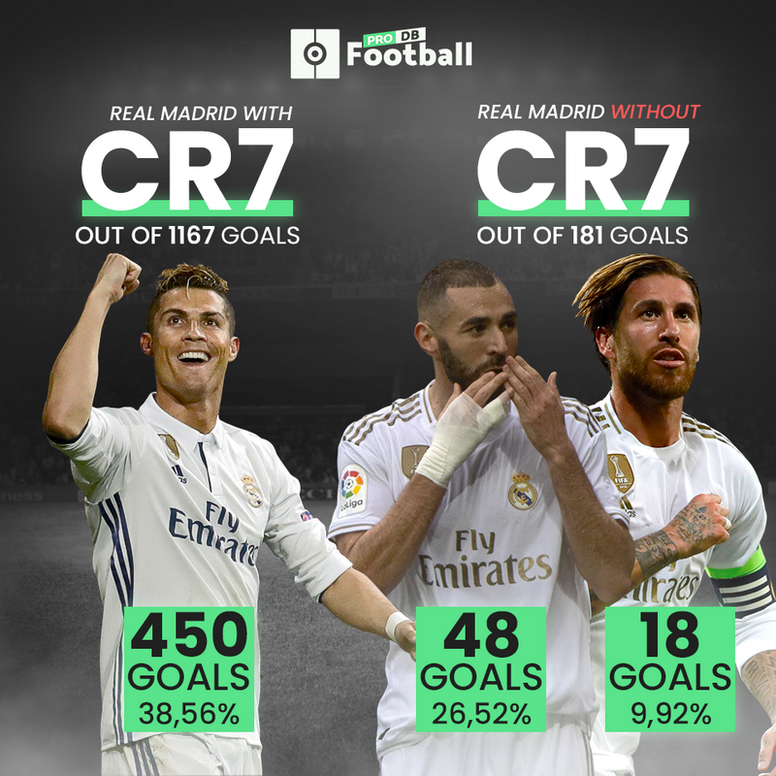 Ramos and Benzema at their best still do not replace Cristiano
The slip ups against Celta and Levante both showed Real Madrid have a lack of goalscorers. It has been a problem for a long time, but Zidane managed to find short term solutions. We at ProFootballDB are analysing Cristiano Ronaldo's shadow in detail.
Because the club have yet to get over his goodbye. Since then, the goals have dried up. They have scored 0.7 goals per game less since his departure.
Real were scoring an average of 2.65 goals per game before Cristiano left for Juve and with him on the pitch, Madrid missed just 9.06% of their chances. Those stats have changed dramatically in the year and a half since his move to Juventus. The goals per game ratio has dropped to 1-95 and the percentage of chances missed has gone up to 22.58%.
On whether Benzema, much improved without Ronaldo, has made the club forget about the Portuguese, the answer is no. However, he has done very well. In his eight seasons at Real Madrid, CR7 scored 38.56% of Real Madrid's goals with him on the pitch (450 of 1167). Benzema has got 26.52% (48 of 181).
Other interesting thing in the study is the inclusion of Sergio Ramos. Because the man from Sevilla and the Frenchman have been those which have taken responsibility for scoring goals. Benzema starting scoring more and the central defender has been brilliant at set pieces. Nevertheless, even adding their stats together leads to a lower percentage than what the current Juventus player was getting.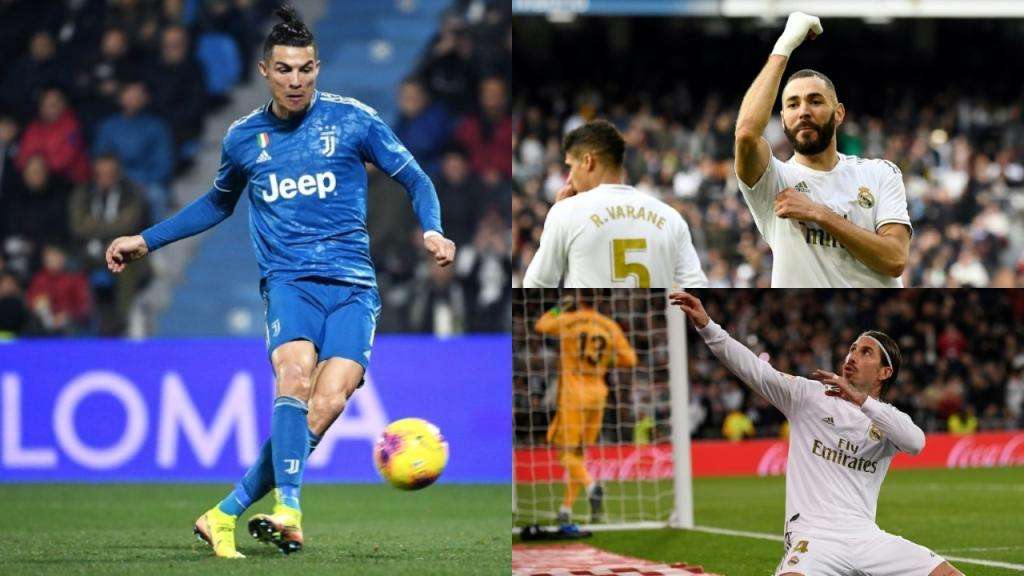 Because Ramos has scored 18 goals since last season (one more than Bale in that same amount of time, which means 9,94% of Real Madrid's total. Added to the 26.52% of Benzema, that 36.46% is still more than 2% away from the Portuguese.
Just saying it is down to Cristiano Ronaldo's loss would be very simplistic since it is clear that Real Madrid are now much less free scoring. Benzema's protagonism is almost at the level of the Portuguese and Sergio Ramos has taken a step forward in terms of responsibility.
The striker from Madeira scored in eight seasons 32% of Real Madrid's 1375 goals (whether he was playing or not) and in that same time, Benzema got 13.96%. He has almost doubled that percentage without the Portuguese.